Roblox keeps giving something to talk about. Its growth does not stop and every day it continues gaining more and more members in his community. Thanks to its wide variety of multiplayer or solitaire games online, to its sophisticated construction tool and to the diversity of options it offers players, it continues to earn points for being the best video game of the moment.
If you are thinking of entering the world of Roblox e unleash your creativity, in this post we will talk about Roblox Studio, the powerful development software that will allow you to create your own games and share them with the community, as well as a short step-by-step tutorial on how to make it happen. Are you ready to get started? Leave!
What is Roblox Studio?
As mentioned above, Roblox has a very powerful tool that allows users to develop your own games, customize them according to your own style and invite friends to join them. This is Roblox studio, a construction tool which has a very complete set of features that provide an immersive feeling and unleash your creativity.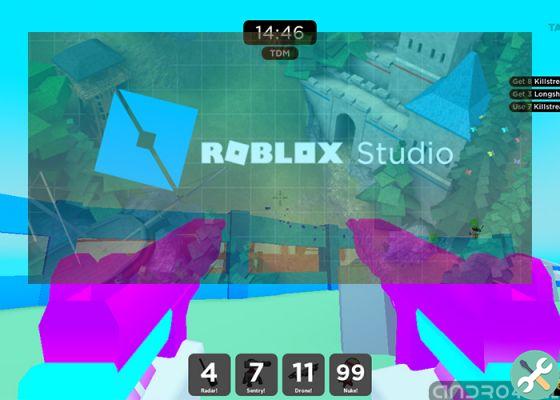 Roblox Studio, a very effective building tool for Roblox users
Its different features are fully accessible to all players and it has different skill levels, ranging from the most basic level as a beginner to those who are experienced programmers.
Thanks to it, you will be able to manipulating game objects, use codes, complete commands and special functions that allow you to perform a specific action. Also, you will be able to preview or test the game without uploading it to the Roblox website.
Features
Create what you imagine: Roblox allows users to create anything they imagine and publish it from PC or virtual reality equipment.
A large community: Roblox's community is currently incredibly large, so players will have the opportunity to interact with over 100 million monthly active users worldwide.
You can win real money: one of the main features of Roblox is that players can generate totally legal income through their games, as the platform offers the ability to create their own exclusive clothing and sell it, create passes for your games, design maps and many other things that are developed by users.
Get started for free: lo development of your games within the platform is totally FREE. Just download the tool and sign up to start creating fantastic worlds and unique adventures to share.
How to make your own game in Roblox Studio?
create your own game on Roblox, the platform allows you to do this in very simple steps and from your computer only. Here's how to do it.
Log in to Roblox.
Click the button "Create".
Log into Roblox and click "Create" to enter the developer
A new window will open, click on green button that says "Create a new game". If you want to create a game in a group, click Group creation, this option will appear until you have previously created a group. And in "Bookshelf" you can use templates created by other users.
If you want to start over, click on "Create new game".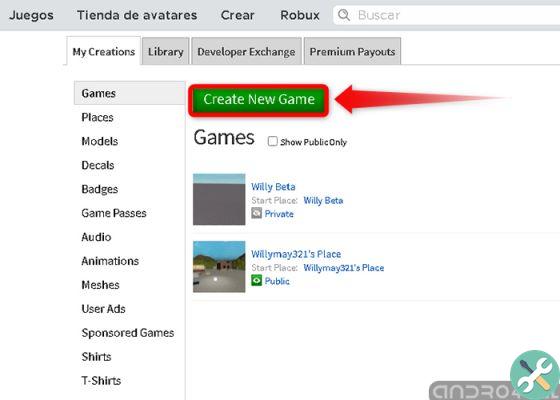 Click the green button to create a new game on Roblox
Various game templates will appear, select a base. It is recommended to use «Baseplate» which is the traditional one.
Now click on the green button "Create game", located at the bottom of the screen.
Wait a couple of seconds for the map to be created.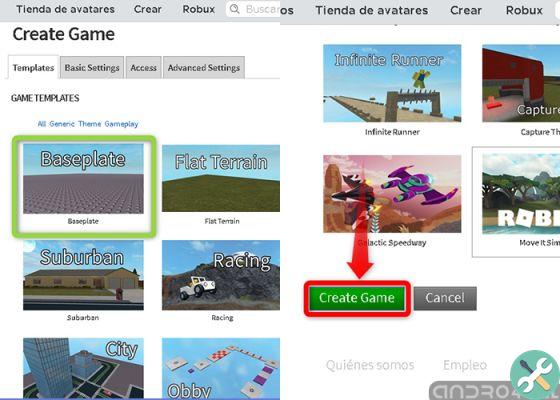 Choose a template and click "Create Game"
Next you will see the new server with some boot data. You can change this data by displaying the gear icon in "Configure game". There you will see basic settings such as: name, locations, created zones, developer products, social links, game updates and more.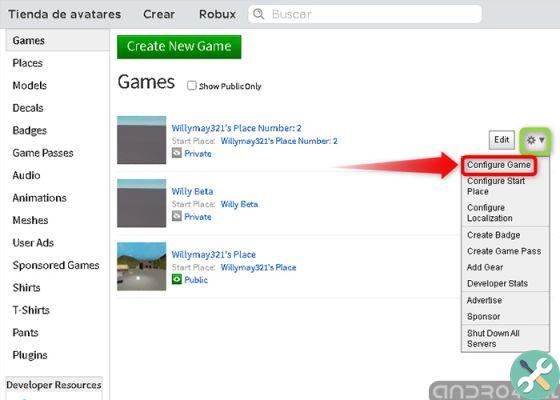 If you want to change the starting data go directly to the game settings
After applying the settings, click «Save» to save the changes and click "Backards" to go back.
Ready, your game was created on Roblox.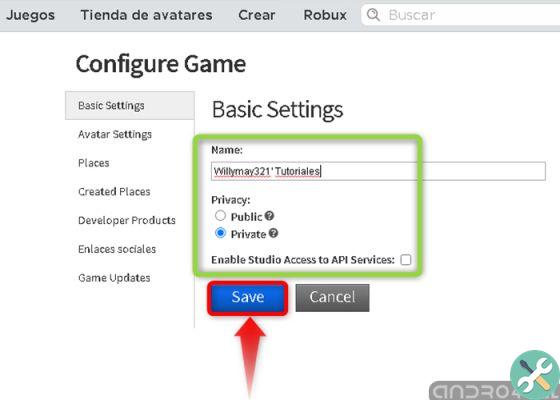 Name your game as part of the basic server settings
start editing in Roblox Studio, this is what you should do:
Locate your map in "My creations" di Roblox.
Click on three horizontal points, located at the top right.
Select «Edit».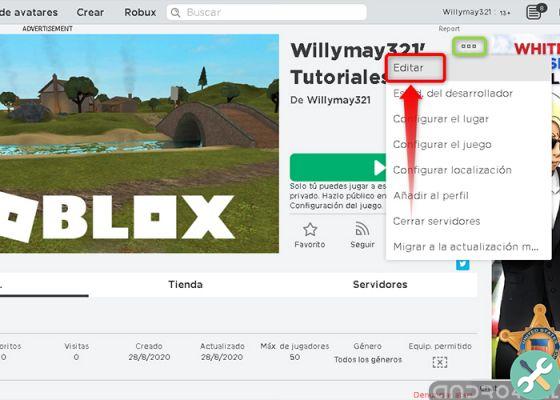 Once the game is created, you will see three steps to start editing in Roblox Studio
Si will open a pop-up window in which will be executed Roblox studio. If you don't have it yet, download it with the latest update.
Once the Roblox Studio interface is launched, you will see your game in the foreground and many basic and advanced commands and functions.
Start editing and customizing your game and grant corresponding permissions.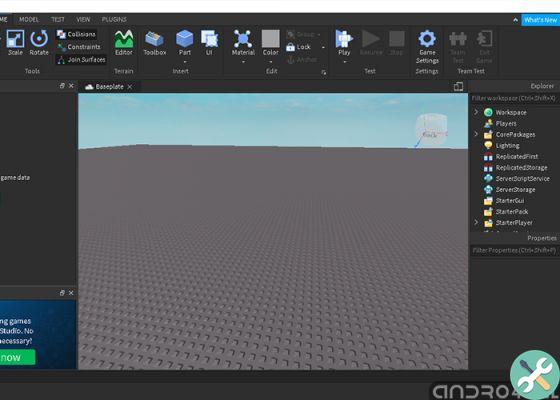 This is what the Roblox Studio interface looks like with the base of your created game
Show Roblox Studio basic menu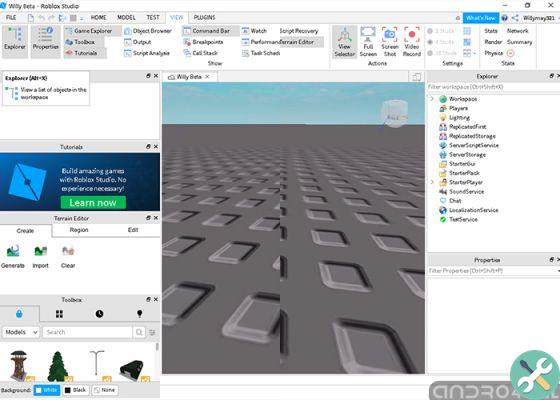 Roblox Studio basic menu that every developer should know
Working area
To see the menu you will work with, select «View» located at the top of the Roblox Studio screen. Now press "To explore". You'll see the basic menu on the left side of the screen, including Area of work: for all models or parts.
Property
Go to the menu at the top of the screen and click "Property", this works well for changing the properties of an object.
Production
Turn on the output in the top menu so that the system warns or signals when something goes wrong in your game. That is, if something doesn't work as it should, it will point the wrong line and the possible solution.
To build your world you don't have to be a programming expert, you just have to use the menu for adding, dragging and moving objects within the system.
Now if you need a world with advanced features, perhaps more knowledge is needed. However, come on YouTube you can find many tutorials about it.
How to make a game on Roblox public or private?
Roblox allows you to change your game from public to private through two different methods. To get to know them better, we will explain it to you below in detail step by step.
Log in to Roblox.
click on "Create" located at the top of the screen.
The developer screen will appear. Click on "My creations". It will show a list of all your maps.
Select the game you want to edit from "Public" a "Private".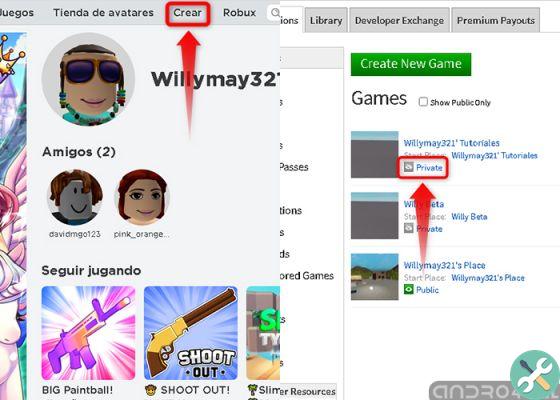 Enter one of your creations and check the color of your game's eye icon
Select on the right the eye icon that you will see under the group name. If the eye is green it indicates that it is a game "Public", if the icon is gray it indicates that the game is "Private". Click directly on the icon to set the change, choose between both options and then "Save".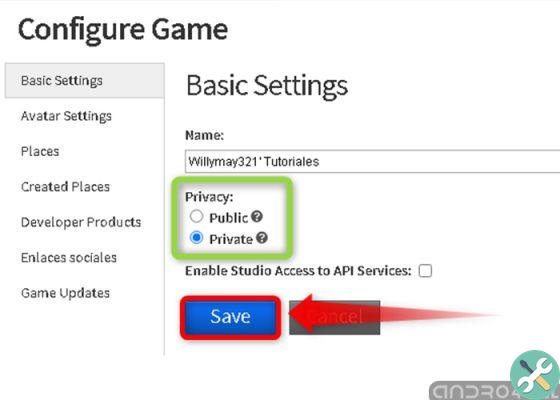 The action will take you directly to the game settings to make the change
Another way to make a game on Roblox public or private:
Log in to Roblox.
click on "Create" located at the top of the screen.
The developer screen will appear. Click on "My creations". It will show a list of all your maps.
Select the game you want to edit from "Public" a "Private".
Click gear icon, located at the top right.
A menu will appear, click "Configure game". It will take you to the game settings section, choose from "Public" o "Private" and then «Save» to save the change.
You may also like it | How to create an avatar in Roblox and change its appearance
And it's so easy to start making great games on Roblox through his instrument Roblox studio. Just follow a few simple steps to realize your ideas and unleash your creativity and ingenuity by developing what you want.