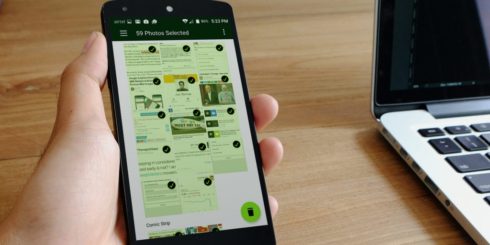 Useless Whatsapp photos, let's see how to delete them. Thanks to all the features of Whatsapp, users have an excellent way of communicating with other people. But in some groups, users send a lot of photos that they start downloading to their phone automatically, if you have previously selected it in the settings.
If you don't want to keep all these photos, you can delete all of them individually or you can select them all via multiple selection.
This can become a very simple task to do if the number of photos received is high.
To fix this, you can set your Whatsapp not to save photos automatically when they are sent to you.
To know how to do it, just read the continuation of this article. How not to automatically save photos on Whatsapp. The method is very simple and you just need to follow the following guide step by step.
Useless Whatsapp photos, let's see how to delete them
In order not to automatically save the photos on Whatsapp, there is an application called "Magic Cleaner". Using this app you can easily delete all good morning and good night images and similar photos that are of no use to you anyway.
The only thing you will need is to install this app on your Android phone (the iOS app is still under development). Open it on your device and then click on "clean". This application will automatically delete all those images generated and coming from Whatsapp.
To use this app you will need a good internet connection, it really works and deletes all unnecessary and unwanted photos or images.
You may think this process will take a long time. But actually this application can easily locate and delete all unwanted photos coming from Whatsapp with extreme speed. 1000 images per minute.
Now using this amazing application and clicking on the "clean" button, all the images and photos that will be useless for you, will be automatically deleted. Another thing you may think is that important photos may also be lost, but this is not the case.
Further Reading:
Because sometimes Whatsapp doesn't send photos
How to hide photos and videos on Whatsapp
How to remove WhatsApp photos from Google Photos
How to hide the WhatsApp profile photo from a contact without blocking it
WhatsApp: how not to send photos to the wrong people