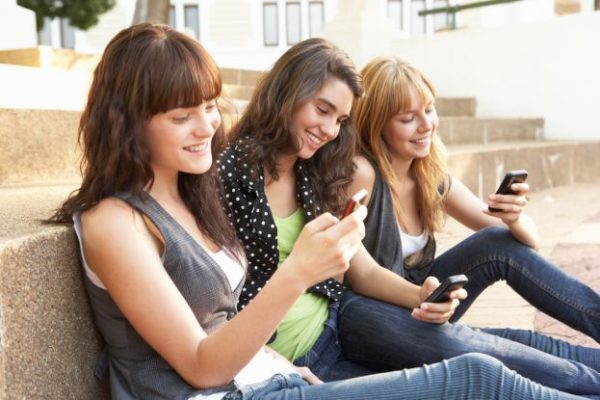 Whatsapp: convert voice messages to text! WhatsApp is the instant messaging application of choice for millions of smartphone users and in most countries has replaced the conventional SMS method. With amazing features like text messaging, voice and video calling, it offers multiple ways to communicate with your loved ones.
And not only that, it keeps improving day by day; bringing useful features to help us communicate in the best way. One great feature is voice messages. While it is a very useful feature, sometimes it becomes difficult to listen to a voice message, especially if you are in a public place or in a meeting.
Well, if you have found yourself in a similar situation, here is an app that converts Whatsapp voice messages into readable texts - Transcriber for WhatsApp. This application is very simple to set up. You need to select the language in which the app should convert voice messages to text on Whatsapp, the quality of the conversion and some other options.
This app is a relatively new app released recently by a developer named Mirko Dimartino. Now this app supports languages like English, French (French), Spanish (Spanish), German (German), Spanish (Spanish), Portuguese (Russian) and Russian.
However, the important thing to keep in mind is the accuracy of the speech-to-text conversion, even if it is not quite perfect. Also, considering that this wonderful application is relatively new and is constantly being improved with each update, accuracy is not a problem at all.
This app is not available in all Play Store countries so far. However, you can download it from apkmonk.com. I will provide you the link to download Transcriber, an app that convert WhatsApp voice messages to text, via apkmonk.com.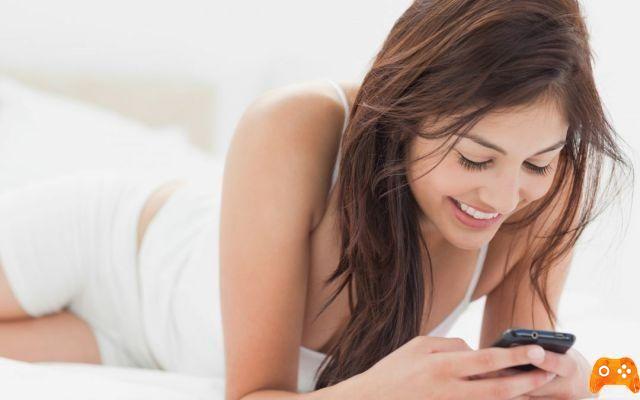 Whatsapp: convert voice messages to text
First, download the app by visiting the Google Play store on your Android smartphone. The link to this app is provided at the end of this article.
After launching the app for the first time, information about the app will be displayed along with some instructions.
Once you get the welcome, you will access the settings of the app useful for converting Whatsapp voice messages to text. Well, the app only has one screen and this is the settings menu screen.
From the settings menu, you can configure the app according to your needs. Here you can select the language you want to convert voice messages to, choose whether to select a language before each conversion, detect the default language, the quality of the conversion, and so on.
Once the app is configured, open WhatsApp and go to the chat in a voicemail you want to convert. Tap and hold the voicemail to select it. Then, tap the share icon at the top and select Transcriber from the list of options displayed.
The application will now convert the voicemail into readable text.
If you enable the quick launch feature from the application settings, you can convert the voicemail to text by simply tapping the audio play button.
Currently, Transcriber supports some popular languages such as English, Hindi, Spanish, French, German, Portuguese, Spanish, etc.
We just finished talking about how to convert Whatsapp voicemail messages into readable text using a free app from Play Store called Transcriber for WhatsApp.
Download Transcriber for Whatsapp from Google Play Store!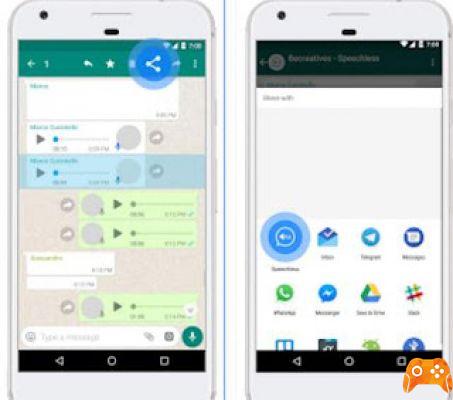 With apps you can really do everything, even convert a voice message received on Whatsapp into a text message, ideal both to transcribe it and to be able to read it if you can not hear it verbally. As we well know, in the guide to voice and audio messages on Whatsapp, you can listen privately to a voice message received simply by bringing the phone close to your ear. In this way, the message will be heard on the phone's microphone instead of the speaker.
However, in situations where you cannot listen to a voice message even in this way, for example, during a class lesson or during a meeting in the office, an app that allows you to convert audio to text can be really useful.and reads the Whatsapp voice message as if it were written normally.



For Android smartphones there are several apps to convert Whatsapp voicemail messages into written text.


The best at the moment is Transcriptor for WhatsApp, it is completely free and works great for messages in Spanish and other languages. The conversion is almost perfect unless the audio is noisy, poorly spoken or with too much background noise. The app works like this: after you install it and open it for the first time to grant the necessary permissions, you can keep it off until you need it. When you receive a voice message that you can't hear, you can convert it to typed text by tapping and holding the right side of the voice message in the chat until it is selected, then tap the top button with three dots, which is the one for sharing. Sharing must be done with the Audio To Text app freshly installed, and after a brief loading, that message will be displayed in text form.

This type of audio to text conversion is also convenient if you use Whatsapp to save voice memos, so you can automatically transcribe them. In addition, converting audio is also useful in case you receive voice messages from people who do not speak our language, so that you can then paste the text in the automatic translator. The application supports voice messages written in English, Spanish, French, Portuguese, Arabic, Italian, Dutch, German and Russian. The only flaw is that it always requires an active Internet connection to work. The limit is voicemail messages of no more than 45 seconds.

For Android there are also other applications that perform this same transformation, but they have some limitations and are not completely free including mute, it is free to convert voice messages to text up to 15 seconds. If you want to convert a longer message, you must pay for the premium version of the application that costs a couple of euros.
Speechless is available for Android and also for iPhone. The iPhone version of Speechless also works with voice notes.

Do not forget the Google app Instant transcription and audio notifications, designed for the deaf, which allows you to see written all voice messages, not only those of Whatsapp.

To read more:
Whatsapp, how to convert audio messages to text.
How to speed up Whatsapp audio messages on PC and phone.
WhatsApp warns: if you do not use the official app, your account will be banned
How to listen to Whatsapp voice messages without seeing them and without opening the app
How to read WhatsApp messages secretly