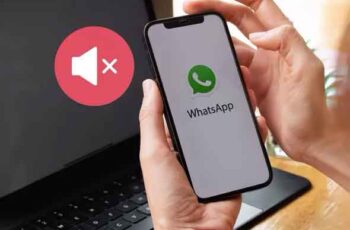 WhatsApp could be your favorite app for keeping in touch with friends and family. But the instant messaging app experience can be frustrating if WhatsApp notifications aren't working or arriving. You may be missing important messages and updates. Here's how to fix Whatsapp when notifications aren't coming.
WhatsApp notifications don't work, 8 solutions
The sound of WhatsApp notifications is customizable on iPhone and Android. It is possible that the audio has been muted or completely suppressed, or that the phone receives WhatsApp notifications but does not ring. So, let's see how to fix the problem.
1. Keep the phone in general mode
If the WhatsApp notifications aren't working the first thing you can do is disable the Vibrate / Silent mode on your iPhone or Android. On iPhone, find the side toggle button to disable vibrate mode and enable general profile. Android users need to scroll down in the notification center and disable the Silent profile.
2. Check notification channels (Android)
Android allows developers to offer notification channels to users. Supported apps like WhatsApp offer different notification channels to users. You may have turned off notifications for groups or other types of WhatsApp messages. Find WhatsApp from the app drawer or Home screen and long tap on it. Open the App Info menu and select Notifications. Tap each notification channel and make sure the warning switch is enabled.
3. Check the notification sound
You can customize the message notification sound for individual chats and groups. If you have selected None for these WhatsApp notifications, you will not hear any sound. Open WhatsApp on iPhone and tap Settings. Select Notifications and select Sound for group chats and conversations. Follow the steps below to make changes on Android.
Open WhatsApp on Android.
Tap the three-dot menu at the top and go to Settings.
Select Notifications and enable Conversation Tones.
From the same menu, make sure Group Messages and Notifications are not set to Silent.
4. Re-enable Whatsapp chats
WhatsApp offers an option to mute individual conversations or specific groups. You've been silencing some annoying members or groups for a long time, maybe that's the reason why WhatsApp notifications aren't working? You will not have news in the notification center. Once you open WhatsApp, you will see the latest messages. Open a chat you don't want to miss and tap the profile name at the top. Tap Mute and unmute the conversation. These steps are identical on both iOS and Android.
5. Reactivate messages for Whatsapp (iPhone)
iOS offers a built-in Mute button to silence notifications from selected apps. If a particular app spams you with notifications, you can swipe left and use Options to mute the conversation for an hour or a day. If you've used that option for WhatsApp, it's time to turn the sound back on. Whenever a notification arrives on your iPhone, swipe left and tap Options. Select Reactivate and you are ready to go.
6. Disable Whatsapp on the desktop
If you already have WhatsApp open on your desktop, you may receive banner and sound notifications there and not on your mobile. If you no longer need to use WhatsApp on Windows or Mac, press the X sign and close the app. Maybe you are using browser login to your WhatsApp account. So you have to close the current tab and divert all notifications to WhatsApp mobile apps.
7. Disable Focus or Do Not Disturb mode
If you have DND (Android) or Focus (iPhone) enabled, you won't get any notification from WhatsApp, let alone hear it. Swipe down from the top right corner on your iPhone and turn off Focus mode. On Android, you can view the notification center and turn off DND mode. If you want to continue working with the current layout, you need to add WhatsApp as an exception in DND mode.
8. WhatsApp notifications not working? Update Whatsapp!
WhatsApp notification sound not working on Android and iPhone may be related to an outdated app on your phone. Updating WhatsApp to the latest version improves the reliability of the app and adds new features such as multi-device support. Go to the Google Play Store or Apple App Store and download the latest version of WhatsApp on your phone.
How to update WhatsApp on Android and iOS
Don't miss any Whatsapp messages
You may miss some important messages when the WhatsApp notification sound is not working. Instead of reinstalling WhatsApp, you can follow our solutions to fix WhatsApp notifications not working on iPhone and Android.
Further Reading:
Notifications don't work on Xiaomi phones with MIUI
7 solutions for when WhatsApp call doesn't ring when iPhone is locked
How to fix problems with WhatsApp notifications on Huawei
How to sign out of iMessage on Mac in just 5 simple steps
What to do if WhatsApp does not show notifications on Android