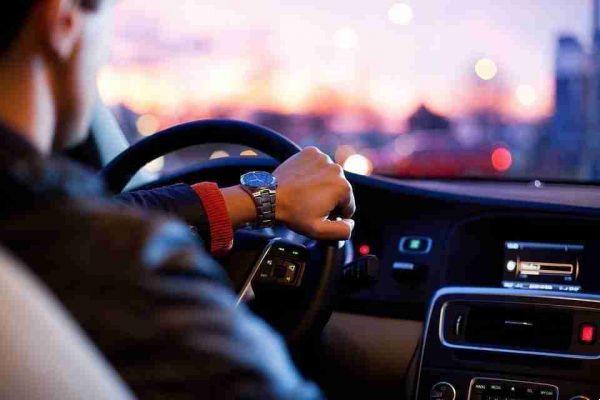 If you want to know the expiration of your car tax directly on your Android or iOS smartphone, there are several apps that can give you this information.
We have compiled the best apps for know the expiry date of the car tax both on Android smartphones and tablets and on iPhones and iPads.
App to find out when the car tax expires
Vehicle scanner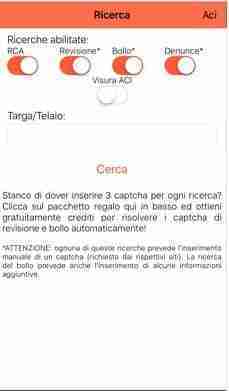 Vehicle Scanner allows you to check vehicle information such as insurance, MOT, complaint status and car tax.
If you want to know the expiration of your car tax once the app is installed on your device, perform the following steps.
Select the toggle next to Revision, Stamp, Complaints and ACI Survey,
Once the desired searches have been activated, enter the license plate number and click on Search.
Once the search is complete, you will know the expiry date of the stamp by clicking on Details in the Stamp section.
Download now for Android and iOS
Check RCA Spain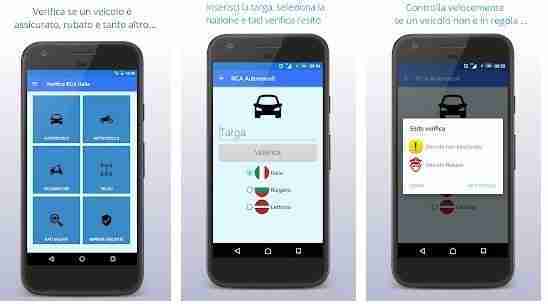 This app is exclusively for Android devices it is not available on iOS but if you have a robot device it is very useful for getting information about your vehicle.
With Spain RCA Verification you can:
- Check the insurance of vehicles with Spanish registration plates
- Check the insurance of vehicles with Bulgarian and Latvian plates (PRO version)
- Check if a vehicle is stolen
- Save the checks carried out (PRO version)
- Save the location of the verification (with date and time) (PRO version)
- Consult offline checks with various filters (PRO version)
- Know the cost and expiration of the vehicle tax
- Add reminders for Revision, Stamp, RCA deadlines. (PRO version)
- Get technical details about the vehicle (ACI agreement)
Download now for Android
iTarga - Control Plate Stamp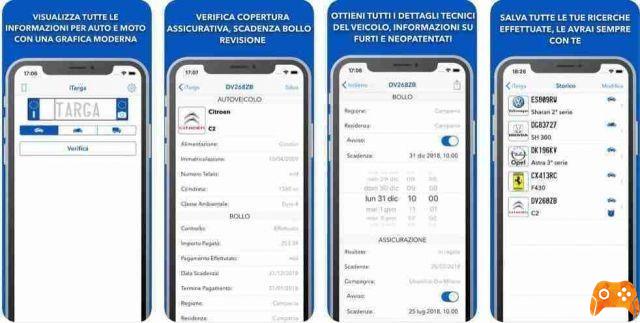 iTarga instead is an app exclusively for iPhone and iPad and allows you to easily know the expiry date of your car tax if you have an iOS mobile device.
With iTarga you can:
Obtain all the technical characteristics of the vehicle (make, model, power supply, registration date and other very useful information).
Calculate the stamp duty and check the deadline.
Check your vehicle's insurance coverage.
Check if there are any reports of theft or loss.
Know if the vehicle can be driven by novice drivers.
Manage stamp duty and RCA deadlines through notifications.
Save all searches made.
View the History with all the details.
Download now on iPhone and iPad click here
Vehicle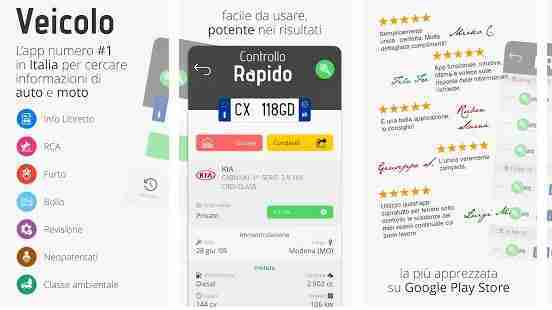 With this app you can check the technical characteristics of a vehicle, check its RCA coverage, check the theft, calculate the road tax or check the revision simply by knowing its license plate.
The app allows you to get technical information such as:
Make, model and equipment.
Registration data (1st registration, date of purchase, place of registration).
Engine data (power, displacement, kilowatts, horsepower).
Insurance data (insurance status, policy expiry).
Driveability for novice drivers and necessary driving license.
Data of the theft (status of theft, date of theft, place of theft).
Stamp data (cost of the stamp, any cost of the super stamp, expiry of the stamp).
Inspection data (last inspection, km recorded, inspection deadline).
Other information (fiscal HP, environmental class, seats, approval code).
Download now on Android and iOS
Infotate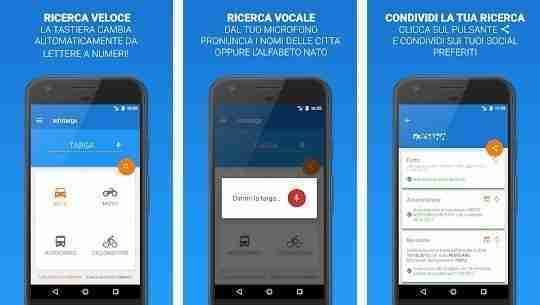 Infotarga allows you to check the insurance status, road tax, data and any reports of theft of a car, motorcycle, moped and truck in real time.
Available only for Android it is really a simple app to use to know everything by typing a vehicle license plate.
Download now for Android
Conclusions
As you see today know the expiry date of the car tax it's simple through your smartphone or tablet with the right app. What are you waiting for, find out if you have to pay your car tax and many other information.