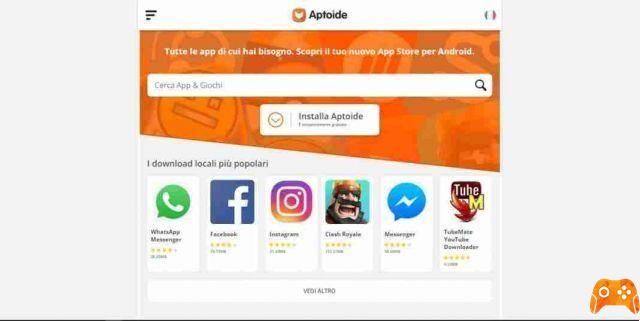 Aptoide it is currently the most popular alternative application store to the Play Store for Android. It boasts about 600 apps in constant growth and is a beautiful reality in continuous expansion. For many it is the first choice and first valid alternative to Google Play Store.
Download find and share the best games and uses Android.
Your friends told you about Aptoide an alternative store to the Android PlayStore through which you can download for free uses and games of all kinds.
Just download the application and we can immediately do the download of apps from this alternative store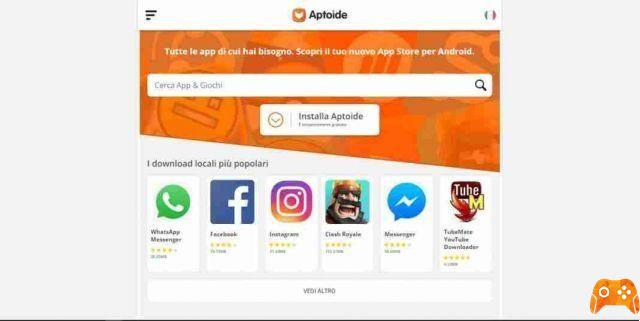 Its installation is done from the APK file which is not downloadable from the Play Store. Once installed on the device it works exactly like the Google Play store.
The apps are organized into categories and the ranking allows you to see the most downloaded and most rated ones. It contains applications that are not available in the Play Store for various reasons (legal or not).
Come scaricare aptoide: download apk android: aptoide, aptoide lite e aptoide tv
For installation you need to download the apk file on your Android device.
It offers three different versions downloaded the updated apk from the following links:
Normal version for Android smartphones and tablets
Lite version for older smartphones and tablets
TV version version for Android TV
If you download it from your computer, you must copy it to the SD or the internal memory of your mobile or tablet.
Then go to the Settings> Security menu and check Unknown sources, i.e. allow the installation of apps outside Google Play. Now just open the folder where the downloaded APK file was saved and tap on it to start the installation.
How to use aptoide on android
Once installed it will be very easy to use it as it works the same way as the google Play Store.
Look for the app, press on install / download and once done open the app on your smartphone, tablet or Android TV.
However, keep in mind that in order to install applications or games in Aptoide you will need to authorize theirs download and their installation.
Aptoide repository how to add them
To make the most of this store you will need to install new repositories.
Adding repositories is anything but complicated. Just go to the store tab and tap on the Add more store item.
You can proceed in two ways: by directly entering the store address or by clicking on the item See the best stores. If you choose this option you will be taken to the Top repos section of the site where you can easily select the ones that are right for you.
List of the best repositories
http://androides.com/repo/apk
http://antarido.aptoide.org
http://afshar.aptoide.org
http://repoman.aptoide.org
http://nicvolk86.aptoide.org
http://apps.bazaarandroid.com/
http://atalanta1907.aptoide.org
http://repoman.aptoide.org
http://yohanes.aptoide.org
http://sorbaioli.org/repo
http://megamaxy.aptoide.org
http://nicvolk86.aptoide.org
http://repo2.altMarket.mobi
http://www.beyazkahraman.com/repo
http://bazaar.aptoide.org
http://onairda.store.aptoide.com
http://htcsense.store.aptoide.com
http://darkkiller.store.aptoide.com
http://androidvinotinto.aptoide.org
http://apps.store.aptoide.com
http://afshar.aptoide.org
http://mark8.store.aptoide.com
http://yohanes.aptoide.org
http://afshar.aptoide.org
http://repo2.altMarket.mobi