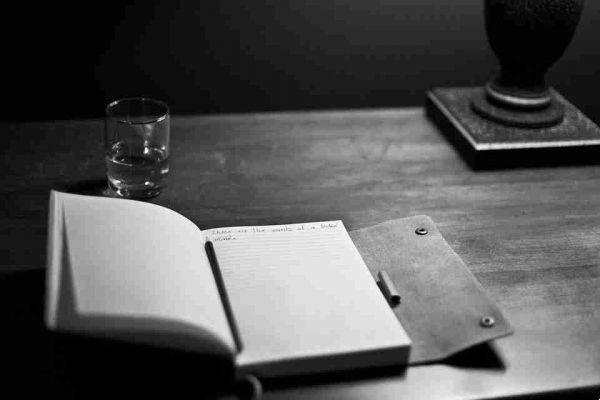 Book writing apps, which can help you plan your story or have a place to write and get directions on your content.
Best apps to write books on iPhone
Scrivener
Scrivener is a highly comprehensive app that aims to help writers as much as possible. With a user interface (UI) that makes dragging simple and intuitive, Scrivener allows you to work on individual sections of your book and even change the position of chapters.
You can insert comments, footnotes, links and highlights on any selected text, insert images, see word and character counts, and import PDFs and multimedia files. The app uses Dropbox to quickly and easily move a manuscript between different devices.
You can export to a variety of formats, even to a ZIP compressed folder. It also allows you to take screenshots of previous versions so that you can cross-compare after making changes; which is especially helpful if you're struggling to nail down a particular chapter and have more ideas on how it can go.
Download: Scrivener.
LivingWriter
LivingWriter is a pretty basic app with a fun and elegant user interface. It allows you to write your own stories and take notes to help you with your story. When you're on a story project, you can write story notes, story elements, chapter goals, story goals, and more. The app makes exporting to PDF and Word quick and easy, which means you can add to a story on the go if you can think of an idea, then export it to Word to continue on a different device when you go back to. home.
The app also allows you to add an image of cover to the stories, which is a nice touch that helps with the aesthetics of different stories. Compared to the other writing apps on the list, LivingWriter might be seen as a bit straightforward, but its strength lies in the ease with which it manages to break down your story goals. Its formatting options are comprehensive enough to give you everything you need while writing a book via your phone.
Download: LivingWriter
Story planner
Finding ideas for stories, or even just for individual chapters, can be difficult for even the greatest writers. Story Planner for Writers aims to make this easier for you through its intuitive features.
The app has dedicated sections to outline characters and places. It even lets you add images to enhance the aesthetics and help you get into the zone. Through its color coding feature, you can separate the weft lines to keep them straight in your head.
Its Progress Bar feature helps you stay productive enough on a daily basis, tailored to your desired output. It also offers statistics that help illustrate through data how your story works.
Download: Story Planner for Writers
Writer Assistant (Wassi)
Writer Assistant (Wassi) works much like Story Planner for Writers, but while it doesn't have as many features as the latter, it does have a free version and contains enough features to be useful.
Through the top menu, you can work on different aspects of a project with tabs for Characters, Places, Stories and so on. And, on each tab, whatever you're working on will be broken down into additional tabs that can help you shape a place or character.
Writer Assistant allows you to save and restore backups and you can too export to PDF , as well as changing the app theme to make it look the way you want. These extra features are useful if you work on other devices and want to schedule your story on the app and then transfer it to another device to start writing.
This app is great for planning your story and nailing the different aspects of everything: storyline, characters, locations and so on. The way it breaks it down can help get your creative juices flowing and make the task of planning your novel easier if you're struggling to get started.
Download: Writer Assistant (Wassi)
Ulysses
Ulysses is one of the most popular book writing apps out there, and for good reason. With a sleek, highly responsive user interface and simplicity-based design, you can start creating content right away and worry about the details later.
Via Sheets, you can write different stories via the app and set them to sync via iCloud. Ulysses makes it easy to sync with your iPad or Mac, which means you can use the app on the go to add some ideas or write some of your own stories, then continue on to a bigger screen when you're back home.
In the text editor, you can add headings, dividers, block quotes and more via the hamburger menu. In the Formatting tab, you can add annotations, videos, footnotes and comments among other things.
The most impressive feature of Ulysses is its proofreading mode, which provides tips on how to improve your text such as spelling, grammar, word redundancy, and typography. This feedback is useful for writers of all skill levels. Finally, the app is available in over 20 languages, so it's more than likely accessible to you.
Download: Ulysses
Storyist 4
Storyist 4 is also a very popular writing app, and for good reason. It combines the principles of the other apps out there (book planning vs book writing) in a way that feels natural and simple.
When you create a project, you can work on the actual manuscript and start writing the story right away, or you can take the time to outline the characters and settings. You can also add images. The new templates make it easier to get started, especially if you're struggling with writer's block or feeling overwhelmed. While the character templates and settings are a little leaner than Story Planner for Writers and Writer's Assistant, the fact that you can plan or write everything in Storyist makes it a very convenient and useful tool.
Storyist also offers a great deal of formatting and sectioning options for your text, but they can be a little hard for beginners to find, being featured in the submenus of an already bloated menu. This is something that will have less of an impact as you become familiar with the software.
Download: Storyist 4