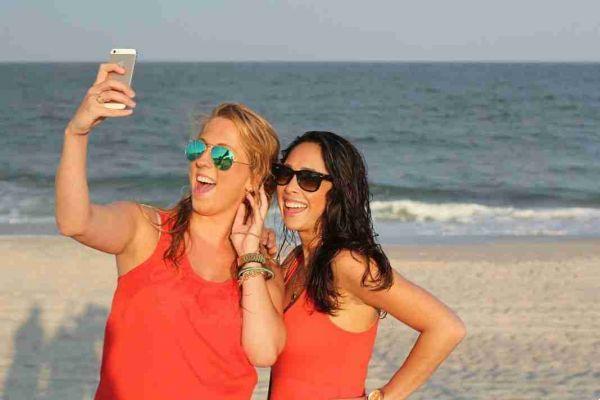 Our guide to the best free selfie photo editing apps will ensure you always look your best every time you take a photo.
Smartphone cameras have greatly improved in recent years. But despite that, taking the best selfie requires a lot more than fantastic front camera hardware. To level up your selfie game, you also need to use the best selfie apps on the market. Thanks to this need, the developers have made use of many selfie apps available on the Google Play Store.
With so many options to choose from, it can be difficult to separate the grain from the chaff. So here are the six best selfie apps for Android.
Snapchat
Although Snapchat is a social media app, it has a lot of built-in features that can help you take the best selfies. The app has an ever-growing portfolio of face lenses and filters, making the whole process a breeze.
As one of the most popular apps on Android, Snapchat has a vibrant community of users and creators who also make new free lenses and filters. If you prefer to get your hands dirty, the app allows you to create your own filters. Since Snapchat is also a social media app, you can share your images instantly with your friends.
Download: Snapchat
Airbrush
If you have skin blemishes or blemishes on your face, Airbrush is one of the best selfie apps for the job. Airbrush is an all-in-one photo editing app with various tools to enhance your selfie game in an instant.
First, the app allows you to easily remove blemishes and pimples using its blemish removal tool. It also goes an extra mile by allowing you to whiten your teeth, brighten your eyes, add blur, and reshape your selfie, among other things.
Like Snapchat, it also has live editing, so you can take care of everything before hitting the capture button. This way, every selfie you take is always ready to be shared.
Download: Airbrush
Camera360
Camera360 is, without a doubt, one of the best photo editing apps for selfies. Camera360 is the ideal app if you are looking for fun filters and photo editing tricks without having to put in a lot of effort.
It includes over 100 fun stickers which are placed in different categories for easier discovery. Other than that, the app has beauty and makeup filters, and the camera adds beauty automatically, so you don't need to.
The app also supports real-time editing with its beauty and makeup filters available at your disposal to make sure you take the perfect selfie. In addition to fun stickers, beauty filters and makeup, it also packs over 100 classic image filters that let you change the look of your photos with just one tap.
You also get basic photo editing features like crop, color adjustment and blur, plus a built-in collage feature to combine photos on your Android phone.
Download: Camera360
HD camera
One thing that makes the HD camcorder easier to recommend is its easy-to-use user interface. Once the app is installed, open it and tap the camera icon to launch your selfie camera.
HD Camera saves you the trouble of switching between front and rear cameras like most of the other apps on this list. The camera also has a variety of real-time filters, but you can still edit your selfies after taking them.
Before taking a selfie, you can play with the built-in filters to ensure perfect images. A built-in collage maker allows you to combine multiple photos.
Additionally, the app features an editor with basic manual editing features like crop, mirror, blur, frames, and more. The app has a variety of settings that allow you to change where your selfies are saved, add face detection, and remove location information (for the privacy-conscious), just to name a few.
Download: HD camera
BeautyPlus
BeautyPlus has a wide range of filters to help you take the perfect selfie. It contains many stickers with real-time editing support and new categories are always added depending on the season. There's also an easily accessible camera button that you can tap to take a selfie.
The editor has a rich selection of options, from ready-made templates to filters and stickers. And if you prefer extreme editing options to alter the look of your face, BeautyPlus has your back with its retouching functionality.
The makeup option allows you to add or change your lipstick and adjust your brows, lashes, eyeshadow and more. There is also a built-in concealer that allows you to instantly hide blemishes and pimples for flawless skin.
Heck, you can even slim down your face, whiten your teeth, and play with additional editing tools to enhance your selfie game. These tools are useful because not everyone can afford to master Photoshop.
Download: BeautyPlus
Sweet selfie
Sweet Selfie is a camera app that boasts a lot of built-in filters. You'll have an easily accessible shutter button that instantly opens your selfie camera when you launch the app.
What makes Sweet Selfie easy to use are the real-time effects that allow you to beautify your selfies. You can, for example, add makeup and decorate your face with a variety of retouching options at your disposal.
You can also add filters to your images before taking a photo, just like you would with the stock camera app, although Sweet Selfie goes a mile further with a richer selection of options.
Download: Sweet Selfie.