The teleprompter (also called hunchback or electronic prompter) is a system that allows you to view a text intended for reading by a speaker directly on the camera that records the scene, through a semi-reflective mirror. This allows the speaker not to take their eyes off the camera.
Thanks to the smartphone apps I am about to list you, you can now publish and make your speeches by seeing the text while you are recording the video.
In summary these apps allow you to see the text of what you have to say on the screen of your smartphone or tablet while you are recording a video, of course only you will see the text and it will not be shown in the recording, these apps are like an electronic hunchback.
TELEPROPTER PRO
Teleprompter Pro has a lite version which is free to download and use and is ad supported. The pro version will cost you but will allow you unlimited scripts, remove ads and enable mirror mode.
Download now click here
VIDEO TELEPROMPTER
The app is well designed and its interface is easy on the eyes. You can start by creating a script. Once the script is ready, tap it to edit it or start recording the video. On the downside, there are no advanced options for changing the font size or color. However, you can set up automatic scrolling.
Download now click here
Simple Teleprompter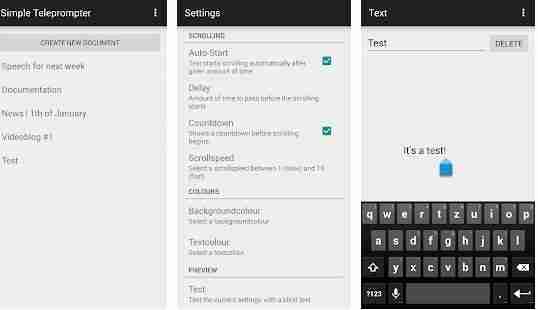 Simple Teleprompter, also this app is very simple to use enter your speech and you can start recording your video without missing any words while you record it. Simple and intuitive app.
Download now click here
BIGVU
BIGVU has the ability to customize the video recording mode and the text display mode.
Using a green screen as a background BIGVU allows you to insert custom backgrounds, logos, images or even videos, to add more graphics to your presentation. You can also add text overlays on the recorded video.
Download now click here
CYPRESS
What Selvi will do is show a text overlay when you start recording video on your smartphone. That way, you'll never forget a single line. Instead of showing the text above or below, Selvi displays it in a translucent window. It is possible to record videos from 480p to 1080p and switch between the front and rear cameras.
Download now click here