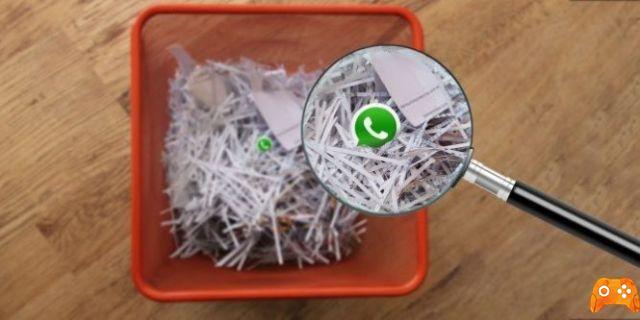 Do you want to know how to recover deleted photos from Whatsapp? It happens to everyone to delete an image at first sight useless and then regret it immediately afterwards. In this article we illustrate the easiest and fastest methods to recover deleted photos from Whatsapp.
Do your friends still have a copy?
Recovering a lost image might be even easier than you think. First check if the person (or people) you were talking to have a copy of the message. If you downloaded an image and then deleted it, someone else in the group chat or a friend of yours may still have it.
Ask him if he can forward the image to you or save it to his phone and share it again. Just because you touched "Delete for me" it does not mean that you have deleted the image from all phones.
Restore from a WhatsApp backup
If someone can't send you a copy of the lost image, the easiest way to recover lost messages is through a backup. Both the Android and iOS versions of WhatsApp support backups (to Google Drive and iCloud respectively). If it hasn't been long since you lost the message, restoring the latest backup is your best bet.
WhatsApp is very simple: install, update, backup and restore
Obviously, this requires that you have enabled the backup function before deleting the image.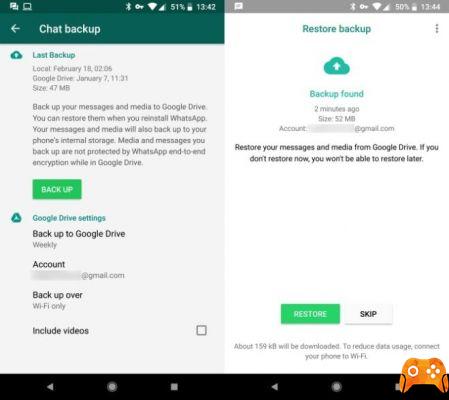 First, go to Settings> Chat> Chat Backup. Information will be displayed including when the last backup was performed and how often the data was backed up. If you have deleted the pictures from the last backup, you can uninstall and reinstall WhatsApp to recover the messages.
Just uninstall the app from your device, then reinstall a fresh copy from the App Store or Google Play. You'll need to confirm your phone number again, then you'll see a message to restore your data from a backup if available. Accept this and WhatsApp will restore all your messages just as they were at the time of backup.
Note that this may cause the loss of exchanged messages since your last backup.
How to recover deleted pictures and videos on Android
Check your phone's WhatsApp folder (Android)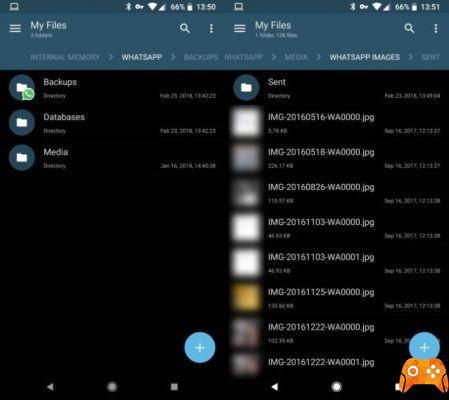 This step doesn't work for iPhone users because, unlike Android users, they don't have the ability to explore the entire file system of the device (even with the Files app).
By default, WhatsApp saves all sent and received images in a folder. You can delete an image from the chat and keep it on your phone in this folder. Download a free file browsing app for your phone, then drill down to the following folder:
Internal Memory> WhatsApp> Media> WhatsApp Pictures
Here you will see all the images you have received on WhatsApp. There is a folder sent inside this one that contains the images you sent. Check it out and see if your missing WhatsApp files are inside.
Using dedicated recovery apps
When you are looking for help from Google when you need to recover WhatsApp images, you will probably find dozens of programs that offer you a solution. Reality is sad.
Just like when it comes to recovering deleted text messages, the vast majority of these "recovery" apps won't help you. Recovering WhatsApp images is a bit different than recovering text messages, but the software still has the same big problems: it requires root access (on Android), and they don't work if we don't pay.
These recovery programs are all similar. They claim they can retrieve the messages through installing software on the desktop and connecting the phone. So once you run the program you won't get any results, check that the app requires root access or you need to pay to actually perform the reset.
And they're not cheap either. A license costs from € 25 / € 50, and even if you decide to pay, it is not known whether the software will actually fetch anything.
How to backup Whatsapp manually
One and only way to recover deleted photos from Whatsapp
Unfortunately, the only real way to recover deleted media from WhatsApp comes from having a proper backup done in advance. WhatsApp does not keep chat history on its servers, so it is not possible to contact the company to retrieve messages or files.
In case you were wondering, if it is possible to recover Whatsapp images via data recovery software. These apps cannot scan modern smartphones to retrieve files, as today's phones don't use the USB mass storage protocol.
Once a message is deleted, the only way to recover it is through the backup file stored on the phone.
If you have a backup, the best way to restore it is to use the reinstallation method described above.
Without a backup, such messages cannot be restored, and recovery apps cannot make them appear out of nowhere. That is why it is so important to back up everything in advance to avoid such data loss.
If you decide to try one of the recovery programs (which we don't recommend), make sure you do it quickly. When you delete a file from your phone, it is not deleted immediately. Instead, the operating system marks it as safe for deletion. When new data arrives, it replaces the data tagged for deletion.
How to backup Whatsapp | Simple guide
Further Reading:
How to recover photos on Xiaomi Mi 10T
How to recover photos on Xiaomi Mi 11
How to recover photos on Samsung Galaxy S21
How to recover photos on Samsung Galaxy A52
How to recover photos on Samsung Galaxy A72