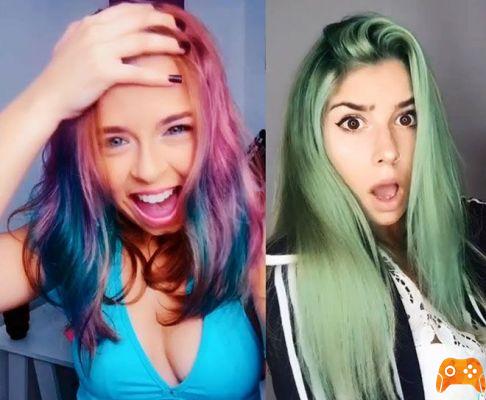 How to add TikTok filters and effects. Bring your TikTok videos to life with fun effects. What sets TikTok apart from other similar social media apps are the built-in video filters and effects that can be added to clips after they are recorded or in real time as they are recorded. Here's how to add both.
How to add effects on TikTok
TikTok effects are used by both casual users and the most influential social media influencers to make their videos more engaging and fun. Here's how to add video effects on TikTok.
Open the TikTok app on your iPhone or Android smartphone.
Tap the button + in the center of the lower menu.
Tap the red icon Register to record a new video or tap Charge to upload an existing clip from your device. Vertical videos look better on TikTok and tend to get more engagement.
Toccata Effects from the bottom menu.
The TikTok app will show you a live preview of your video with a timeline below it. Drag the white marker to where you want to insert an effect. If you want to place an effect on the whole video, leave the white marker at the beginning.
The available TikTok effects will be displayed as circular icons in the timeline. The default effect category is Visual. You can swipe left or right to browse this list and find the one you like.
To see the effects of other categories, tap the category name below the circles. Trans stands for transition and is best used in space on the timeline where one clip ends and another begins.
When you find an effect you want to try, do a long tap on its icon to apply it.
You can now play the video to see what it looks like. If you are not satisfied with the results, tap the icon arrow which should now be visible under the timeline to undo it.
Repeat with as many effects as you want in other parts of your TikTok video or even on top of existing ones. Usually only one TikTok effect from the Video Sticker category can be used. However, other effects can be used on this type of effect.
When ready, tap Save.
Make the usual changes with the video volume, sounds, stickers or text functions as usual and tap NEXT. It's okay to just touch NEXT without making any further changes.
Enter a good description, choose the hashtags and settings and tap Public. Your TikTok video will now be live with your chosen effects.
How to add filters on TikTok
Like the effects, TikTok filters are also used by small, medium and super popular users on the social network. While effects on TikTok are used to create dynamic or creative visuals, TikTok filters are used to make more subtle changes and work in much the same way as photo filters on Instagram.
Open the TikTok app on your iOS or Android device.
Tap the icon with the symbol +.
Tap the red icon Register to record a new video or tap Charge to use a clip saved on your device. You can upload or record different snippets of footage for use in your TikTok video if you wish.
In the upper right corner of the video preview, you should see a menu. Touch filters. This menu may be difficult to see if your video has a lot of white.
A variety of filters will appear at the bottom of the screen. Tap one to see a live preview on your video.
While the filters are sorted by categories, you can use one on any video. For example, it is quite correct to use a filter from the Filter category feed in a shopping video.
Drag the white point to reduce or increase the intensity of the TikTok video filter. Once your TikTok video looks the way you want, tap it to close the Filters menu. To remove all applied filters and start over, tap the left icon that looks like a circle with a line through it.
Make any other changes you want to make to the video, and when done, tap NEXT.
Finish by entering the appropriate information and choosing the desired settings, then tap Public to post your video.
Where is the Sparkle TikTok filter?
One of the coolest filters on TikTok is the one that adds bright sparkles to the video. This can be difficult to find because it's not a filter, it's an effect and can be found in the Effects menu. Also, there is actually no effect called Sparkle.
TikTok users who have videos with a sparkle effect have probably used one or more of the following TikTok effects:
Gold dust
Heart
Rainbow
Bling heart
bling
streamer
starlight
Fireworks
Colored
Lost
All of these effects fall into the Visual category.
How to add text to a TikTok video
Adding text to a TikTok video is fairly straightforward and happens much like adding text to an Instagram story.
Open the TikTok app.
Tap the icon +.
Record a video as usual or upload it from your smartphone.
In the bottom menu, tap Text.
A keyboard will appear as well as a variety of format options. First, type your message.
Choose your font style and color from the menu above the keyboard.If you've accidentally exited the text editing screen, tap your words in the video preview and tap Modification.
Tap the icon A to add a colored outline around the text. Also tap the line icon to choose an alignment preference. Adding an outline can be a great way to improve readability on both your video and its thumbnail.
Toccata Done.
Using two fingers, resize, move and rotate the text to get it wherever you want.
Toccata NEXT.
Make the usual choices, enter a hashtagged description and tap Public to publish your TikTok video.
Further Reading:
How to change eye color in TikTok videos
How to edit TikTok video
How to connect Instagram to TikTok
How to use TikTok
How to download TikTok Lite on PC for Windows and Mac