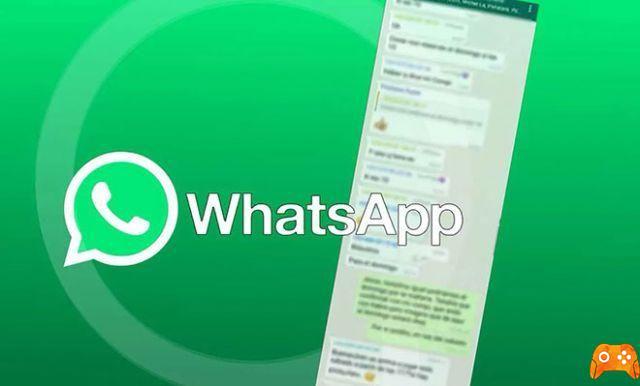 How to capture full WhatsApp chats in a single image. If you are a WhatsApp user, surely on many occasions you have taken a screenshot of a part of the conversation to send it to one of your contacts. But things get complicated when the conversation takes more than what is shown on our mobile screen, having to take several screenshots in sequence.
This makes the person we send it to have to read the conversation in parts, which can be quite uncomfortable and difficult to follow. To avoid this, we will show you how to capture entire WhatsApp conversations in a single screenshot.
This way, we can share complete conversations within the messaging app in a single image quickly and easily.
The truth is that it is not a function that we can find in the native options of the Facebook owned app, so we will have to use a third party application that allows us to perform this type of acquisition. Of course, as long as the manufacturer of our smartphone does not offer us this feature as part of the system customization layer.
How to acquire full WhatsApp chats on Android
If we do not have this feature as part of the system settings, we will have to install an application on our phone that adds this feature to capture complete WhatsApp conversations.
It might interest you: How to make a video call from Messenger Rooms via WhatsApp
LongScreenShot
LongScreenShot is an app available on Google Play completely free and designed to allow you to capture everything that appears on the screen of our phone. Therefore, once installed, the only thing we need to do to capture a complete WhatsApp conversation is to open the app, accept the required permissions and follow the steps mentioned below:
Click the "+" button which appears at the bottom right.
The first time it will show us a notice to confirm that we will start registration. If we want, we can indicate that it is shown again. Click Start now .
We will see a floating button with the symbol of reproduction .
Let's go to WhatsApp and enter the conversation we want to capture.
Once there, we do not locate the place where we want to start the acquisition and click on the Play button di LongScreenShot.
Let's scroll the screen to the point where we want to capture the conversation.
Click on the button Stop of the app.
The capture will have been taken and we will have it as a single image in the phone gallery.
Read also: How to edit WhatsApp images
Longshot
Longshot is another free app available on Google Play that works in a similar way to the previous one. In this case, it should be noted that it can work more automatically than LongScreenShot. Once installed, here are the steps to follow:
We enter the Capture ScreenShot option.
Let's configure the mode we want to use for capturing screenshots. Recommended automatically if what we want is to capture a full WhatsApp conversation.
Click the button Screen capture .
We accept the notice that shows us the notice that we will start the registration and that we can do it not show again. Click Start now .
This will bring up two floating buttons on the mobile, Start and Cancel.
We go to WhatsApp, we enter the conversation we want to capture and we find ourselves in the part of the conversation where we want to start the capture.
Click on the button Start .
If we selected the Auto Scroll option, we will see how the app itself scrolls through our conversation and records all messages to the end.
When I finish, click on the screen to stop capturing.
We will be able to preview the WhatsApp conversation capture and adjust the cropping of the image in different sections.
Let's deepen: 3 things to keep in mind before deleting a WhatsApp message
How to acquire full WhatsApp chats on iOS
Although the Apple environment is generally less forgiving when using certain applications, the truth is that for those who have an iPhone and want to capture complete WhatsApp conversations in a single image, there are also some apps available that allow us to do so.
PicSew is one of the highest rated among iOS users and we can also get it for free, although there are some purchases within the app. In addition to allowing us to capture complete conversations on WhatsApp by scrolling vertically so that every single message we are interested in capturing comes out, it also has the possibility of doing the same but horizontally. In other words, it allows horizontal shift capture in a single image.
Tailor - Screenshot Stitching is another of the more popular ones, although the truth is that it has a worse rating in the App Store. However, it performs the function of being able to take scrolling screenshots to be able to save complete WhatsApp conversations or articles of interest from any website in a single image to save them in a single capture and be able to read them comfortably later, for example .
Further Reading:
Will WhatsApp charge € 0,01 for each message and will its logo be blue?
Deleting WhatsApp contact, very easy
How to enable WhatsApp two-factor authentication for Android
How to hide the WhatsApp profile photo from a contact without blocking it
Best WhatsApp Wallpapers