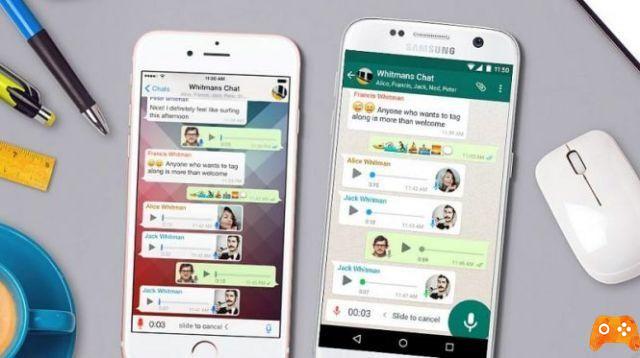 Through WhatsApp we can receive hundreds of messages a day because of its groups, and if not we have configured notifications correctly, these can turn into a real madness, with our cell phone beeping all the time.
WhatsApp It offers a wide range of options to configure notifications, such as customizing the sounds by contacts and groups or disabling contacts or groups that do not interest us. Below we show you the our most comprehensive guide to adjusting notifications of the most used messaging client.
Notification settings
To configure the default notifications we have to go to Settings> Notifications. There we can customize the message notifications (private chat) and the group notifications. We can customize notification tone, vibration and light color if our cell phone has a notification LED. We can also customize the tone and vibration call notifications.
Read also: What happens when you block a person on Whatsapp
Personalized notifications
If what we want is customize notifications, what we have to do is go to the information of a chat or group and activate them personalized notifications. Here we can create a different sound for each contact or group, with or without vibration or a different light, among other options. Here we can silence a contact forever by removing sounds and vibrations.
Silence notifications
If we want a contact or chat to stop bothering us with their messages, we can turn them off temporarily opening the chat window and selecting the option to disable the notifications. There we can silence your notifications for 8 hours, a week or a year.
Disable several chats
We can disable several chats from the main chat view. To do this, select several successful chats and click the Mute icon which will be displayed in the action bar.
Read also: What Happens When You Change Your WhatsApp Number
Deactivate all groups forever
If we want to silence all groups, we can always do it in Settings> Notifications in the section Notifications of group, we need to configure their notifications like this:
Notification tone: mute.
Vibration: disabled
Popup Notifications: never show a pop-up window
High priority notifications: disabled.
Turn off silence
If we have manually deactivated a contact or group and want to receive notifications again, we just have to repeat the same steps followed to silence them. Now we will see the option to turn off silence. In the chat information we will see until what day we stopped notifications.
Confidential notification
If we don't want WhatsApp messages to be readable by lock screen notifications, we can hide them so they don't show their text or contact.
For this we have to go to application information from the system settings and open its section of notifications. We need to activate the option Hide confidential content or from Android 8.0 Oreo select the option not to show content in the option On the lock screen.
High priority notification
If we don't want to preview the notification every time a new message arrives, we need to go to Settings> Notifications and disable the option High priority notifications.
Pop-up notification
Infine in Settings> Notifications we find the option Notification pop-up, what it does is show a pop-up window every time we receive a message, an option which by default is disabled and which is only viable in versions prior to Android 7.0 Nougat if we want to be able to respond quickly without having to open the application.
Read also: WhatsApp not working? Here are 5 simple solutions to try
Further Reading:
The new WhatsApp feature lets you know how many times your messages have been forwarded
Notifications don't work on Xiaomi phones with MIUI
Whatsapp notifications arrive late [Solved]
WhatsApp notifications don't work, 8 solutions
How to fix problems with WhatsApp notifications on Huawei