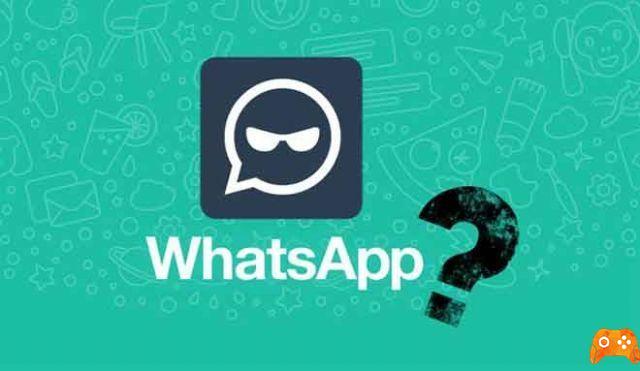 Do you know that it is possible to create fake Whatsapp account? Using a fake phone number. WhatsApp, unlike other instant messaging applications, bases its service on connecting with a phone number. It is not necessary to have a SIM card associated with a phone number, to get a virtual number and, with it, create a fake WhatsApp account.
| How to know if someone has blocked you on Whatsapp
It could be useful to have a secondary account, for example, or to differentiate a WhatsApp for professional use from another for personal use only. Then there are many users who are worried about having to use their real phone number to sign up for certain online services. In the case of WhatsApp, as we have said, the creation of a virtual number is used to create a secondary WhatsApp account. For example, create a WhatsApp account independent of our number, so that we can chat through the instant messaging service, without being able to make calls.
How to create a fake Whatsapp account
1. Get a virtual number for WhatsApp
There are dozens of applications that allow us to get a telephone number virtual to create our account WhatsApp fake on android mobile phone and iphone. Each of them has its own particularities, but basically they work in exactly the same way. The one we have chosen is Hushed, which you can download at the end of this article. We do the following to use it.
2. Create a virtual number
After downloading and installing the application, open it on your mobile device and click Start. Now you will need to click Register and use your email address and password here. Microphone access permissions and more will be asked, but you can deny them if you don't use this application to communicate through it. After that, you will simply have to click on the button Get new number, then choose the country of the number virtual number you are about to create taking into account that not all services - voice, SMS and MMS - are available for virtual numbers. from all countries.
3. Virtual number setting
In addition to choosing the country of the virtual number, you can also choose - in some cases - the type of line. We are interested in selecting Mobile, because it is the one that offers all the services in full. And finally we can also select the area, which will be determined by the numbering prefix of our virtual line to create theWhatsApp account bogus. And once this is done, a large list will appear from which we can choose the phone number we like best.
4. Choose a virtual number plan
Maintaining a virtual number it comes at a cost, as it couldn't be otherwise, and that's the plan. For $ 3,99 per month we have an unlimited plan, for example, but depending on the country you select we may have to choose an international rate. In reality, what interests us is not the SMS, nor the minutes to call, but to have the virtual line to be able to receive theConfirmation SMS to when registering on WhatsApp or receive the call for verification with this method.
Scarica Hushed per Android
Scarica Hushed per iPhone
Create a fake WhatsApp account with a virtual number
When we have created and made ours work virtual number, it will work as one conventional telephone line. The difference, and it is not small, is that it will always have to be managed through this application and we will not be able, for example, to use the Phone app for it. However, we can create an account WhatsApp with a virtual phone number despite the limitations they have and the way to proceed is as simple as with a conventional phone number, or almost.
WhatsApp will ask us for a telephone number to register the account. We will enter the virtual number we just created and, of course, we will take into account the prefix to be used depending on the country of the phone number created, because by default WhatsApp will use the area code of our real country. Once done and accepted, WhatsApp will automatically send an SMS message to that line and we should find it in the Hushed application; once done, just enter it and verify your account.
If the SMS is not displayed, we should wait for the counter to arrive at 00:00 and, at that time, request the verification by call. In doing so, they will call us on our virtual line phone number and detteranno a numeric code. This numeric code is entered in WhatsApp and from that moment on the registration of the account with our virtual phone number will be confirmed.
Create fake Whatsapp account via a landline number
There can be many reasons why we want to create a fake WhatsApp account with a number that is not ours or why we don't want to register a mobile line, with the expenses that this entails, to use only the messaging app. We have seen how it is possible to get a virtual number for WhatsApp, but the truth is that there is another way to avoid using a mobile number to use the famous app.
We intend to create an account with a landline number. Yes, you heard right, there is a way to create an account with your home or office landline phone. The trick is to use the business version of the messaging app, WhatsApp Business. Therefore, the first thing we need to do is install the app on our phone, it is compatible with the Messenger version, so we can have both on the same phone without any problems.
Once installed, these are the steps to follow:
We open the app and click on Accetta and continue.
The app will recognize our mobile number, but we will have to indicate that we want use a different number.
We insert the fixed number that we want to use, there is no longer a virtual number for WhatsApp.
The moment you ask us to verify the number, we click on the option Call me, as we cannot receive SMS on the landline.
Then we will receive a call on the landline that will provide us with the verification code.
We enter it and we can start using the messaging app.
These are all the methods available to create a fake Whatsapp account, do you like the idea? Did you know that it is also possible to hide WhatsApp chats on Android and iPhone?
Further Reading:
How to use two WhatsApp accounts on Samsung phone
How to run two WhatsApp accounts on any Huawei / Honor phone via App Twin
How to activate WhatsApp without SIM
What to do if WhatsApp suspends your account
How to enable WhatsApp two-factor authentication for Android