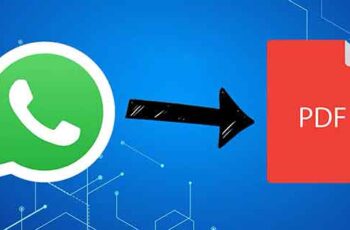 You can easily send messages, audio recordings, videos and even make WhatsApp voice or video calls for free. Furthermore, WhatsApp allows its users to create chat backups so that they can keep track of important conversations. However, some people want to create and save entire conversations as PDF files. Now the question arises: how to export WhatsApp chat as PDF? Read this guide to find out more.
WhatsApp is arguably the best messaging platform with millions of users around the world. It offers instant messaging and calling features to communicate with friends and family.
How to export WhatsApp conversations as PDF
Reasons to export WhatsApp chat as PDF
There can be many possible reasons for exporting your WhatsApp conversations as PDF files and they can be quite subjective. Listed below are some common topics for exporting WhatsApp chats as PDFs:
Legal purposes: in legal situations, you can use WhatsApp chats as proof or proof of complaint. Considering the fact that taking screenshots of entire WhatsApp conversations is cumbersome and time-consuming, a better solution is to export these chats as PDFs. A PDF file is more presentable and also contains the timestamp of all your chat messages.
Business purposes: you may want to export chats with customers, resellers, suppliers, or other business contacts as PDF files for business documentation purposes.
Research purposes: various companies conduct online searches through social media platforms, including WhatsApp. They would like to export their responses to a PDF file for compilation and editing.
Personal memories: you may want to save some conversations for emotional reasons and to keep the memories associated with them.
We have explained two methods, for our valued readers only. Follow to easily export your WhatsApp conversation as PDF.
Method 1: Export WhatsApp chat as PDF to your computer
starts WhatsApp on your device and open the conversazione you want to export.
Touch thethree dots icon in the upper right corner of the chat screen.
To touch Other.
Here, touch Export chats.
You will be given two options to export the conversations: Without media e Include media. If you choose the first option, only text messages will be imported, while; if you choose the latter, texts will be imported along with audio, video and documents.
After making your choice, select the position in you want to share or archive the .txt file of this conversation.
Since you want to export the WhatsApp chat as a PDF, select Gmail or any other app to send the .txt file to yourself. Send the file to yours email address.
Log in to your email account on your computer and download the .txt file to your system.
Once the file is downloaded, open it with Microsoft Word.
Finally, save the Word document as fillet PDF by selecting PDF in the drop-down menu Save eat
Method 2: export the WhatsApp chat as a PDF to your smartphone
If you don't want to download the .txt file to your computer and want to download it to your phone, you can do it using the app WPS Office.
Final report: as smartphones don't have the same Settings options and vary from manufacturer to manufacturer, so make sure your settings are correct before changing them.
Follow these steps to export WhatsApp conversations as PDF to your Android device:
apri Google Play Store and install WPS Office on your device.
Export chats and send them to yours box di mail repeating i steps 1-7 of the previous method.
Now download the file on your smartphone by tapping the icon arrow to il bass displayed on the attachment.
Open the downloaded file with WPS Office.
Then, tap Instruments at the bottom of the screen.
Here, touch Fillet > Export to PDF.
Check the preview of your PDF file and tap Export to PDF.
Select the location on your phone where you want to save the PDF. Then, tap Save to archive the PDF on your phone.
This way you can convert all WhatsApp conversations to PDF files.
How to know if someone has read a message on WhatsApp
How to use WhatsApp on multiple devices
WhatsApp Won't Open on PC, 7 Solutions
How to find out if someone is spying on us on WhatsApp
Frequently Asked Questions (FAQ)
Q1. How do I export an entire WhatsApp conversation?
You can easily export the entire WhatsApp conversation using the option Export chat within WhatsApp itself. If you don't know how to export WhatsApp chat as PDF, please follow these steps:
Open the WhatsApp chat you want to export.
Toccata three vertical points from the top of the chat bar.
To touch Other > Export chats.
It could be a file to attach to the e-mail as a .txt file to send to yourself or save as a PDF file on your device.
Q2. How to export WhatsApp chats with more than 40000 messages?
WhatsApp only allows you to export up to 10.000 chats with media and 40.000 messages without media. So, to export WhatsApp messages more than 40000 messages, you can use a third party app called iMyFone D-Back.
This software was developed for iOS users to recover data on iPhone, iPad and iPod touch. Moreover, it can also be used for restoring WhatsApp on Android. The app is supported by both Windows and Mac.
We hope this guide has been useful to you and that you have been able to export WhatsApp chat as PDF. If you have any questions or suggestions, please let us know in the comments section below.
Further Reading:
Backup WhatsApp, how it's done
How to transfer Whatsapp chats from iPhone to Android
How to change the background on WhatsApp of a chat or all chats
Whatsapp is not working or connecting on iPhone
Deleting WhatsApp contact, very easy