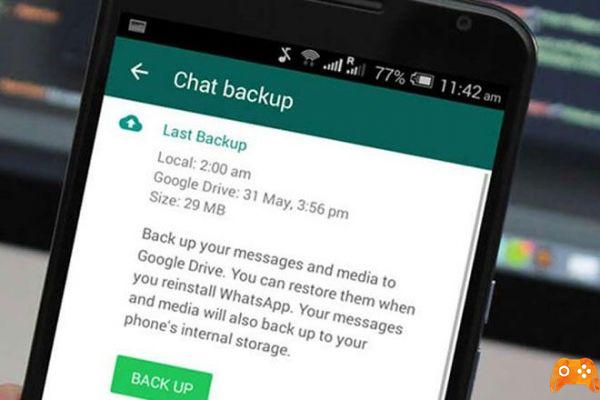 Restoring WhatsApp messages is something incredibly useful and important if you find yourself having to reinstall WhatsApp or have decided to change your smartphone. Here's everything you need to know about how to recover Whatsapp conversations on your Android or iPhone smartphone.
If WhatsApp spoke…, and today it is the method used by almost everyone to communicate via mobile. Through WhatsApp we send personal information, photos, videos, messages, share or declare our love or hate to other people, etc.
This has meant that the chats of the popular messaging tool today contain information that almost no user wants to lose. Therefore, we will show how to recover Whatsapp chats with very simple methods.
Perhaps, the moment our mobile stops working, regardless of the reason, one of the biggest concerns is not losing everything we have stored on the device.
The photos or videos may have been uploaded to a cloud service, however, to retrieve WhatsApp messages, we will need to have previously configured a backup. Although as shown below, if we have access to the files on our phone, it is also possible to restore a local backup.
How to restore WhatsApp messages
Before you can restore Whatsapp chats, you need to check a few things first:
Verify that you have made a backup of your WhatsApp account.
Make sure your account and device have the same phone number. It is not possible to restore WhatsApp backups from another account or phone number.
Make sure the account and device have the same iCloud or Google Drive account.
When you are ready, follow the steps below.
Verify that you have a backup saved on iCloud or Google Drive by going to Settings > Chat > Backup chat .
If you haven't made a backup of your WhatsApp chat history or you need to create a newer one, do it now. You may need to connect to a Wi-Fi network to speed up the process and reduce data usage.
Delete WhatsApp from your iPhone or remove it from your Android device.
On your existing smartphone or on your new smartphone, download the WhatsApp app from the appropriate app store. Reinstalling the app is important as it is impossible to restore account data once a WhatsApp app has been fully set up on a device.
Open WhatsApp, then tap I accept and continue.
The WhatsApp app will ask you if you want to let you send notifications. Touch Do not allow o Allow. The choice is yours.
Enter your phone number and tap Done. Remember that this must be the same number associated with your existing WhatsApp account.
Toccata Restore history. Your data will start downloading from the cloud service associated with your smartphone. It may take a few minutes depending on the number of messages you have in the WhatsApp chat in the backup and the internet connection.
Toccata NEXT.
Enter your name, add a profile photo, then tap end. The image and name can be inserted automatically from the backup, but you can change them here and at any time in the future if you wish.
Your WhatsApp account has been fully restored.
If your iPhone or Android smartphone asks you for permission to access your contacts or address book, tap Allow. This is required to reconnect with your WhatsApp contacts after the reset is complete.
How to recover WhatsApp messages on a new phone number
If you want to restore WhatsApp messages to a smartphone after changing a phone number, there is actually no need to restore from a backup. Instead, simply open the WhatsApp app and go up Settings > Account > Change number to migrate all your WhatsApp account data to your new number.
The Edit number function only works if you are using the same smartphone. You cannot transfer your account to a different device with a different phone number. Also, to be able to transfer your WhatsApp account to it you will need to have SMS on your new phone number.
Is it possible to restore WhatsApp messages when changing phones?
Managing WhatsApp accounts with different hardware and numbers may confuse you. Here is a brief summary of every possible situation you may encounter and how your WhatsApp messages and accounts are handled.
Switch from iPhone to iPhone or Android to Android with the same number- Just download the app on your new phone and sign in. All data and messages will be transferred smoothly.
Switch from iPhone to Android or from Android to iPhone with the same number: Downloading the app will transfer your account data and contacts, but the messages and chat history will remain on the old phone.
Switch to a new phone with a new number: You will not be able to transfer data or messages from your WhatsApp account and you will need to create a new account for your new phone number.
Further Reading:
How to recover deleted WhatsApp messages
How to restore WhatsApp backup on Android
How to transfer WhatsApp from Android to iPhone
How to change your WhatsApp phone number
How to recover deleted WhatsApp messages and photos from iPhone