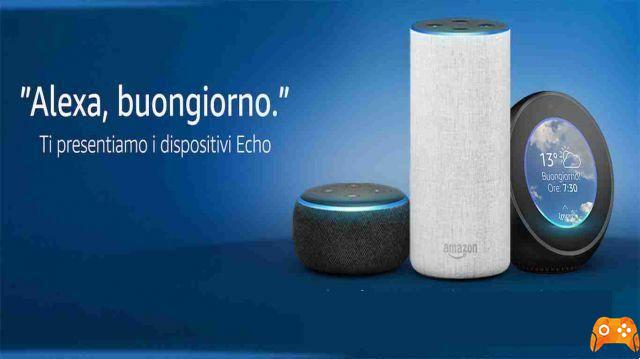 How to set up Amazon Echo on first use with Amazon Alexa. The Amazon Echo are speakers that allow you to perform various operations via voice commands. This is thanks to Alexa (Amazon Alexa is a ' artificial intelligence, a virtual assistant similar to Apple's Siri and Microsoft's Cortana), and allows you to perform many operations: listen to music from streaming services, set reminders and alarms, listen to news, get information on weather and traffic, buy products on Amazon and much more still.
I Amazon Echo devices they integrate perfectly with the main home automation systems and therefore allow you to control smart home devices with your voice.
But if you are reading this article you may already know as you are trying to set up your Amazon Echo device for the first time to start using it.
How to set up Amazon Echo on first use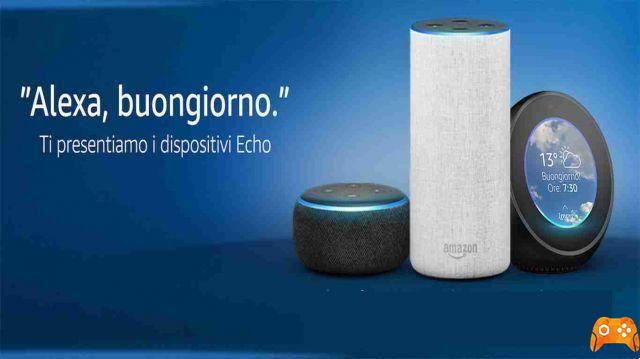 To put yours into operation Amazon Echo, Echo Plus o Echo Dot, connect the device to the power supply and wait a few seconds, until you hear Alexa's voice asking you to perform the initial configuration via the app. Yes, because the first time you will have to use your smartphone or tablet to configure them through the official Amazon Alexa app.
Grab your smartphone or tablet and download the app Amazon Alexa for Android, iOS and Fire OS. If you have an Amazon Echo Spot it can be configured directly via its integrated touch-screen.
Here are the steps for the first configuration through the newly downloaded app:
Launch the Alexa app and log in using your data Amazon account.
presses the button Continue to accept the conditions of use of Alexa and press the button for I'll set up an Amazon Echo.
Select the Amazon Echo model you have Amazon Echo, Amazon Echo Plus o Amazon Echo Dot e premium pulsating Continue
wait for your Echo's light ring to turn Orange and press once more on Continue
You will be asked to activate the bluetooth of your smartphone and to access the position if they were not active, turn them on so Amazon Echo can connect for the configuration and continue it. If they are already active, the configuration will continue automatically.
Optional step: If the connection via bluetooth is not successful and the alexa app does not continue the configuration then access the menu Settings> Wi-Fi of your smartphone or tablet (in short you have to connect your smartphone as you usually do to a new wi-fi network) and connect to the network Amazon-xxx generated by your Amazon Echo and return to the Alexa app and press the button Continues. Remember to reconnect your home wi-fi network on your smartphone or tablet, the network created by Amazon is only used to configure and connect to your Amazon Echo to change its settings when needed.
Select the WIFI network to which you intend to connect your Amazon Echo (that of your home or office) and enter the password of it to connect. Done press the button Continues.
You can now choose whether to connect your Echo to a Bluetooth speaker, to a speaker via AUX cable or use the Echo's built-in speaker.
The next step is to provide the application with the necessary permissions to access contacts and notifications: then press the button Consented.
You will be asked to type yours cellphone number do it and press up Continue and confirm your identity by typing the verification code you receive via SMS.
Done the configuration of yours Amazon Echo is over!
[amazon_link asins='B0792HCFTG,B07BRH8169,B07FHLTV68,B079PPQJWP,B0794RJ756′ template='ProductCarousel' store='jobforitaly-21′ marketplace='IT' link_id='71240d09-e817-11e8-bce1-91864e6ff3ac']