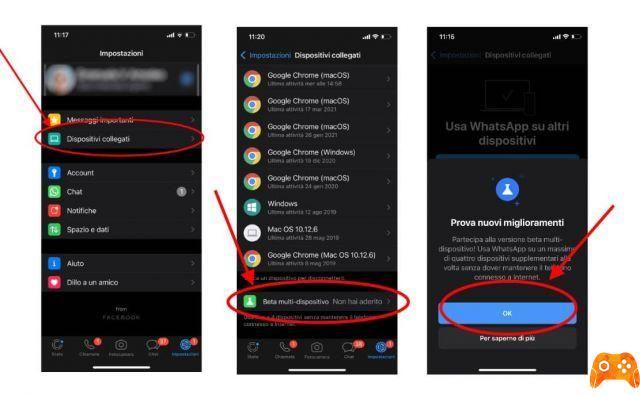 Cross-platform syncing across multiple platforms is fast becoming the must-have add-on for WhatsApp and other similar services. Now you can use WhatsApp on multiple devices, on up to four devices, without having your phone connected to the Internet. This is a welcome change and a relief for many.
With multi-device WhatsApp, you can use WhatsApp on multiple devices and up to four other devices. These other devices include WhatsApp Web, WhatsApp for Windows and Mac, and the Facebook portal. But, unfortunately, you still can't use the same WhatsApp account with the same mobile number on two mobile phones.
How does it work? What are the current limits? Do not worry. We have all the answers for you.
How to use WhatsApp on multiple devices
Open WhatsApp on your Android phone.
Tap the three-dot menu at the top and select Connected devices.
WhatsApp will ask you to try new improvements. Press Ok.
Tap Multi-Device Beta and select Join BETA from the menu below. (In the future, you won't have to go through this step once it becomes part of the stable build and public rollout.)
Go back to the Connected Devices menu and you will see the Merged status for Whatsapp's multi-device feature.
That's all. You are now ready to use WhatsApp on multiple devices. Let's configure it now.
How to set up multiple devices on whatsapp
You have successfully registered to use WhatsApp's multi-device feature. Follow the steps below to set it up with WhatsApp Web or Desktop.
Download and install the WhatsApp app on Windows or Mac. Download WhatsApp for desktop
You can also visit WhatsApp Web from any browser and set it up there.
WhatsApp will ask you to scan a QR code.
Open WhatsApp on your Android phone and tap on the three dot menu at the top.
Select Connected devices and tap Connect a device.
Scan the QR code on your desktop using the built-in scanner from your phone.
Give it a couple of minutes. WhatsApp will take some time to organize your end-to-end encrypted messages.
Now you can go ahead and disable the internet on your Android phone. The WhatsApp desktop will continue to function as before, which was not possible before.
Restrictions on using WhatsApp on multiple devices
The multi-device feature is still in beta. Hence, some functions will not work as expected. WhatsApp has listed currently unsupported features. Check the list below.
You can't check real-time location on companion devices.
Pin the conversation on WhatsApp Web or desktop.
Join, view and restore group invitations from WhatsApp Web and Desktop. You will have to use your phone instead.
Texting or calling someone using an older version of WhatsApp will not work from your connected device.
Call from Portal or WhatsApp Desktop to connected devices that are not registered in the multi-device beta.
Other WhatsApp accounts on your portal will not work unless those accounts have joined the multi-device beta.
WhatsApp Business users cannot change their business name or labels from WhatsApp Web or Desktop.
If the features mentioned above are essential for you, we recommend that you go back to the stable version. For that, you need to exit WhatsApp's multi-device beta program. Here's how to do it.
Open WhatsApp on your Android phone and go to the Connected devices menu.
Select Multi-Device Beta and tap the Leave Beta button from the following menu.
WhatsApp will disconnect you from all connected devices and connect to WhatsApp web or desktop again. Now, you're using the old way to establish a WhatsApp connection on your desktop, which means you need to keep your phone around with the internet enabled for a flawless experience.
What about security and privacy?
WhatsApp has completely overhauled the basic architecture of the messaging operation on the platform so that the multi-device function works perfectly.
Here, each device has its own identity key. WhatsApp encrypts each message individually using the pairwise encryption session established with each device. Also, messages are not stored on servers after delivery.
You can read a dedicated WhatsApp blog to find out how the multi-device function was born.
How to use multi-device Whatsapp
We connected the WhatsApp Android app with WhatsApp Web and then disabled the internet connection on the phone. The multi-device worked flawlessly between devices with no delay in syncing newly arrived messages from the desktop to the connected phone.
However, you can only view those that are up to three months old. If you try to look further, WhatsApp will ask you to use a mobile phone to view the complete chat history.
The inability to block a chat conversation could annoy those who need to keep the most important threads at the top. WhatsApp won't sync special stickers from phone to desktop either.
How to free up space on WhatsApp
Problems with WhatsApp, the solutions to all problems
What to do if WhatsApp suspends your account
How to know if someone has read a message on WhatsApp
Use Whatsapp on the web without a phone
With WhatsApp's multi-device feature, the company is one step closer to achieving true multi-device syncing across multiple phones. First, the foundations are laid. It will be interesting to see how long the company will allow users to use the same WhatsApp account on multiple phones at the same time.
Further Reading:
Whatsapp Web your Android
Whatsapp on two devices, how to do it
How to use WhatsApp on your Apple Watch
How to recover forgotten WhatsApp PIN
How to enable WhatsApp two-factor authentication for Android