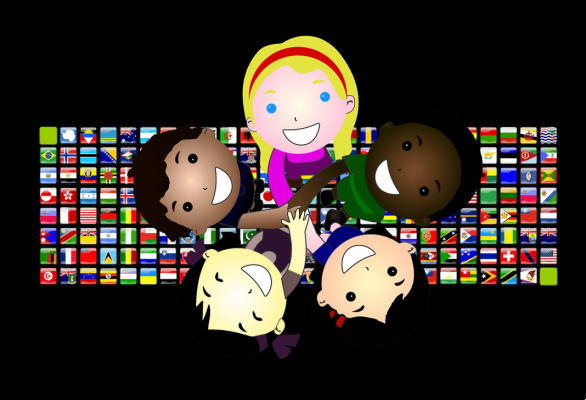 App for learning languages. Would you like to learn or perfect foreign languages ​​with your smartphone or tablet, here are the best applications.
Thanks to these applications, learning a foreign language becomes easy and fun.
These apps offer the best services via Android smartphone or tablet or on iPhone or iPad for learn a foreign language.
Now we are going to list the best apps for learning languages that you can install on your mobile device.
App for learning languages
Here are the best language learning apps for your Android or iOS device.
Duolingo
https://youtu.be/VF4tOxFgMVo
"Best of the best" of 2013 on Google Play.
"Among the apps for learning or practicing a language, there is nothing better than Duolingo." —PC Magazine. Choice of editor for language learning.
"It is by far the best app for learning foreign languages ​​for free." —The Wall Street Journal
Duolingo is changing the way foreign languages ​​are learned.
• It is truly free. A high-quality education that doesn't empty your wallet.
• It is funny! Unlock tiny units, lose hearts if you make a mistake and receive brilliant rewards.
Download now for Android and iOS
Learn languages ​​- busuu
This application offers a large choice of languages ​​to learn, from standard languages, English, French, German, Spanish to more complex and particular ones such as Russian, Japanese, Arabic and Turkish. Easily usable, this app offers learning divided into levels, which are in turn divided by objectives. Well done, Busuu aids oral learning through the repetition of words and phrases and aids in the formulation of sentences through exercises in ordering the desired phrases.
Download now for Android and iOS
Babbel - Learning languages
When you express yourself in English do they look at you as if you were a Martian? You've studied the whole grammar book, learned irregular verbs, repeated endless (and probably useless) lists of words aloud, but when you try to speak French… do you miss words? No fear!
With Babbel, you learn to express yourself effectively from the very first lesson, gaining the confidence to speak to a native speaker!
• 14 languages ​​available: English, Spanish, French, German, Italian, Portuguese, Russian, Turkish, Polish, Indonesian, Dutch, Danish, Swedish and Norwegian; choose one and get started right away.
• Only the most interesting topics: dialogues, situations and everyday words to express everything you need… ¡Una cerveza por favor!
• Review trainer: repeat and memorize the words encountered during the lessons to always find the right words for each situation and no longer look like a stockfish;
• Much more than an algorithm: our courses are created by linguistic experts; who better than them knows how to learn a language?
• Tailor-made content: a Spaniard learns English differently than a Russian; our lessons take this into account and are specially designed for native Spanish speakers.
• Simple to use: the platform is so simple and intuitive that you can use it with your eyes closed; just focus on learning your language.
• A language course at your fingertips: learn where you want and when you want from your computer, tablet or smartphone; goodbye books and notebooks!
• Short and compact lessons: the lessons last about 15 minutes, they fit perfectly with the other commitments of the day and just one a day is enough to make progress ... the time for a coffee.
Learn to speak a new language with Babbel! Start your English, Spanish, French, German, Italian, Portuguese, Russian, Turkish, Polish, Indonesian, Dutch, Danish, Swedish or Norwegian course now.
Download now for Android and iOS
Memrise: learning languages
★ Migliore App ★ Google Play Awards 2017
Memrise's Spy Chief wants to train your language skills by sending you undercover to a distant Universe.
Become the hero of an epic adventure game and learn a language while playing!
Use the language you are learning to infiltrate enemy agents and to identify other allied agents who will help you in your quest.
Each language is a world to discover and to venture into!
Choose a language and go on an adventure: learn French, Spanish (Spain), German, English (UK), English (US), Mandarin Chinese, Japanese, Russian and Italian.
Learn Languages: Rosetta Stone
Start speaking a new language from day one! Try the first free lesson.
Learn Spanish (Latin America or Spain), English (American or British), French, Italian, German, Chinese (Mandarin), Arabic, Dutch, Filipino (Tagalog), Greek, Hebrew, Hindi, Irish, Japanese, Korean, Persian (Farsi), Polish, Portuguese (Brazil), Russian, Swedish, Turkish or Vietnamese.
Rosetta Stone's "Learn Languages" app allows you to learn a language anywhere, anytime through personalized "full immersion" lessons, which develop new skills by stimulating the brain's natural learning abilities. Millions of customers around the world, including educational institutions and businesses, have relied on our award-winning teaching technology for more than 20 years.
Start talking. Develop practical and useful communication skills in everyday life situations and events.
Speak like a native speaker. Our TruAccent ™ speech recognition technology listens carefully to your pronunciation and helps you refine it to speak more naturally.
Pick up where you left off. You can sync Android devices so you can exercise by switching from smartphone to Android tablet without any hassle.
Learn at any time. No Internet? No problem. Download lessons for offline use and practice at any time (not yet available for Business and Education students).
Download now for Android and iOS