Roblox continues to be one of the favorite video games and thanks to his multiple functions remained present in the gaming community. Every day more people join the platform, progressively increasing the numbers, which indicates that it has been positively accepted among the players.
Also, his system is completely free and is available for computers, mobile phones and Xbox One consoles. What if you thought that Roblox if only to play in different universes, you are wrong. Due to its popularity, the community today is tasked with building incredible entertainment rooms through Roblox Studio.
Each of the rooms or servers it is established under a different theme and in each of them you will live an experience only such as: RolePlay, battle royale, adventure, racing, among others. But one of these maps in particular is causing a stir in the community, as it was designed to give you the opportunity to create your own amusement park on Roblox. Do you have the courage?
Find out how to create your own amusement park on Roblox
Building an amusement park is very simple if you know how to choose the right map. Therefore, today you will learn the benefits of getting started in Theme Park Tycoon 2, a very efficient server for creation and management of parks.
With this room you can have one great variety of attractions, both mechanical and aquatic. Furthermore, it is possible design roller coaster and give it an original touch, obviously without forgetting the hundreds of pieces of decorations that you will have to set up your park.
How to buy new park rides
The system that Theme park tycoon 2 use to grow is very simple, you have to start with a simple attraction, then put a price on each ticket (not that exaggerated) and so on you will increase your capital.
The next step would be invest in places for food, drinks and more. Once you have reached a certain amount of money, you need to purchase other attractions.
Now repeat this formula as many times as needed until you reach the amusement park you dreamed of. All this without forgetting the embellishments such as: plants, painting and lighting of the place.
How to build an amusement park in Theme Park Tycoon 2
To build the best amusement park in Roblox history, follow these steps you will see below:
Enter an attraction
Once the game has started , you will have access to a field. This earth or space will by default be accompanied by a small square. To start it is necessary insert a mechanical attraction, this is obtained by clicking on the icon located at the bottom a wheel of fortune shape.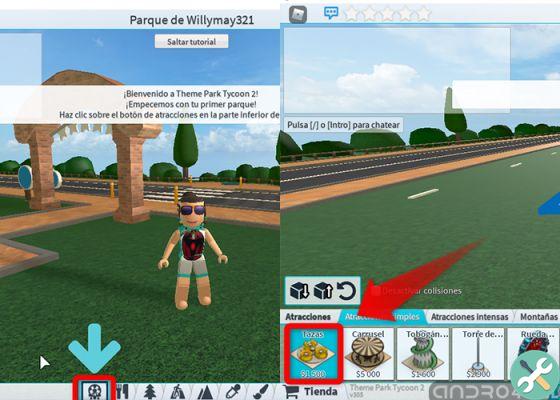 Search the bottom bar of the game for one of the attractions and select one.
By clicking on this icon you will have it available various attractions, and since you are just starting out, it is advisable to use the attraction "Cups", as it is the cheapest. To select, click on the attraction and place the machine in a space on the ground.
Attraction entry and exit
Once the attraction is built on the ground, you must create an entrance and an exit. This part is very simple, as after locating the machine, the option for will immediately appear insert both doors.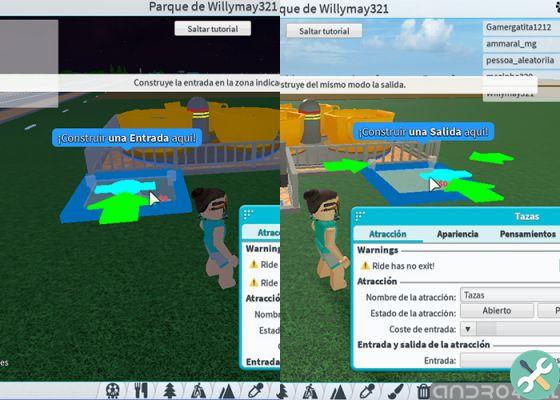 Establish an entry and exit for users on each mechanical device in your park
Place the entrance at one end of the attraction, as well as the exit. To create them you just have to do click on each end And that's it.
Add a route
- users of the Roblox amusement park must have a route to get to the attraction, especially to queue before entering. You can do this by clicking the icon located in the lower central part a shape of walking person.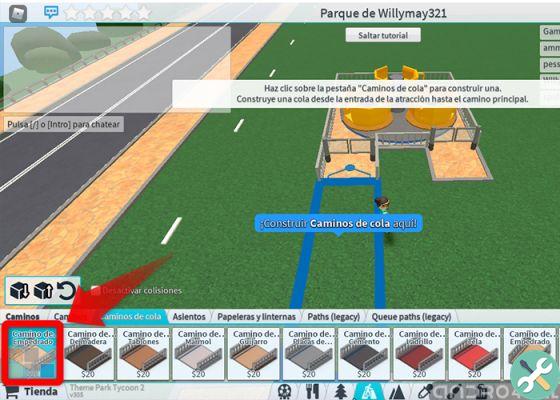 Users will have to pay for admission before entering the attraction. Establish a path!
After clicking on the icon, you will have a large catalog of paths made with different materials, such as: concrete, marble, wood and others.
The normal thing would be to create a path with railings on both sides. In this case, just click on the option "Queue routes", select one of the options and time direct the cursor to the entrance and exit attraction.
By clicking on the entrance or exit you must drag the path to the square. This way you will create a path to allow players to access the attraction in your park.
Open attraction
Once the attraction and route are built, the next step would be to open the mechanical device so that it is publicly available. This way users can get on and have fun.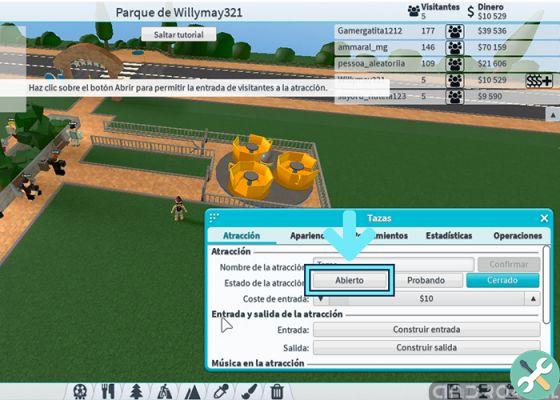 To start generating revenue, enable entry to the attraction
For this you just have to click on the attraction and look for the option "You open", in this section you can also configure the admission price.
food stalls
Le stalls of food and drinks they are common in amusement parks, and your amusement park should be no exception. To do this, click cutlery icon and you will have at your disposal a wide variety of shops, including: pizzas, ice cream, hot dogs, hamburgers, popcorn, desserts, sodas and more.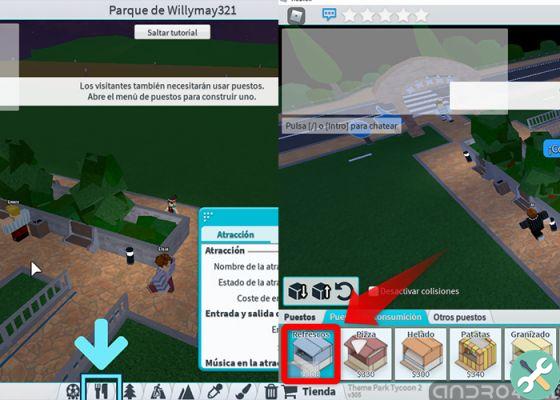 Another way to earn money is to place food stalls in the park
Now, choose the desired location and build it near a street or square. And like the attractions, the food and drink stands can increase or decrease the price of their products. To get it successfully, click on the position and change the price to your liking.
These are the formulas and secret steps that will help you create an amusement park on Roblox. To make matters worse, Theme park tycoon 2 rewards its most dedicated users with daily cash bonusesbeing a great help in expanding the project. And you, will you dare to create your own park?