We can no longer hide it, now we are addicted to Whatsapp, Facebook's messaging application, similar to Telegram, even if the latter is much more complete and safe, and it is (no one knows how it does it) always one step ahead of WhatsApp in terms of updates and functions.
One of the main problems that WhatsApp has and that many of us complain about, is that WhatsApp forces us to save the number of the person we want to send the message to, in the contacts in the address book on our phone.
Fortunately, there are several ways to bypass this restriction, something that can be very useful in case we need to send a WhatsApp message to someone and don't want to add it as a contact.
What to do if the WhatsApp messages do not arrive until the application is opened
3 ways to send a WhatsApp message to someone without adding them as a contact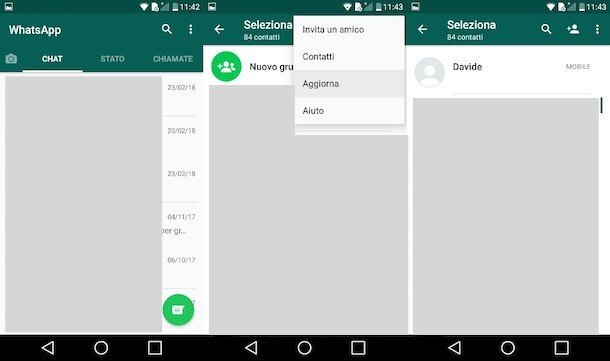 Use the Click to Chat feature
The first method is directly explained in the FAQ of the same WhatsApp page and it's really simple to use. We will only need the number of the person to whom we want to send the message, a smartphone or a computer.
To create the conversation we need to enter the following address in a web browser: https://wa.me/<numeroditelefono>: where is it stands for the telephone number in full international format. Once inserted, we will only have to access the generated link and start chatting with the person in question.
Click to chat works on both phone and WhatsApp Web. Obviously, the person we are about to send the message to must have an active WhatsApp account.
What happens when you block a person on Whatsapp
Through the use of applications (Our advice)
The second and third method is recommended by those of Android Police. For this we can use one of the many applications that we have available in the Google Apps store, but we choose the one that we think is the best.
In this case, we will download the application Click to chat [small, no ads] for several reasons. It takes up very little storage space on our Android device (only 112k), is free, has no ads and requires no permissions.
Is WhatsApp safe? 5 security threats users need to know
With text selection
To use the last method we just need to enter the phone number in any spatial field of an application or have it already saved from before. We just have to select the phone number and instead of choosing the call, copy or paste the options that always appear, we will select the three points so that more options appear. Once done, we need to choose the WhatsApp application icon to start the conversation.
From Android Police say this method only works on Google, Android One and Pixel devices and, more particularly on the versions with Android 9 and Android Q. Although my advice is to use the third-party application because it is not invasive at all.
How to send a WhatsApp message to someone without adding them as a contact. In any case, it is not clear why WhatsApp does not natively allow you to send messages to people who are not in contact with us or, better yet, why not use a Telegramm nickname system, which is much more secure and allows you to chat with anyone without providing our mobile number.
How to add background music Whatsapp Status
Further Reading:
Send automatic replies on WhatsApp
How to use WhatsApp QR codes to add contacts
How to customize WhatsApp [2019]
How to send full resolution photos with WhatsApp for iOS
How to make WhatsApp calls using the Google Assistant