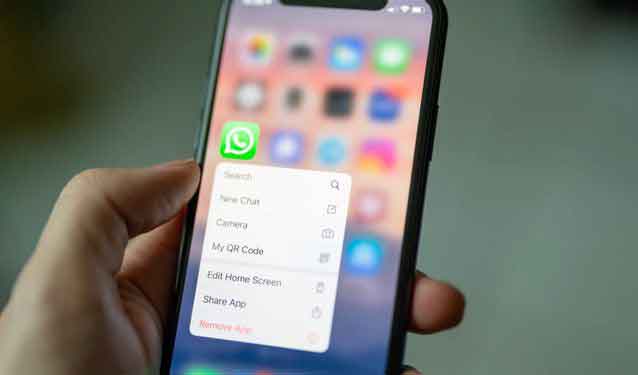 How to send a Whatsapp message to people whose number you don't want to save with these steps. You can send messages to anyone on WhatsApp, as long as their number is saved in your address book. If you don't have the person's number saved in your contacts, WhatsApp makes it difficult to send them a message.
This can be annoying if you only want to contact a person once, like a courier who can't find your address. In cases like this, you may want to send them a message on WhatsApp without saving their number. Here are four easy ways to do it.
WhatsApp notifications don't work, 8 solutions
1. Use a URL to send text messages to people on WhatsApp
If you know your contact's WhatsApp number, you can quickly type a URL into any browser to ping the messaging app.
The URL is https://wa.me/NUMBER, where you replace NUMBER with your contact's phone number along with the country code. For example, if the number is +1 987 6543210, the URL will be https://wa.me/19876543210. It is not necessary to use the + symbol in the link.
Once you open the URL in a browser, you will see a pop-up asking you if you want to open the page in WhatsApp. Touch apri. This will start your chat.
This method works on both Android and iPhone and is perhaps the easiest way to text people without adding their number to contacts. We say this because you don't need to change any permissions or impose any third party script or code.
How to speed up Whatsapp audio messages on PC and phone
2. Answer individual numbers from a WhatsApp group
Another way to start WhatsApp chats without adding people to your contacts concerns WhatsApp groups. The problem here is that you have to be in a WhatsApp group with the person you want to send a message to. You can do this in two ways. If the person sent a message in the group, follow these steps to send them a message:
Touch and hold the message sent by the person you want to send a text message to.
click on Other….
Now select Reply privately.
This will start a new chat with this person and you will see their phone number, instead of their name, at the top of the chat.
If the aforementioned person hasn't sent a message in the group, you can ping them by going to the list of members in the WhatsApp group. Here's what you need to do.
Open the WhatsApp group and select the group name at the top.
Scroll down to the list of group members.
Find the number of the person you want to send the message to.
Choose the number and press Info.
Now you can press themessage icon above to start a private chat with this person.
These methods can be useful if you are part of a large WhatsApp group and need to send messages to a stranger or an acquaintance, without saving their number. An example is the ping of a stranger in a group with pictures of an item he wishes to purchase.
How to recover deleted WhatsApp messages
3. Restrict WhatsApp access to contacts on iPhone
Yes, you can simply remove WhatsApp access to your contacts to text people without adding their number to your address book. Follow these steps:
Vai everyone Settings of your iPhone, scroll down and tap Privacy.
Now choose Contact Us.
Scroll down to WhatsApp. Click the switch next to it to disable. If the switch is green, contact access is enabled. If it's not green, it's disabled.
Now open WhatsApp and press the new chat button top right.
WhatsApp will show you a message asking you to type in your contact's phone number. Enter the phone number and then select end.
This will start a WhatsApp chat without saving new numbers in your iPhone address book.
If you follow this method, you will have to copy and paste phone numbers every time you want to start a new chat with someone. Unfortunately, it also stops displaying contact names for all of your WhatsApp chats, which can be confusing.
If this limitation bothers you, you should restore WhatsApp access to contacts after sending the message. You can do this by going up Settings> Privacy> Contacts and enabling the switch next to WhatsApp.
How to change the background on WhatsApp of a chat or all chats
4. Use a Siri shortcut to ping unsaved numbers in WhatsApp for iPhone
Another way to message someone on WhatsApp without saving their number is through Apple's Shortcuts app. After installing the app, follow these steps:
Go up Settings> Connections and make sure you have enabled the option Allow untrusted links.
Now open the Links app, go to the tab Gallery, download any random link and run it once. This is necessary in order to be able to run links downloaded from the Internet.
Now download the link from WhatsApp to Non Contact and run it through the tab My connections in the Links app.
The link will ask you to enter the person's phone number. You can type it in but remember that you don't need to include the + symbol. This means your number should look like this: 19876543210.
Type in the phone number and tap OK to start a new chat with the unsaved number.
You can also perform this shortcut from the share sheet on the iPhone, which makes it much easier to share links, images and other files directly with unsaved numbers on WhatsApp.
All you have to do is open any app like Safari or Photos and press theShare icon. Now scroll down until you see the link WhatsApp a Non Contact and click on it. Now you can enter the phone number as described above and start texting people without adding them to your contacts.
How to change phone number on WhatsApp from the same phone or from a new phone
Continue the conversation on WhatsApp
WhatsApp, on the surface, looks like a pretty basic chat app. However, as you continue to explore this app, you will find several hidden features, such as the ability to block WhatsApp for more privacy. The app has a knack for hiding several useful features in plain sight, which makes discovering new features a lot more fun.
Further Reading:
You can prevent Whatsapp from publishing your phone number
How to make WhatsApp calls using the Google Assistant
3 ways to send a WhatsApp message to someone without adding them as a contact
How to read WhatsApp messages secretly
How to send high quality videos via WhatsApp on Android and iPhone