App to keep fit. Here are the best apps to train comfortably at home through your smartphone and keep fit.
If you are looking for an app to get you back in perfect physical shape or increase your muscle mass with targeted exercises that are easy to do at home, these apps to keep fit will help you in your intent.
Most are free, although some have to pay a small price to unlock all their features.
Now we are going to list the best apps for Android and iPhone iPad to keep you in great shape.
App to keep fit the best apps
Runtastic Results
https://youtu.be/H7lFqn5MKrU
Runtastic Results a free application for both Android and iOS devices that allows you to create customized workouts based on the muscles to be trained and the time you have available.
A personal trainer to train and lose weight when you have time (do you have 20 minutes after work or before going to the beach?) And wherever you want (at home) to lose weight and see excellent results in no time!
Example: with 30 minutes 4 times a week, you will have done a good two hours of training in 7 days, and it doesn't take much to tone up and lose weight.
Specific and quick exercises to lose weight on the stomach, legs and buttocks, which you can do comfortably at home or in the gym, to better adapt to your commitments: the training plan prepares for you a series of free body exercises focused on legs, abdominals, buttocks and cardio training, not only to burn fat and lose weight throughout the body but also tone locally. No equipment needed!
Seven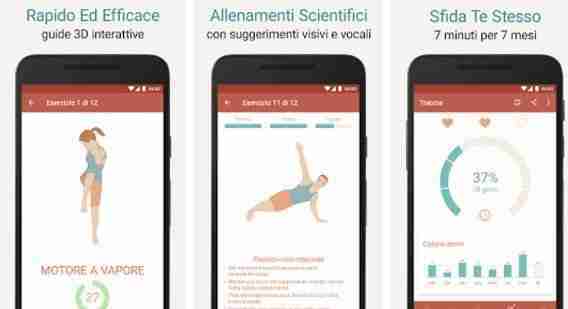 Seven, a free app available on both Android and iOS, offering simple workouts to do in just 7 minutes.
Using nothing more than a chair, a wall and your body weight, the 7-minute workout is based on scientific studies to provide the maximum benefit of regular training in the shortest time possible.
Sworkit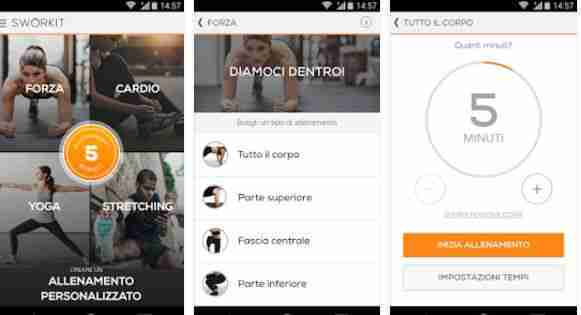 Sworkit. This application, available on both Android and iOS, offers the possibility to access personalized training plans that allow the user to receive the maximum possible benefits from their physical activity.
Personalized workouts fit your schedule and goals versus having to rearrange your schedules to train. Train anywhere, anytime because you don't need any equipment. No gym. No excuses.
Fitstar Personal Trainer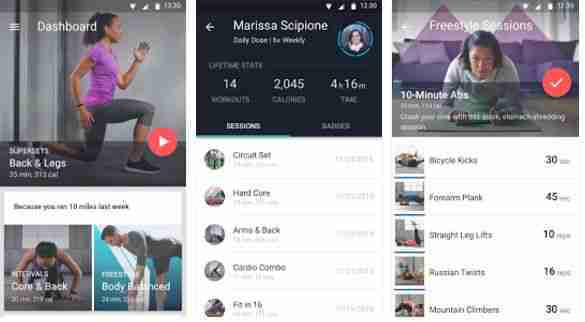 Fitstar Personal Trainer, a free application for Android and iOS that allows users to train anywhere and in the ways they prefer.
Nike + Training Club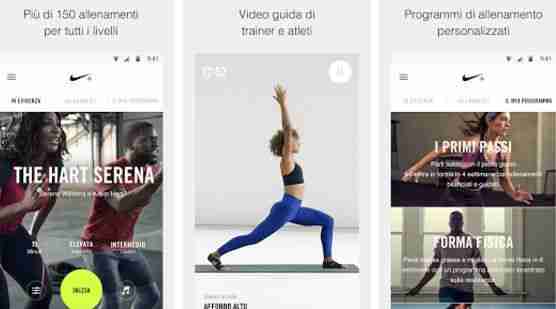 One of the best free solutions for Android or iOS is Nike + Training Club, an app that offers over 150 free workouts that are suitable for virtually all users: from the most sedentary to the most sporty.
From strength and endurance exercises to mobility and yoga sessions, all with the guidance of world-class Nike Master Trainers. Do you want a more toned body? Our personalized training programs adapt to you and your commitments to help you reach your goal, whatever your starting level.
30 day fitness challenge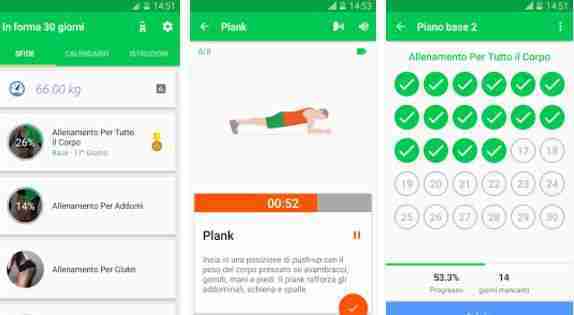 30 day fitness challenge, which is available for both Android and iOS. This app is totally free and requires no registration to use.
Home training is perfect for everyone and can be done at any time. Created by professional trainers, the 30 Day Fitness Challenge helps you improve your health and fitness and is scientifically proven. Stick to the program, you will get amazing results.
Strictly following the fitness rules, the 30 Day Fitness Challenge makes you step by step increase the intensity of your exercises, so you can train every day with ease. The 30 Day Fitness Challenge will help you keep fit and lose weight effectively.