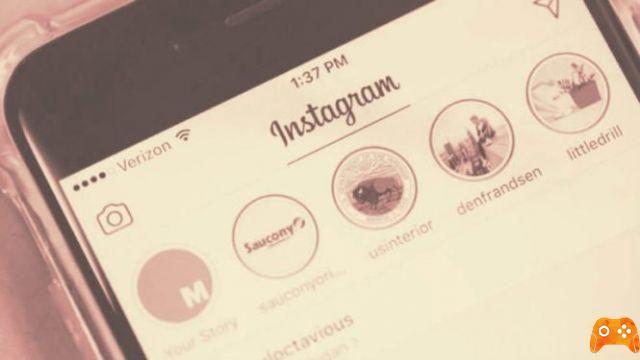 It is difficult to tell if an Instagram account is fake. We all know now that this statement is only partially true. While the number of followers really matters, it's the quality and content that really matters.
How to spy on another's Instagram
One of the biggest problems you can have on Instagram - as on other social networks - is dealing with fake accounts. Yes, we are talking about fakes, accounts that make fun of you or treat you badly, or accounts managed by robots for advertising purposes and end up filling your Instagram account with spam ...
To avoid such situations, below we will explain how to tell if an Instagram account is fake. If you want to avoid following a completely fake Instagram profile, below you will find the steps to understand if an Instagram account is fake without being a social expert.
On Instagram, a shared image of the alleged profile of Cristiano Ronaldo's eldest son went viral. This account has been verified, which is why the number of followers has increased every hour.
However, after a few minutes it was closed and later it became known that it was a fake profile created under @ mrah… account. That said, the Spanish newspaper El País spoke to the head of the social network who said he did not know the origin of that Instagram page.
How to watch Instagram stories without being seen
So how do you recognize and spot these warning signs?
Fake Instagram accounts often make spam comments. These accounts are not too complicated to identify, because their comments always have the same message, the same images, always links to the same sites and so on.
It is very common that the comments are in English or another language. All of these behaviors are recurring examples of fake Instagram accounts sending messages.
And we can say almost the same about links. If you see that an account mentions many links every time it posts something on your Instagram account for no reason, such as commenting on posts that are not the same as yours and unrelated, this account is a fake.
How to see who no longer follows me on Instagram
How to tell if an Instagram account is fake
Create a fake account using the name of a famous person or a brand is a very common practice on social networks. Singers, actors or athletes are not spared and when you are looking for a known person on Instagram, several accounts appear with this person's name and if you don't know which account is the right one, you can see if they have a verified badge account.
These badges are nothing more than a small one white box on a blue background which can confirm the authenticity of the account on Instagram. They are identical to those we find on other social networks such as Twitter.
In the case of an ordinary person it is a little more complicated, of course, because there is no way to have the account verified and we may not know the person in real life, unless they are a celebrity as we said in precedence.
You can also use applications like IGExorcist. This app can connect to your Instagram account and thus analyze all your followers, activities, interactions, etc. to determine if the accounts have been inactive for over 180 days (another indication that the account may be fake) and generate a list of inactive followers. You can decide who you want to remove from your followers list.
While it's not a 100% reliable strategy, you can pay attention to the account type used and its activity. A recent study reveals that these fake accounts have an average of 6 posts per month, below the average of 55 regular users.
Only 29% of fake accounts are missing some data (profile picture, bio, full name or city), so if you find an account that has no picture, name or bio, with very little activity, you have most likely found a fake account.
It is not entirely reliable, but you can recognize a fake account by the number of publications it has. Many of them are not very present, do not upload stories or show everyday life. They can only post photos taken from real internet pages and accounts.
Even in the profiles there are not all the data such as biography, full name and photo. In case you notice that you have discovered a fake account on Instagram, you can report it at this link.
So how to find out about a fake Instagram account
Identify the name
Profile photo (fake profiles usually don't have a photo of the person the account corresponds to)
See the number of publications made, there are always few publications and there are no real photos, but of landscapes or any element that does not belong to the person who owns the account
Identify "Likes", the vast majority of cases with fake accounts fail to receive likes from real profiles.
App to increase followers on Instagram
Further Reading:
How to find out who has not accepted your request to follow him on Instagram
How to trace a fake Instagram profile?
How to find people blocked on Instagram
How to temporarily disable your Instagram account
Your private Instagram posts and stories may not be that private