Lesser known Google apps you should try. Google offers many apps for smartphones and tablets, and perhaps some of them have gone unnoticed.
For this we will now list some google apps that you may not know and that you could install and try on your mobile device.
Google app
Science journal
Science Journal is the free digital science journal offered by Google.
Whether you're a science teacher or an enthusiast who cultivates a passion for science at home, you'll be able to keep your notes, photos and observations in one easy-to-browse place. You can use your phone's sensors to measure and graph phenomena such as light, sound and motion, or connect the device to external sensors via Bluetooth to conduct experiments in your surroundings.
The Science Journal app allows you to:
• Measure light, sound, acceleration, air pressure and more using the phone's built-in sensors.
• Take notes and take photos to document your science experiments. Other types of notes will be available soon.
• Connect the device to external sensors via Bluetooth compatible Arduino and Vernier devices.
• Export the recorded sensor data as a CSV file.
• Create automatic triggers to log data and take notes.
• Use sonification to hear the sound of graph movement.
Science Journal is available for free on Android, iPhone, iPad, and compatible Chromebook devices.
Inbox
Your inbox should help you live and work better. On the contrary, it often does not bring out the important things and creates more stress rather than relieving it. Inbox, designed by the Gmail team, helps you keep everything in order and find the things you need.
• HIGHLIGHTS: You can read the most important information without even opening messages. Check in for flights, check the shipping details of your purchases and view friends' photos. It's all in front of your eyes.
• GROUPS: similar messages are grouped so that you can deal with them at once; after that, you can remove them with a simple touch.
• REMINDER: Inbox is not just mail. You can add reminders so that the Inbox contains everything you need to get back to working on.
• POSTPONES: Postpone emails and reminders so they come back when you are ready to deal with them (next week, when you get home or when you want).
• SEARCH: Inbox helps you find exactly what you want, from your next flight to a friend's address, without having to search through messages.
• INTERACTION WITH GMAIL: Inbox was designed by the Gmail team, so your Gmail emails are present here too, with the same reliability and the same spam filters. All your messages are still in Gmail and will stay there forever.
Download now for Android and iOS
Datally: mobile data-saving & WiFi app by Google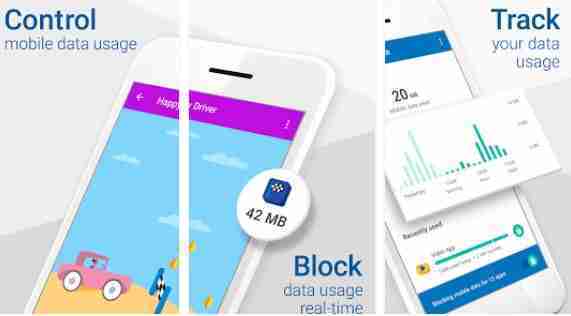 Datalmente is a new app that helps you save mobile data by monitoring and controlling app data usage. Once installed, it will track your data usage, including usage history, trends over time, and usage of each app. Not only that, it allows you to block data usage on a per app basis if things get out of hand. If there are WiFi networks nearby.
Download now on Android
Files Go by Google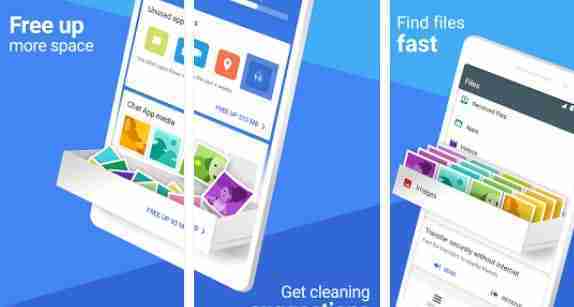 Files Go will help you free up and manage your storage space on your Android device to know how to use it best, follow our dedicated guide.
FotoScan on Google Photos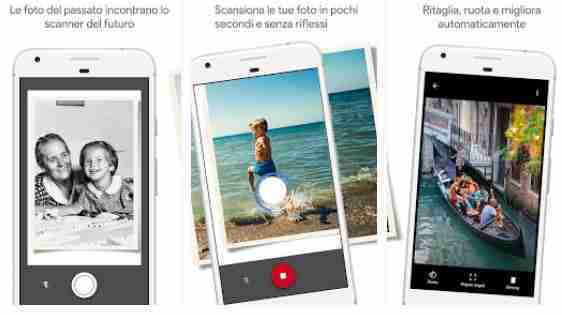 FotoScan is the new Google Photos app that allows you to scan and save your favorite printed photos with your phone's camera.
Don't just take the picture of a photo. Get perfected digital scans, wherever you create them.
- Scans without reflections thanks to a simple step-by-step acquisition procedure
- Automatic cropping based on edge detection
- Straight and rectangular scans with perspective correction
- Smart rotation for always straight photos, no matter how you scan
Scan your favorite printed photos quickly and easily - you'll spend less time editing them and more time wondering why you had that baby haircut.
Back up your scans with the free Google Photos app so they're always safe, searchable and organized. Bring them to life with advanced footage, filters, and editing controls. Share them with everyone with a simple link.
Download now for Android and iOS
Google Arts & Culture
Keep exploring with Google Arts & Culture. Meet the people, visit the places and discover the events that gave life to the world we know today. Discover the expertly curated collections of the most famous museums. Let yourself be carried away and thrilled by the stories told through thousands of photos, videos, manuscripts and works of art on all types of screens and in virtual reality. Find your favorite works of art, create your personal collections and share them with friends.
Google Arts & Culture has partnered with more than 1200 international museums, galleries and institutes in 70 countries to make the exhibits available to all online.
Download now for Android and iOS
Google Trips - Travel organizer
Exploring the world is easier with Google Trips. Tips on the most interesting activities nearby, customizing the schedules of the day and bookings from Gmail. Google Trips is also available offline, so you can consult your data at any time.
For hundreds of popular destinations around the world, there are schedules of the day organized on a map and customizable to your interests and time.
Your bookings are automatically collected by Gmail and organized into individual trips. Each trip includes plans for the day, things to do, suggestions on what to eat and drink, and more.
Discover popular attractions near where you are, opening hours, reviews and ratings from other travelers. Ideas of things to do are suggested for each trip, automatically organized into convenient categories, such as Nearby, Top Spots and Indoors or Outdoors. For numerous popular destinations around the world, detailed travel directions and tips are available.
You can book your flight, hotel, rental car and restaurants in one place and with one operation.
Not connected to the Internet? No fear. Google Trips is available offline, so you can access the data you need at any time.