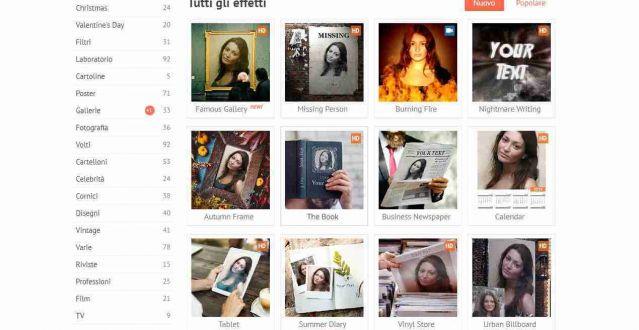 Photofunia is a cloud-based photo editing tool that gives you a fun experience. Take a photo and wait to see the magic.
Its proprietary technology automatically identifies the face in the photo and allows you to add photo effects and create fun photo face montages.
PhotoFunia is free and very easy to use.
So if you want to put your photo in a newspaper, become a super hero or even a work of art in a picture PhotoFunia does it all.
It allows you to create really nice photomontages with your photos that you can share with your friends on social networks or as you prefer.
Photofunia sul web
To try all the potential of just go to the official website by clicking here.
Would you like to see your photo on a magazine cover or Times Square billboard? How wonderful will it be to see your portrait on the walls of the Louvre or Hermitage museums? Do you want to try an astronaut or a Santa Claus costume? Or do you prefer something more exotic, just like a dancer at the Rio carnival?
Choose an example of photomontage proposed and upload your photo with which to run it.
The site will perform the processing and within a few moments you will have your photo in the photomontage of your choice.
You can access https://photofunia.com/it/ from your browser on computer or mobile devices even if for the latter there is the official dedicated app of which we will put the link below to download it on your Android device or iPhone and iPad.
Photofunia app per Android e iOS
Download now for Android and iOS