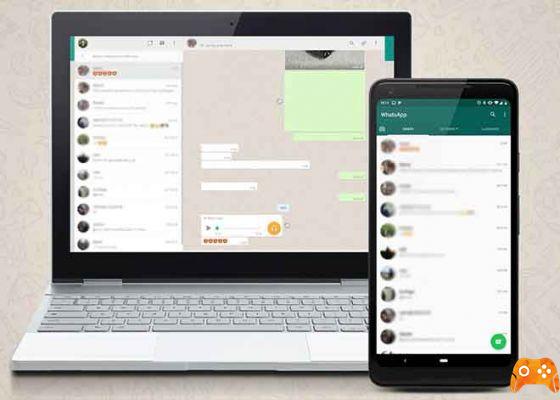 Problems with whatsapp? The Premium Guide to solve the most common problems of the messaging application. That WhatsApp being the most used instant messaging application in the world doesn't mean it's perfect. The app, in fact, has some strange problems, to which the company has not yet found any solution, and then it is up to the user to try to solve them.
MMany of these problems, even if they are common, have affected a great many users around the world that their solutions are no mystery to most. In this article, we collect some of the most common problems you may encounter while using WhatsApp and how to fix them easily.
Problems with Whatsapp and how to solve them
Contacts are not displayed, messages cannot be sent, the system date is incorrect, the photos are blurred, ... These are just some of the most common mistakes in WhatsApp. Let's see how to solve them.
1. What to do if the WhatsApp code does not arrive
Let's start from the beginning. Whenever you switch phones, or the first time you create a WhatsApp account, you have to enter a verification code received via SMS, which you will need to enter later to verify your account.
If for some reason the activation code does not arrive, it is important that you do not try to enter random numbers or you may temporarily lose access. To fix this, you usually just need to restart your device and try again. If that doesn't work either, you can delete the WhatsApp app and reinstall it via Google Play.
Another test you can do to rule out the problem is with your phone or the phone line, is send an SMS to your number from another mobile. If it arrives, it is very likely that the problems are in the WhatsApp servers, and in that case I am afraid that you can do little to fix the problem, apart from the use the alternative activation call.
2. Contacts are not displayed on WhatsApp?
One of the most common WhatsApp problems is related to contacts. Or rather, the lack of these. If when you try to start a chat, you see that yours contact list is completely empty, it could be for several reasons.
The first is that the application does not have permission to access the contact list. To solve this problem, go to the "System Settings" application and in the "Applications" section look for WhatsApp. Now enter, and in "Permissions", grant the necessary privileges to the app to read your contacts. Now go back to WhatsApp and, in the contact list, click on the menu at the top right and then on the "update" button.
On the other hand, it is possible that the contacts are hidden in the address book. In that case, you will need to log in to the "Contacts" application on your phone and change your contact settings to make them visible so that the rest of the apps can access them.
3. WhatsApp: how to delete duplicate contacts
Although WhatsApp has taken care of automatically deleting duplicate contacts for a long time, maybe when you enter the WhatsApp people list you will see that some of them appear twice. This is not a problem with WhatsApp, but with your Google account, and it is that you probably have some contacts saved multiple times.
To resolve the error, go to the "Contacts" app on your mobile and mark the contacts which are displayed twice. So you just have to do click the "Merge" button in so that the contact information is saved in a. Now go back to WhatsApp, and in the contact list select "update" via the menu at the top right.
4. How to make contact names appear on WhatsApp?
It is also possible that when you open WhatsApp for the first time, in the contact list you will see the phone numbers corresponding to each of the contacts, but not their names. This is one of the known problems and it is easy to fix. You just have to follow these steps:
On your mobile, go up Settings> Accounts> WhatsApp.
Click on WhatsApp and in the menu button select the option "Delete account".
Reopen WhatsApp and update the list in the contact card.
This way, your contacts should appear as usual, by name and not by phone number.
5. Old messages, photos and videos have disappeared
The 12 November 2018, WhatsApp has started removing old content from users. Among all these contents, we could find messages, videos or images that were more than 12 months old.
In principle, if you have not disabled the automatic backup that WhatsApp makes of your data in Google Drive, you shouldn't have missed any information. However, if at any time you decide to disable the option, there will be no way to recover the content. Therefore, the only solution that exists for a possible "cleansing" of this kind is always keep the backup option enabled in Google Drive.
6. WhatsApp is not compatible with your device
Although Facebook works to make its applications compatible with as many devices as possible, it is possible that you have a device with an older version of Android, which does not work properly with the messaging app. In order for a mobile to work with WhatsApp, it must meet the following requirements:
The operating system must be Android 2.3.3 or higher.
The phone must have a SIM card capable of receiving an SMS message or a call during the verification process.
If your mobile doesn't meet the requirements, the only thing you can do is update the Android version, officially or by changing the ROM.
7. A warning indicates that "the system date is incorrect"
Although more than a problem, it is a measure imposed by WhatsApp so that users do not "cheat" the app and therefore can take advantage of some of its functions, sometimes it is possible that the incorrect date notice may appear incorrectly and for no apparent reason.
To fix it, there are two procedures that usually work. The first is the following:
On your mobile, go up Settings> Date and time.
Select the option "Automatic date and time".
Now when you open WhatsApp the error should be gone. However, to make sure you have solved the problem with Whatsapp, it is possible clear the app cache from the application settings on the system.
8. Whatsapp only works when open
In most situations of this type, the fault lies with them WhatsApp notifications do not reach your mobile until you open the app is usually the manufacturer of your device, mainly if it is a Chinese model and has too extreme a RAM type or battery management mode. Fortunately, this problem is usually easy to fix.
First of all, what you should do is check if the use of mobile data is limited for WhatsApp. It is done in the following way:
On mobile, go to Settings> Applications> Application manager> WhatsApp> Data usage.
Make sure that Restrict Background Data is turned off.
While this would be sufficient, it is advisable make sure also google play services have disabled this option.
Another reason why notifications are not arriving could be related to the WiFi connection: if you have verified that this also happens to you when using mobile data, you can skip this step. If so, it would be resolved like this:
Go to Settings> Wi-Fi> Menu button> Advanced> Wi-Fi while asleep and make sure it's set to Everlasting.
Finally, you should investigate the power saving or memory management mode included in your smartphone and make sure that WhatsApp is in the list of excluded applications in so that the system does not close the app after exiting. Unfortunately, this process will depend on the manufacturer of the device.
9. Notifications are not displayed on Whatsapp
Now, if the notifications do not arrive, whether you open the application or not, or use a phone with Android 6.0 or higher, it is very likely that the problem lies in the Do not disturb mode of the operating system, which prevents warnings from appearing. Then, disable it.
10. Notice of "Your telephone number is not authorized to use our service"
Sorry, you've been banned. If you see this warning, it is because your account has been suspended due to some illegal actions you have taken with your WhatsApp account, such as logging into and using a third party app like WhatsApp Plus.
Normally, these suspensions are permanent as you have violated the terms of service, however, in some cases you may be able to regain access to your account after a few days.
If your account has been suspended and you feel you have done nothing wrong, you can contact WhatsApp so that they can offer you related explanations.
11. Your phone number already exists on WhatsApp
A slightly less common problem, but one that could happen to you, is that when you create your WhatsApp account for the first time, a warning appears indicating that the phone number you intend to associate with your new account already exists in WhatsApp.
This is because phone numbers are recycled by operators, and if the previous "owner" of your number had a WhatsApp account that he forgot to deactivate, it is still associated with that profile.
Fortunately, the solution is simple, even if you will have to be patient: later 30 days of inactivity of an account, WhatsApp will delete the data of the old account and allow you to use that phone number in your new profile.
12. You can't see information for a specific contact
If you try to access the profile of one of your contacts, but you are unable to see information such as your profile picture, status or time of the last connection, these could be the reasons:
The person changed their privacy settings to "None".
You have changed the visibility settings from the last connection time to "None".
The person has changed their privacy settings in "My Contacts" and does not have your number saved in their address book.
The person blocked you. How to know if I have been blocked on Whatsapp
There is a connectivity problem. Connection problems with home WiFi: how to solve them
13. Notice of "Waiting for message. This operation may take some time ""
Again, we are faced with a situation which, while not a problem as such, can create confusion. The message "Waiting for message. This can take time, "means that WhatsApp is generating end-to-end encryption in the message you just received from a contact, and until after a few seconds you can't see its content.
The only solution that exists today is that the other contact opens the WhatsApp application in so that encryption can be done faster.
14. Photos appear blurry in chats
If the photos, videos, and other media that appear in your chats have a blur effect that prevents you from seeing the content, it means that you have deleted those files from the phone memory or moved them.
Unless you have created a backup, the only solution that exists is ask the contact in question again to send you the document again.
15. The time that appears in chat messages is incorrect
Similar to the problem with the wrong date warning, is the error where the time of messages sent or received appears incorrectly. And again, the solution is to change the system time and activate the automatic date and time, then empty the application cache.
16. The number of messages next to the WhatsApp icon is wrong
If you have WhatsApp on the main launcher screen, you will probably see a bubble with the number of messages you haven't read yet. However, this number may not be correct. These are the solutions that may work for this problem:
Ask another contact to send you a message on WhatsApp. Receiving a new message causes the icon number to be automatically updated.
Remove the icon from the main launcher screen and drag it back from the app drawer to the main screen.
Uninstall WhatsApp and reinstall it.
Go to Settings> System> Developer Options and uncheck the option Don't keep activities.
17. Error code XXX when downloading or updating WhatsApp from Google Play
If, while installing or updating WhatsApp via Google Play, is displayed a mistake that prevents you from doing it, the solution will depend on the error code displayed on the screen.
Error codes 413, 481, 491, 492, 505, 907, 921, 927, 941, or DF-DLA-15
Go to Settings> Accounts e remove your Google account from the device.
Restart your phone.
Add your Google account again from Settings> Accounts.
Sign in with your Google account.
Clear the cache and clear the Google Play Store application data from Settings> Applications> Google Play Store> Storage> Clear cache and clear data.
Try to download WhatsApp again.
Error codes 101, 498, or 919:
Probably you have run out of storage space. Please delete large files or applications and try again.
Codes 403, 495, 504, 911, 920, 923, RPC errors, invalid data packet, or other installation or download errors:
Make sure you have enough storage space. How to free up space on WhatsApp
If that doesn't work, download WhatsApp and install it manually via the APK file.
18. You cannot use your account on multiple devices
Unfortunately, WhatsApp cannot be used on multiple different devices using the same phone number as is possible in alternatives such as Telegram. The only thing you can do is use your WhatsApp account on the main device and use WhatsApp Web on another.
19. WhatsApp Web does not connect phone
And speaking of WhatsApp Web, if when you try to associate your account with the desktop version of WhatsApp, you encounter connection problems, the first thing to check is that you can send and receive messages via WhatsApp on your mobile, to rule out problems on the WhatsApp server. If this works, the problems are most likely with your computer's Internet connection.
Further Reading:
WhatsApp Won't Open on PC, 7 Solutions
WhatsApp will block screenshots for certain users
What to do if WhatsApp suspends your account
What to do if voice messages don't work on WhatsApp
Problems with the SIM on Galaxy A40