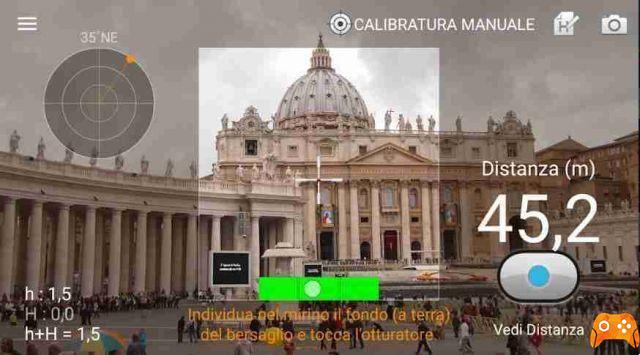 Do you want to measure the distances between you and an object? Today thanks to some apps you can calculate the distance through the camera of your smartphone. In this article we will show you the best rangefinder apps that you can use on your Android device.
App to measure distances
Telemetro : Smart Measure
This rangefinder measures the distance, height, width and area of ​​a target using trigonometric calculations, simply by pointing the phone's camera at it.
Smart measurement relies on basic trigonometry to estimate the distance and height of a particular object.
Aim the viewfinder at the base of the object you want to measure and tap the "Get Distance" button on the right side of the display. This will immediately show the distance to the object.
To measure the height of the same object, tap the height measurement button represented by a tree on the left side while still keeping the crosshair planted at the base of the object. Take the crosshair from the base to the top of the object and tap the "Get Height" button to record the height.
As this app is based on the Pythagorean theorem, your phone needs to be at the correct height for optimal measurement accuracy. This means that the measurements will be extremely inaccurate if you use the app while seated or if you are not in the same horizontal plane as the measured object.
Download the app on Android
GPS Measures the area of ​​the court
GPS Measure the field area can be used to calculate the distance between two points on a GPS map through a user-customizable route, the app also allows the calculation of the area using the map or crossing the perimeter in GPS mode.
Distanziometro :Smart Distance
Smart Distance employs trigonometry for distance measurements up to 50 meters, this app relies on perspective estimates to measure much more distant objects.
To measure distance, you should know the height (width) of the target. Do not worry! A man's height is 1.7m, a golf flag is 2.1m, a bus is 3.2m and a door is 2.0m. Thanks to these data, the app is able to calculate the height of almost any object.
Usage is simple: enter the target height and tap the screen. If the target is aligned on 2 lines, you get the measured distance.