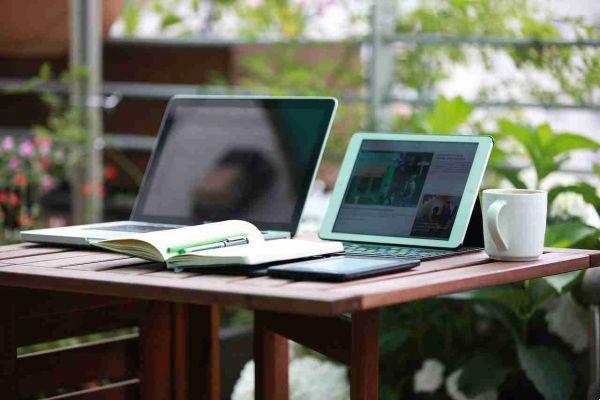 Thanks to these free apps, writing text documents on your iPad will be simple. Each of these apps has unique features that will allow you to write quickly and creatively.
The best apps for writing on iPad
Pages - iPad writing app

Pages is the best word processor you've ever seen on a mobile device. Start with an Apple-designed template to instantly create great reports, digital books, resumes, posters and more. Or use a blank document and create your own design. Easily add images, movies, audio, graphics and shapes. You can even draw and annotate using Apple Pencil on supported devices or with your finger. Pages was designed exclusively for the iPad, iPhone, and iPod touch.
With built-in iCloud, your documents are up to date on all your devices. And with real-time collaboration, your team will be able to work together on a Mac, iPad, iPhone or iPod touch, even on a PC.
Scarica now Pages on iPadOS.
Microsoft Word - app for creating documents on iPad

Create impactful text documents, scripts, blogs, scripts, or resumes. Customize your document, letter, resume or notes your way with robust tools that let you do your best writing with the best format options and templates.
The reliable Word app allows you to create, edit, view and share your files with others quickly and easily. Send, view and edit Office documents attached to emails from your phone with this powerful word processing app from Microsoft.
Whether you're a blogger, writer, reporter, columnist, student, or project manager working on documentation, Word is as useful as you want it to be.
Download Microsoft Word for iPadOS now.
Google Docs - app to create documents on iPad

Google Docs is compatible with DOC and DOCX files so you can open Word files or export Word files for other users. This makes Google Docs one of the best free word processors for your iPad.
Download Google Docs for iPadOS now.
WPS Office - app for creating documents on iPad

WPS Office is a complete all-in-one free office suite on iPhone and iPad, integrates all the functions of the office word processor: Word, PDF, Presentation, Spreadsheet, Note scanner and documents in one application and fully compatible with Microsoft Word, Excel, PowerPoint format, Google Doc and Adobe PDF.
Download WPS Office for iPadOS now.
Bear - iPad writing app

Bear is a simple and flexible writing application used by bloggers, developers, students, teachers, authors and parents to take quick notes or write longer, more structured text. It allows you to organize your notes, edit them, export them and share them quickly while preserving your privacy.
Scarica prays Bear for iPadOS.
Werdsmith - iPad writing app

Werdsmith turns your iPhone, iPad and Apple Watch into a portable writing studio, so you can write anytime, anywhere. Hundreds of thousands of writers rely on Werdsmith to capture their ideas and work on novels, scripts, stories and articles. Join us!
Scarica prays Werdsmith for iPadOS.