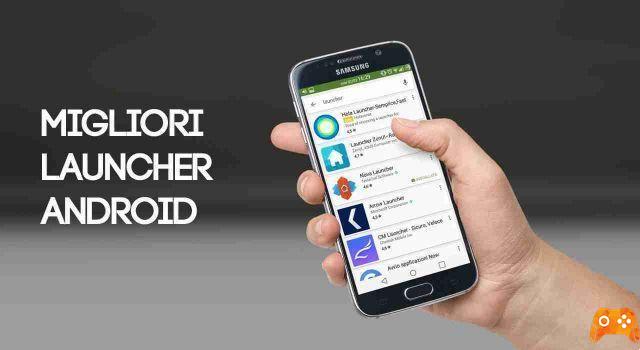 The best free launchers for Android. There are free launchers for every type of need, those with the most accurate graphics, those with particular functions up to the minimal ones which, however, offer very fast performance.
The best free launchers for Android
Apex Launcher
Apex Launcher, one of the most excellent free launchers based on the stock one introduced by Google with Ice Cream Sandwich, with many functions and excellent performance. With this launcher you can change the size of the grid that makes up the home screen, up to 90 screens and a dock that can expand up to a maximum of five pages. Infinite scrolling, animated transitions and more complete the package. There is also a paid version which brings with it even more possibilities.
Scarica Apex Launcher
Buzz Launcher
Also Buzz Launcher, like many other launchers, it has many additional functions to customize the Android interface. This launcher in particular is interesting because it facilitates the customization of the homescreen, but above all because it allows you to share your work and explore that of others - perhaps looking for one to use for yourself. The more passionate will be able to touch up icons, wallpapers, folders, app drawers and other options, while the laziest ones will be able to simply download and use the changes made by others.
Scarica Buzz Launcher
GO Launcher EX
Also Go Launcher EX it can be labeled as one of the old glories, and is still interesting for the large number of customizations it offers, including thousands of themes, dozens of animated transitions and launching individual applications with specific gestures. Also excellent for those with slightly dated smartphones, since it is compatible with Android 2.0 and later - therefore practically with all products in circulation.
Scarica Go Launcher EX
ZenUI Launcher
Launcher ZenUI is developed by Asus and includes features of the most bloatware-rich launchers, such as the search menu set by default, which is accessed with an upward swipe. ZenUI bridges the gap between bloatware-rich, low-end launchers featuring unnecessary advertising and services, and more advanced and sophisticated launchers. ZenUI offers a wide range of themes to choose from, including features dedicated to customization for those who want to make the experience on Android unique.
ZenUI also includes a number of tools dedicated to app security, such as CM Applock for Asus to prevent outsiders from accessing certain content.
Download ZenUI Launcher
Launcher Pro
Once Launcher Pro it was much appreciated, and today it still defends itself well and is worth keeping in mind because it is still valid for those who use Gingerbread or Eclair. Launcher Pro it can handle up to seven homescreens, a sliding dock and customizable transitions even on older devices. Compared to other fresher launchers, this one is starting to show the signs of aging, also because it has not been updated since 2011.
Scarica Launcher Pro
Launcher 8 Free
8 Launcher it is an extreme choice (some would say sacrilegious) because it gives Android the look of Windows 8, with the well-known colored squares. There are several predefined apps and patterns to choose from, and you can customize the colors and backgrounds as well. It is even possible to reproduce the "live tile" effect of Windows 8 and Windows Phone.
Scarica Launcher 8 Free
MIUI Launcher
MIUI Launcher is an elegant, smart, lightweight and customizable launcher to replace the home screen of your Android phone. Its main feature is the ease of operations. It is easy to use: deleting applications and moving them is very simple. No App Drawer: All applications will be added to your desktop, from here you can start them directly. MIUI Launcher supports thousands of icon themes to download from Play Store, supports adaptation of icon size for each application.
Download MIUI Launcher
Nova Launcher
Nova Launcher is one of the best launchers out there, fast, elegant and highly customizable. It is a balance between aesthetics and high customization, with the lightness of the app that maintains good performance at speed. The options to choose from are color themes, icon packs, customizable scrolling docks and folders, infinite scrolling, and more. Warning, it is only compatible with Android 4.0, and this limit, unfortunately, leaves out many Android devices.
Download Nova Launcher
Just Launcher
Solo Launcher Free is one of the fastest free launchers for Android devices. Compatible with Nova, GO, Apex and Holo themes and wallpapers. And it has been optimized for WhatsApp, WeChat, Line, Facebook, Instagram, Vibre, Google Now, etc.
It is a very fast, stable and highly customizable launcher with more than 300 settings. It has more than 1000 themes, live wallpapers, lockscreens and fonts completely free.
Download Solo Launcher Free