"Keeping personal life and working life separate is a good idea." And WhatsApp helped us with this by launching the WhatsApp Business App. There are many features of the Business WhatsApp app, but it is difficult to find and understand them all. So in this article, I'll list all the new features and tell you how to use them.
Currently this app is only available in Indonesia, Spain, India, Mexico, USA, UK. (WhatsApp is slowly releasing this app in every country, the app was launched in India a few days ago.)
What is the WhatsApp Business app?
It is a new app launched by WhatsApp, which helps you to communicate more efficiently with your customers. It is specially designed for small business owners, it provides them with extra features that are not available on the conventional WhatsApp version. Although the whole app is similar to the original version of WhatsApp, there are some features on WhatsApp Business that are great.
Download WhatsApp Business App
Features of the WhatsApp Business app
Use two WhatsApps on one device
If you use the WhatsApp or Parallel app to run two WhatsApps on the same smartphone, this is one of the best features. Now, with the help of the WhatsApp Business app, you can run two WhatsApp accounts on your Android device. So if you have two phone numbers one for business and the other for personal use, you can install this app.
Create your company profile on Whatsapp Business
This is the best "WhatsApp Business feature", making it suitable for small business owners. It allows you to create the complete company profile, you can add details such as: business address, your business category, business description, working hours, email address and website details.
To create the "WhatsApp Business" profile: open the WhatsApp Business app> tap the three dots (check the top right corner)> Settings> Business settings> Profile.
Quick reply function
Quick replies are the best feature of "WhatsApp Business App", you can activate the quick reply message in chat. For example: if you send a message like "To place your order, you can pay by credit / debit card or send money via PayPal" Here you can create a shortcut for this message. Which will help you message frequently, while chatting with your customers.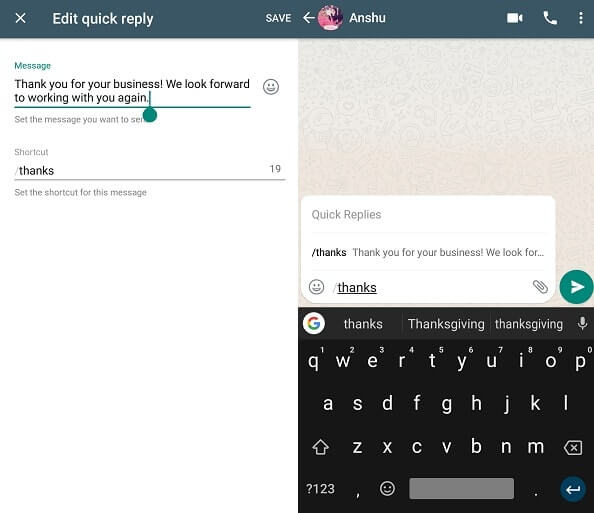 How to use?
First, you need to set the message in the quick reply settings. Which you can do by going to Settings> Business Settings> Quick Responses> tap on the + icon> write message. Now, after setting the quick reply message, you can activate the quick reply message list by using the "/" key.
Greeting message
If you've ever managed a Facebook page, you already know this feature. WhatsApp Business App allows you to create and send welcome messages.
Works Like Auto Message - With this feature, you can say hello to your new customer when they send you a message for the first time. And, even if the customer sends the message after 14 days, the Greetings feature reactivates again for that customer.
How to use this function?
To set or change the welcome message: select Settings> Corporate settings> Welcome message. Here you can activate this feature and also edit the welcome message after activating it.
Message when you are not there
Like the welcome message, the message when you are offline function also allows you to send automatic messages when you are not there. You can set up a custom message and schedule a message when you are away. But it will only work when you use an active internet connection. And it is one of the best "features of WhatsApp Business" because it will help you when you are not online.
To activate or edit the message - Go to settings> Corporate settings> Outgoing message> "Activate absence message" and then, edit message if you wish.
Now, in "Outbox settings", you will be able to find the option for scheduling. It comes with three different options: Always Send, Custom Schedule, and Outside of Business Hours.
Message statistics.
It is a new feature of the WhatsApp Business app, you can easily access this feature. With this feature you can keep track of sent, delivered, read and received messages.
To access this feature in the WhatsApp Business app: Select Settings> Business Settings> Statistics.
In the traditional WhatsApp app: Go to Settings> Data and storage usage> Network usage.
labels
If you are selling something on WhatsApp, this feature will help you a lot. You can set or create a chat label - for example - if a customer places an order in chat, you can label it as a new order. And when you complete the order, you can set the chat label to complete the order. This makes it easy to recognize which customer order is pending and which customer order is completed.
To create a label - Open chat window> Tap three dots (top right)> then choose the labels option.
And, to check the statistics of the labels: tap three dots from the WhatsApp Business home page> Labels.
Conclusion
Currently, these are the new features of WhatsApp Business, which you can use if you run a small business. All other features of this app are similar to the original version of WhatsApp Messenger. Another thing you will discover is: the color of the WhatsApp Business app is different from the traditional version of WhatsApp. If you are still confused regarding any features mentioned in this article, feel free to comment below.
Further Reading:
How to use two WhatsApp accounts on Samsung phone
Advertising on Whatsapp, everything we know about the imminent arrival of ads in the app
How to have 2 WhatsApp accounts
How to use WhatsApp on multiple devices
The WhatsApp settings menu changes with the latest update