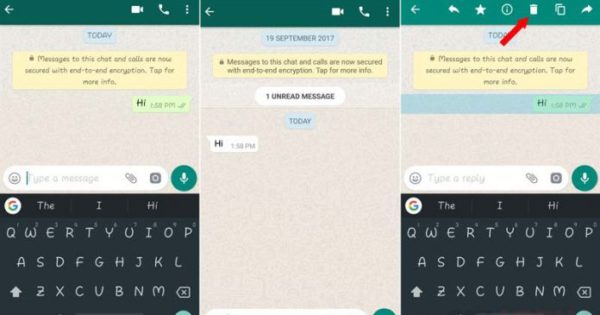 Whatsapp: how to delete messages after 7 minutes. Whatsapp a few days ago released a new function with its latest update, namely that of deleting messages sent within seven minutes. In an article previous to this we talked about a trick that concerns precisely this function.
Through the androidjefe site we have discovered a trick to read deleted messages on Whatsapp, this is possible either through an application or using a third-party launcher. Today we are here with a new trick, we want to talk to you about, Whatsapp: how to delete messages after 7 minutes! After a few days.
This involves changing the date on your phone to one day before the message was sent. But first you have to do some simple operations. Before moving on to deleting the message, we need to disable the mobile phone's Internet connection and close the WhatsApp application even in the background.
To stop the WhatsApp application you need to go to Settings> Applications> WhatsApp> Force close or End.
To change the date on your mobile, go to Settings> Date & Time. You may need to turn off the automatic date and time beforehand.
In short, the procedure is as follows:
Disable the Internet connection. (Wi-Fi and mobile data)
Stop the WhatsApp application.
Change the date on the mobile phone. (To the day before the message)
Open WhatsApp, select the chat and delete the message.
Reconfigure the phone's current date. (Optional)
Connect to the Internet. Done!
Immediately after activating the Internet connection, the message will be deleted from the other device or other devices.
Whatsapp: convert voice messages to text
This trick not only works on Android but also on iPhone! Although in this case, the process of closing WhatsApp can vary.
If you want to delete a message on the same day, it may be useful to change the time to the time before the message was sent.
The big advantage of this solution is that you can use WhatsApp normally.
The limitation we found is that you can only delete messages up to 7 days ago (sometimes a couple of days or so). If the phone is changed to a date that exceeds one month, WhatsApp will show you a warning that forces the application to be updated.
Obviously, this will prevent the deletion of messages after that date.
This WhatsApp bug was also tested in the latest version 2.17.395 for Android. That's all.
Was this news useful? Let me know what you think in the comments box below.
In this article we talked about, Whatsapp: how to delete messages after 7 minutes!
Further Reading:
3 things to keep in mind before deleting a WhatsApp message
How to recover deleted WhatsApp messages
How to speed up Whatsapp audio messages on PC and phone
How to restore WhatsApp backup on Android
Self-destructing WhatsApp messages are now official