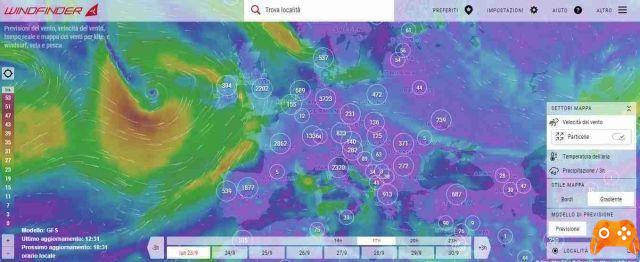 Windfinder is that service available via the web or via app that lets you know the weather and wind forecasts. So if you are a fan of wind, waves, weather and tides anywhere in the world for kitesurfers, surfers, surfers, sailors and paragliders this is the site you should check out.
Windfinder how it works
On the Windfinder website you will always find detailed wind forecasts and weather forecasts that allow you to always find the place with the best wind, wave and weather conditions for your sport. Also view current wind measurements and weather observations, so you can make your own weather forecasts!
Once on the site to monitor a place, all you have to do is click on Find location at the top and type in the place you want to have information about. Once found, select the binoculars icon next to it to be directed to the page with all the information found.
Here you can explore the various tabs including:
FORECAST
SUPERFORECAST
BULLETIN
STATISTICS
WEBCAM
Thanks to this information provided you will know everything about the weather and wind conditions in that place through the data reported by Windfinder.
App Windfinder
https://youtu.be/WXNEpTJ1wC4
You can always have Windfinder weather and wind information with you by downloading the official app for Android and iOS. Thanks to this app you can have all the functions of the service on your mobile device such as:
Detailed wind forecasts and weather forecasts for over 40.000 points.
View current wind measurements and real-time weather measurements from over 20.000 weather stations.
Tide predictions for high and low tides for over 8.000 locations worldwide.
Configure Favorites - save nearby locations and track travel time for vacation destinations.
Measurements listed in knots, Beaufort, km / h, m / s and mph.
Parameters displayed: wind intensity and direction, gusts, air temperature and "perceivable" temperature, clouds, precipitation, air pressure, relative humidity, wave height, wave period and wave direction.
Optimized visualization of forecasts and measurements for optimal readability on the go from any mobile device.
Optimized data transfer - which allows for faster loading speeds and is ideal for data usage restrictions.
Topographic maps and satellite imaging provide a quick overview of the weather conditions and serve as an aid to navigation (weather route).
There is also the Pro version of the app for Android and iOS "WINDFINDER PLUS" (for a fee). And this will expand the functionality with: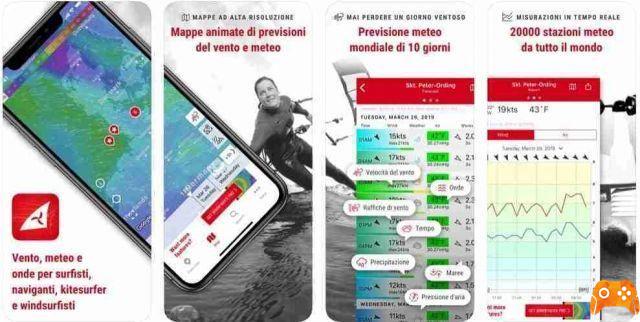 Windfinder Plus will help you catch the best wind, anywhere, anytime
Wind alarms: Specify your ideal wind conditions, get notified as soon as they appear in the forecast.
Wind Report Map: Real-time wind measurements from over 21.000 stations directly on our wind map.
New display modes suitable for sailors