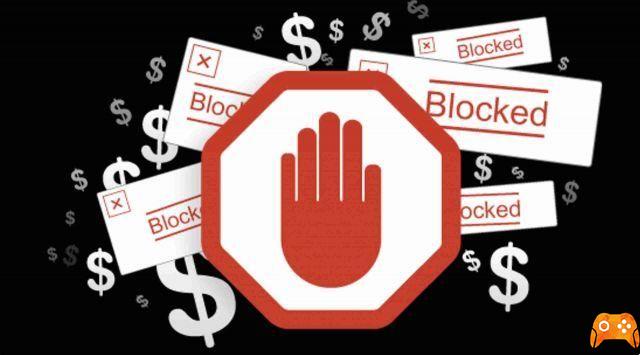 Best Android browsers with AdBlock functions. Browse the internet ad-free with these free browsers for Android.
Annoyed by the constant advertisements while browsing the internet on the sites?
Using these Best Android browsers with AdBlock functions you can have a browsing experience without continuous advertising on websites.
Best Android browsers with AdBlock functions
Brave Browser: AdBlocker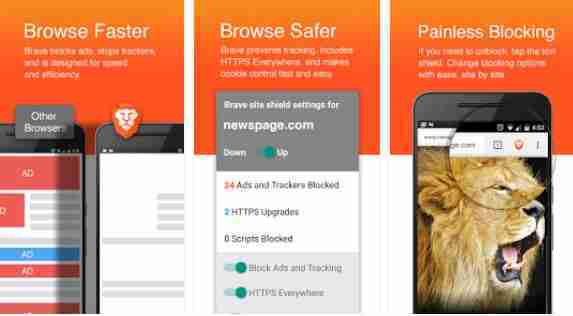 Brave Web Browser is a free, fast and secure browser for Android with an integrated AdBlock security and tracking protection, data optimization and battery experience.
AdBlock
Brave has been designed with a built-in adblocker to provide a seamless, ad-free browsing experience.
FAST AND GUARANTEED
No external plugins or settings to manage or configure! Brave simply provides the fastest and safest browsing experience available for Android. Brave was designed for both speed and security, so you can enjoy blazingly fast browsing without pop-ups, malware, and other annoyances.
BATTERY & DATA OPTIMIZATION
Brave reduces page load time, improves performance, and protects against malware-infected advertisements. Brave shows a 2x to 4x speed increase on Android, so you will see a direct reduction in battery and consumption plan data.
PRIVACY PROTECTION
Brave also protects users with key privacy and security features, such as HTTPS Everywhere (encrypted data traffic), script blocking, third party cookie blocking, and incognito private cards.
Download now on Android
Adblocker Browser Gratuito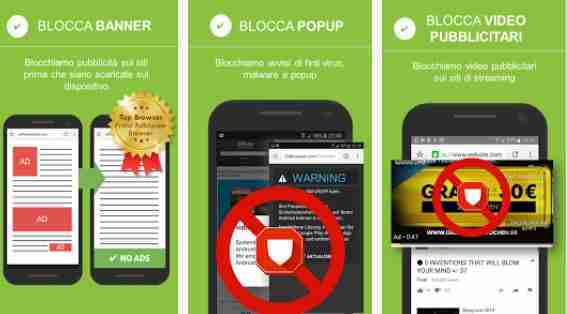 The Browser with Adblock allows you to experience the ad-free web to see more content that really interests you. The browser blocks advertisements, banners, video advertisements and pop-up windows. It is able to prevent those who send advertising from monitoring your habits and allows you to save on battery consumption and data traffic.
These features make Adblocker Browser Free a fantastic browser alternative.
Features:
✔︎ Ad block blocks advertisements of any kind (banners, pop-up windows, videos that load automatically)
✔︎ Block advertising cookies from third parties
✔︎ Alerts you in case of malware and adware
✔︎ Reduces the consumption of battery and data traffic
✔︎ Browser super veloce
Simply install the free browser and start browsing ad-free. ★ Without registration ★ 100% free
Download now on Android
CM Browser-Ad Blocker, Download Veloce, Privacy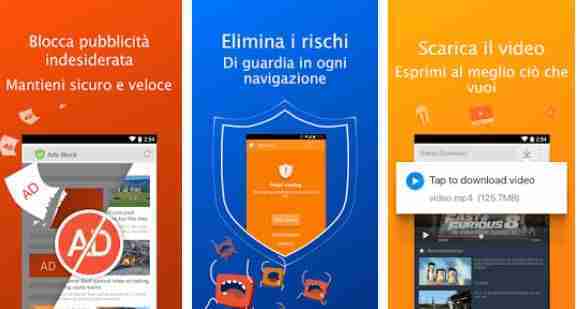 CM (Clean Master) Browser is a lightweight program for mobile devices, which protects against malicious attacks, while offering a fast browsing experience. CM Browser video detection feature makes most online movies downloadable. Furthermore, the Adblock feature can eliminate annoying pop-ups, banners and video advertisements, to provide you with a convenient browsing experience.
Features:
★ Smart Download
CM Browser intelligent detection feature locates downloadable online videos from almost any website. An icon in the CM Browser address bar will notify you when downloadable videos are available, which makes it easy to download the videos you want. (YouTube videos are not supported due to Google policies)
★ AdBlock
The Adblock feature is a powerful and customizable tool that effectively blocks annoying pop-ups, banners and advertisements. You can create your own Adblock filters, or mark unfiltered items by long pressing on them. All flagged advertisements will be stored and blocked automatically. CM Browser Adblock feature can also speed up page loading speed and reduce data usage!
★ Prevention of malicious apps
Warns you when you are browsing potentially harmful or fraudulent websites. CM Browser will inform users before opening links that could lead to malware-infected pages. All pages are compared, in real time, with the CM list of suspicious pages of phishing, malware and unwanted software.
★ Download protection
It scans the APK files for malware, and once the download is complete, the browser will initiate a security scan to ensure that the device is protected.
★ Incognito mode
Browse the Internet without leaving a trace of history, cookies, cache, etc. ensuring a safe and secure consultation experience.
★ Leaves no trace
All history data will be deleted automatically when you close the browser. Do you want to visit privacy sensitive websites without anyone knowing? CM Browser will delete all traces of your Internet activity, in order to prevent the penetration of private data.
★ Navigation acceleration
Preloaded mechanism to speed up navigation
★ Quick links
Browse websites and make navigation easy. You can add website quick links through a recommended list or type in a custom URL.
★ Translator of pages
Offered by Google, the page translation feature offers translations in over 40 languages, making it simple and easy to navigate foreign sites.
Download now on Android
Armorfly Browser e downloader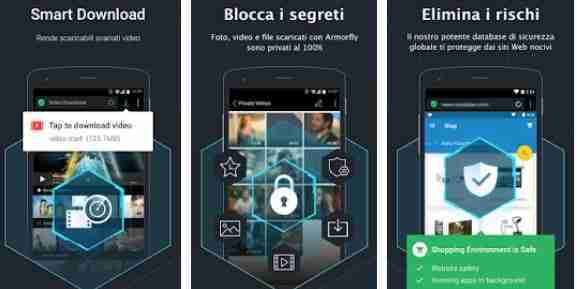 Armorfly is a secure browser that offers maximum privacy and security. You can keep your secrets and benefit from a convenient navigation function with all-round protection. With the help of its detection function, the Armorfly browser makes various videos downloadable. In addition, Armorfly is in private mode permanently, all data sent and received via the app will be cleared upon exiting the app itself.
Features:
► Download Intelligent
• Armorfly's intelligent detection feature can automatically detect downloadable videos as we browse the web, allowing you to download and save videos from almost any website.
► AdBlock
• The Armorfly browser can also effectively block annoying ads, pop-ups and banners, to help you save mobile data and, at the same time, give you a practical navigation function.
► Private vault
• All your photos, videos and personal files are 100% safe, just place them in the vault to secure your secrets.
► Protection from malicious sites
• Warns you when browsing potential fraudulent or malicious websites.
► Download protection
• Scan APK file downloads for malware to keep your device safe.
► Does not leave a trace
• All browsing history is automatically cleared when you exit the app.
► Acceleration of navigation speed
• Pre-loading mechanism to speed up browsing.
► Quick dialing of the site address
• Instant access to websites via quick links on the main browser screen
Download now on Android
Adblock Browser for Android
Adblock Browser for Android removes the ads but moves the content at the same time, so you don't have to stare at an empty space when the advertisement is deleted. The adblocker is always active, but if there is a site whose ads you want to see you can disable the Adblock for that site only.
You can also browse anonymously and add a filter list and disable social media buttons and whitelisted websites.
Download now on Android