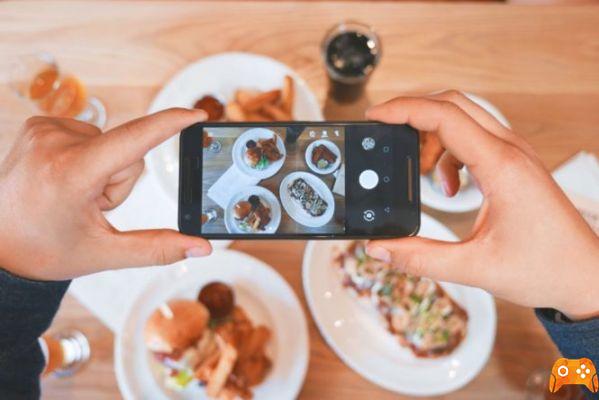 Basically, what's the point of creating a hashtag ? Why not settle for the most popular hashtags? As you know, the hashtag is one or more keywords preceded by the hash sign (#). It is used on social networks. Allows access to content, even if you are not a friend or follower of its author, it is sufficient that the account is public.
How to chat (easy) on Instagram from PC
By typing a hashtag in the search bar, you have access to all related topics. Often, people click directly on a hashtag that interests them. The goal of the hashtag must be visible on social networks, to create engagement with your followers and to increase your audience far beyond those who already know you.
Instagram is the social network of the moment. It must be said that Instagram hit 700 million users a few months ago and seems to be approaching 800 million. A few years ago, the Instagram application was very different from the current one. Initially, it was a simple application where you post photos of your holidays with the ability to add filters.
Since May 2016, the platform has been transforming at an incredible speed starting with a redesign of the design of the app and its logo. Since then, many new features have been rolled out on Instagram.
Le Instagram stories they now have more than 250 million users per day.
The ability to make Stories in Live, the trend of the moment.
Notable improvements in instant messaging: I.
The ability to add photo albums.
On Instagram, it's much easier!
Why?
Because there are hashtag.
And they are hugely used by Instagram users to find new accounts.
How to create a (beautiful) Instagram Story
What is a hashtag?
For the perfect beginner, hashtags are words or phrases preceded by a crisp (#). Each publication you create can be accompanied by a small message (legend) and some hashtags.
Hashtags are used to categorize and find content on Instagram related to a particular topic or trend. For example, if you are a runner, you can post a photo of yourself running and tag it with hashtags like #running, #runners, and so on.
Why use hashtags?
On Instagram, using good hashtags can help you expose your brand / name to a potentially large and particularly targeted audience. They also allow you to monitor what your competitors are doing.
What types of content work best for them? What are the hashtag groups they use in their publications? What is the average engagement rate of their posts?
How to create a hashtag?
In the simplest way! Just choose a keyword or a combination of keywords and add in front of the # symbol and that's it!
Its place in the sentence does not matter.
Initially, it is an introduction to the subject;
in the sentence, it allows it to maintain its fluidity and readability;
in the end, it can be understood as an invitation to continue researching and reading.
Instagram wants to help addicts
Which formula to choose for your hashtag?
The principle of the hashtag is not to use your name / brand. You have to choose a word or a combination of words that will attract to your accounts Internet users who already know you and, above all, new people who will discover you.
If they like your content, they can become your new followers. There is no point in creating a hashtag if it doesn't lead to interesting resources. A hashtag must be seductive, but mai arduo.
Start seeing what your competitors are doing. The good ones will show you what to do. Bad guys, by definition, you shouldn't find them!
Either way, be inspired by yourself without ever copying. If your competitors are better than you, there is a reason.
Find out what's up to date. Go to the sites that rank the best performing hashtags and see if there is a trend. It also uses sites that give information on the topics that Google Trends or BuzzSumo is talking about. Don't waste time throwing hashtags on topics that no one cares about.
The hashtag you choose must, of course, be relevant to your name / brand and your industry. It also needs to be connected to the spirit of your goal.
Create a readable hashtag
If you select a sequence of words, consider using capitalization at the beginning of each word to improve readability. For example, #FollowMyOnTwitterFacebook is more readable than #follow mytwitteretfacebook.
A hashtag must be rather short. Too long, it quickly becomes incomprehensible. Remember that spaces between words are forbidden.
Some special characters are allowed, including accents. Attention the search engine takes these accents into account.
The hashtag needs to be clear if you want people to click on it. It must be easy to remember and type to encourage people to use it as often as possible.
To create a synergy, you can associate your hashtag with others that are already popular. It is always important to use some hashtags as stepping stones.
How much can we use hashtags?
Around your hashtag, you can post as much as you want. But too many hashtags kill hashtags! Don't smother the created hashtag with too many "classic" hashtags.
Also note that each social network has its own habits and has a higher or lower average of hashtags per post. Here is the trend for the major social networks:
Twitter, the forerunner of the hashtag, recommends that you use a maximum of two hashtags in your publications.
Instagram is certainly the most fond of the hashtag. You can use as many as you like, some publications chain a dozen hashtags without embarrassing anyone. The best results revolve around the 9-10 hashtag, not more.
Tumblr has the particularity of having a section dedicated to hashtags on each publication. However, it is recommended to do not exceed five .
Facebook not the most hashtag consumer, you can use it, but in moderation.Never more than two for publication, this is not the place.
Ditto for LinkedIn, you can use some one or two, but no more.
Su Pinterest, it is common to meet from three to six for publication.
Create a hashtag to be visible
Once the hashtag is created, users will have access to all associated content and can choose to become your friends or followers. For them, using the hashtag is one way extremely simple to find you sui social network.
As you become familiar, internet users who talk about you will now use the hashtag and you will be notified to be able to follow the conversation.
The hashtag must be visible everywhere and not just on social networks. You can make it appear on your site, on your blog and on all your communications: banners, emails, etc… Even there it will become familiar and if it is easy to remember, the user will type it naturally.
Remember that the hashtag is basically a keyword. It is therefore important in natural referencing. Think about it when you use it on your web page or in the blog section of your site. If it is consistent with your page keyword, it will be even more relevant to use it.
When to create a hashtag?
You can create as many hashtags as you like, the important thing is that they are justified and linked to interesting information or events. Don't use hashtags related to different campaigns in the same message!
Launching a survey / quiz using a hashtag is always promising. Give your followers the chance to win prizes or discounts and encourage them to share a message or photo. This is a very effective way to market your brand and expand your community.
Your goal is to create commitment. Your hashtag can become a kind of signature.
What is the impact of hashtags on commerce?
Having got into the habit of following you on social networks, the user gets the impression that they know you. He will come to see you more often and interact with your posts. He sees your products, he knows them… for Act!
On your side, you must always remain active. Comment on their posts, retweet them, redirect them, follow the followers of your followers ... Gradually, your network expands and naturally multiplies the number of potential customers.
The hashtag must allow you to gain new followers and therefore new customers. It is not difficult to cast, you just have to follow these rules and above all always stay active and responsive.
Who blocked me on Instagram? Let's find out together
Further Reading:
How to hide hashtags on Instagram
Hashtags, all you need to know
Inflact, does it really work?
How to tag someone on Instagram
How to edit a video after posting it on Instagram