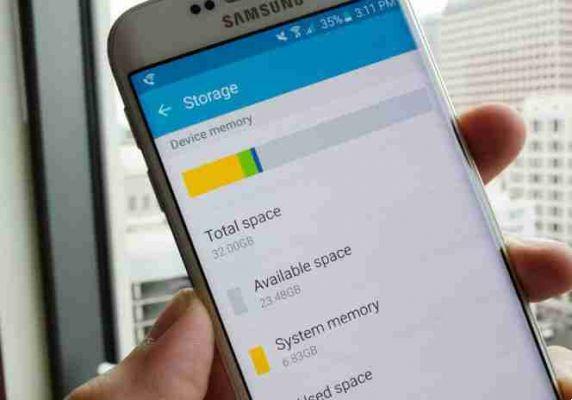 App to clean the memory of your Android smartphone and tablet or your iPhone or iPad. Check out the best apps to clean up memory.
Using your device can accumulate data and files which can take up a lot of storage space on your smartphone or tablet.
Thanks to these memory cleaner apps you will be able to delete these files on your mobile device.
In addition to eliminating unnecessary files and data, they will allow you to free up RAM on your device and make it more responsive by closing all applications that are using it in the background.
In short, these apps can be useful to free up space, clean the Ram and thus make your device more reactive and clean from all the excess files and apps active in the background that can slow it down.
App to clean your memory
Memory cleaner app that you can download on your Android or iOS devices.
CCleaner (Android)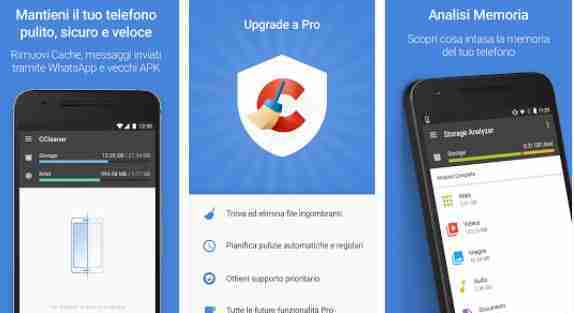 Delete junk files and unused apps to improve the performance of your Android device. Made by Piriform, authors of the most famous PC & Mac cleaning application in the world.
Ideal if your Android phone:
● Is it slow?
● Does it crash often?
● Doesn't it let you add new images or apps?
The CCleaner app will help you to:
✔ Improve performance - your phone will be faster and smoother, free from all unnecessary
✔ Get control of your phone - find out what takes up memory space and decide what you need
✔ Eliminate the garbage - get rid of old Whatsapp and SMS messages, caches, call logs and other stuff you don't need. Choose whether to delete files selectively or in batch
✔ Have a view of your apps - delete or disable the ones you don't use
✔ Make free space - for the apps, music and photos you care about
✔ Keep the files you want in memory - the app will not delete anything that you have not chosen
Upgrade to Pro for these extra features:
✔ Schedule automatic cleanings - choose when you want your phone to be cleaned, what you want to remove, and CCleaner will run automatically in the background
✔ Instantly delete bulky files - find the worst files and remove them instantly
Download now on Android
Memory Accelerator (Android)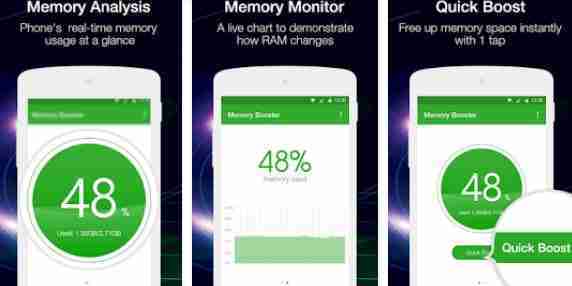 Memory Booster is an optimization tool for internal memory (RAM) for Android users. It is designed to help users solve various internal memory management problems and thereby speed up their device. Memory Booster defragments and recalls unused memory by terminating unnecessary processes / activities for the system.
Key Features:
1 Real-time memory monitoring and reporting.
Memory Booster provides a real-time graph of total, available and currently used memory.
2 Possibility to choose the type of optimization.
By setting the automatic optimization threshold, Memory Booster will automatically optimize the memory whenever the free memory is below the threshold you set.
3. One-click quick optimization
In addition to the automatic optimization function, Memory Booster allows you to manually perform memory optimization directly in the application or from the comfort of the widgets in your Home.
4. Automatic background optimization.
With the auto tuning interval, the Memory Booster performs the tuning in the background and recalls the memory automatically at each interval
5. System crash protection.
Memory Booster monitors system resources and cleans system memory whenever it reaches a critical level.
Download now on Android
CleanDoctor (iOS)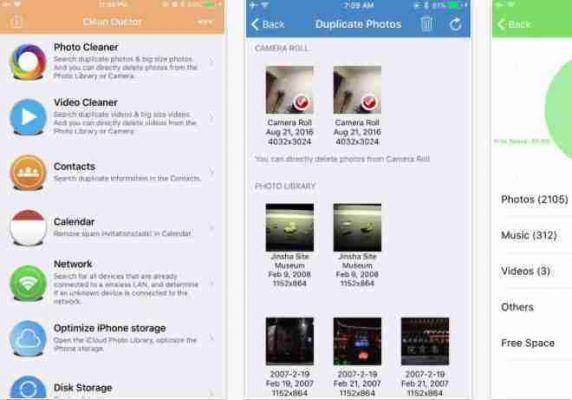 Clean Doctor is the cleaning application to help you manage your iPhone / iPad better, cleaning photos, cleaning videos, duplicate contact scanner, cleaning calendar stuff.
Thanks to this app you will be able to manage all the multimedia files on your iPhone or iPad and carry out a thorough cleaning.
Download now on iOS
Power Refresh (iOS)
Power Refresh to easily monitor memory usage, disk usage and CPU usage, CPU usage and available disk space, more than 10 million users use Power Refresh on their iPhones and iPads.
Download now on iOS