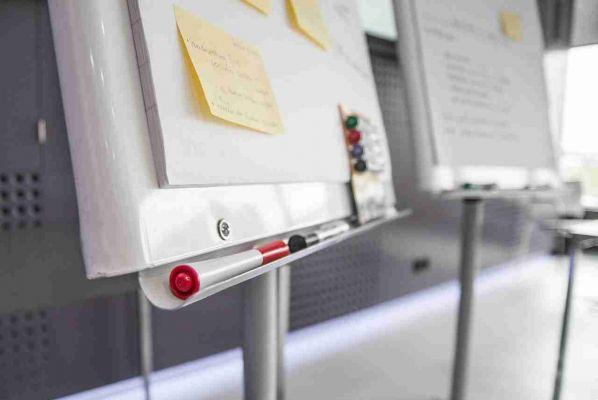 The best note-taking apps for iPhone and iPad. If you've decided to be more organized in your life, check out the best iOS note-taking apps you can use.
App for taking notes on iOS
Notes from Apple
Notes on iPhone and iPad is the pre-installed app on your Apple device.
Notes have improved dramatically in iOS 11. This is especially true if you have an iPad Pro with Pencil. The range of drawing inputs is extraordinary. But even without the drawing features, Notes is a note-taking application. The app is responsive and includes enough styling options. You can create lists, create auditable task lists, and share notes with other contacts. Notes sync seamlessly on iCloud with any Apple device, even if it's not always instant. Notes may not be a first-class note-taking app, but it's perfectly adequate for infrequent note-taking.
Bear Writer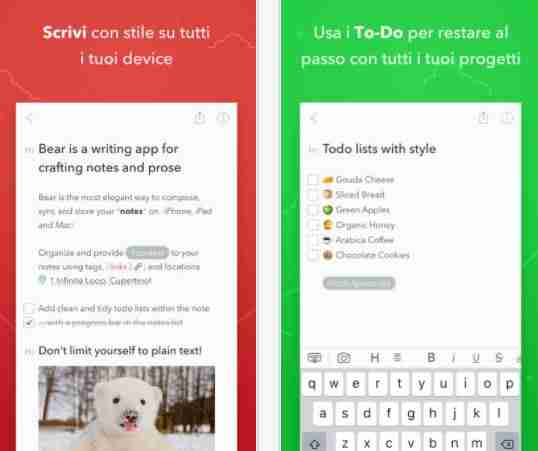 Bear is a beautiful and flexible app for writing notes, prose, code and now you can even insert your own drawings!
KEEP IN CONTROL
Link your notes together to better structure your work. Use hashtags to organize them according to the flow of your thoughts. All your notes will be stored in a very portable text format.
WRITE YOUR WAY
Bear is perfect for writing everything from quick notes to portions of code to more in-depth essays. Focus mode will help you focus and soon Markdown and its many options will soon become the essential complement to your writing. In-text image support will bring new life to your writing. You can also keep yourself operational by adding todo to your notes.
TOOLS FOR WRITING AND EXPORT
Some exports require Bear Pro subscription via in-app purchases.
Let Bear help you write the best way. If you need to reach a certain number of words, a certain reading time or you need to convert your documents into PDF or Word files, Bear has the practical and fast solution for you. Adding styles or links is just a tap away or a combination of keys.
USE IT EVERYWHERE
Synchronization requires Bear Pro subscription via in-app purchases.
Download now for iOS
Simplenotote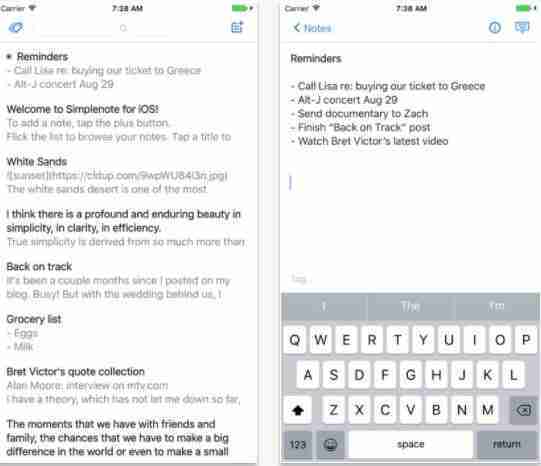 Simplenote is an easy way to take notes, keep lists, jot down ideas and more. Your notes will be synced across all your devices at no additional cost. Share notes with others to collaborate on a project or to access the same list.
The Simplenote experience allows you to discover the meaning of the words speed and efficiency. Open the app, write down your ideas and that's it. And as your clipboard grows, you can quickly search for them by keeping them organized with tags and pins. Work with other people on the same note by sharing and posting it on the web to make it visible to others.
The best way to get to know Simplenote is to try it. You will be asked to create an account. This will allow us to create backup copies of your notes and automatically sync them online.
Once inscribed, try making notes. Then go to simplenote.com and download Simplenote on your other devices as well.
Download now for iOS
Google Keep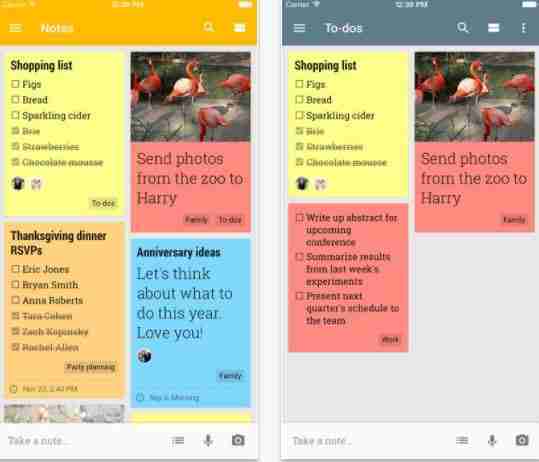 • Capture, edit, share and collaborate on your notes from any device, wherever you are.
• Add notes, lists, photos and audio files to Keep.
• Organize notes with labels and colors.
• Set up your note and forget about it. You will receive the relevant reminder at the time or place you want.
• Record a voice memo and perform an automatic transcription.
• Extract text from an image to quickly find the note you need with the search function.
WHEN AND WHERE YOU NEED IT
Do you have to remember to buy fruit and vegetables? Set up a location-based reminder that shows you your shopping list right when you're at the grocery store. Do you have various tasks to complete? Set up a time and date based reminder to make sure you never forget anything.
SHARE YOUR IDEAS WITH FRIENDS AND FAMILIES
Next time you go to the grocery store, share your shopping list on Keep and see how items are tagged in real time. You will not need to exchange messages and you will be able to finish shopping together with the others much faster.
FIND WHAT YOU NEED QUICKLY
Quickly filter and search notes using colors and other attributes. For example, you can find lists labeled "To Do", audio notes with reminders, or just shared notes. Find what you're looking for even faster and let Keep take care of remembering the important things.
ALWAYS AT HAND
Keep works on phone, tablet and computer. Everything you add to Keep syncs across your devices so important notes are always with you.
Try Google Keep on the web at http://keep.google.com and find it in the Chrome Web Store at http://g.co/keepinchrome.
Download now for iOS
Notebook: take notes, sync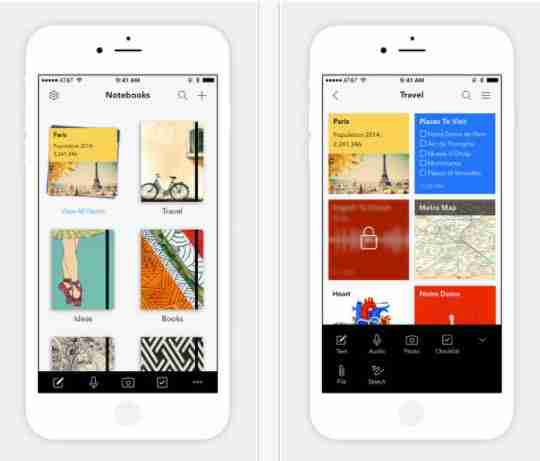 Take notes, add files, create checklists, sketches, record audio and capture moments. All your notes are instantly synced between your devices and in the cloud.
Notebook's simple and intimate joy comes from using the app. We have been meticulous in our design, paying attention to every detail. The notebook is 100% free and ad-free. A Mac app and Web Clipper are also available.
TAKE NOTE
Notebook offers several ways to take notes and capture your thoughts.
- Write notes. Start with text, add images and sketches, checklists or audio, all in the same note.
- Add PDFs, word documents, spreadsheets and more with the dedicated note card.
- Create and mark checklists to get things done with the dedicated checklist note paper.
- Record ideas, meetings and conferences with the audio note card.
- Capture moments using the well-known dedicated photo paper.
- Draw ideas and take handwritten notes using your finger or Apple Pencil with drawing note.
SMART CARDS The
Content added to Notebook is intelligently formatted into beautiful and distinct cards.
- Recipe Card automatically extracts the recipe photo and description, creates an ingredient checklist and provides step-by-step cooking instructions. See zoho.com/notebook for supported sites.
- The video card automatically picks up the video preview and, once opened, plays in a distraction-free space. It works for YouTube and Vimeo.
- Link Card extracts the title or title of the page, along with the main image, creating a beautiful note card.
Download now on iOS
Evernote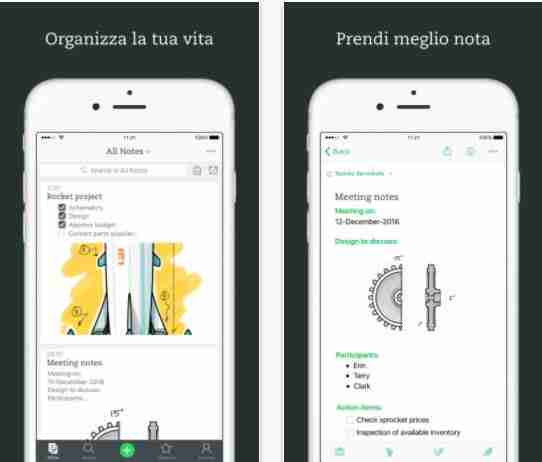 Let Evernote change the way you organize your personal and professional projects. Dive in: take notes, create to-do lists and save what you find online in Evernote. We automatically synchronize everything between your mobile, tablet and computer.
ORGANIZED
Evernote gives you the tools you need to effortlessly organize your work:
• Write, collect and capture ideas in the form of searchable notes, notebooks, checklists and to-do lists.
• Take notes in multiple formats, including: text, sketches, photos, audio, video, PDF, web clippings, and more
• Use the camera to effortlessly scan, digitize and organize paper documents, business cards, handwritten notes and drawings
• Use Evernote as an easy-to-format digital notepad and text processor for any ideas that come to you
SYNCHRONIZE ANYWHERE
Evernote gives you the ability to sync content across multiple devices:
• Automatically sync everything on computer, mobile and tablet
• Start what you need to do by working on one device and continue on another without missing a beat
• Add a Passcode Lock to the mobile app for more privacy
SHARE YOUR IDEAS
Evernote gives you the tools to share, discuss and collaborate productively with others:
• Create, share and discuss with the people who help you do your job, all in one app
• Search in pictures and annotate pictures to give quick feedback
• Get your projects going faster and let different people work on different aspects
EVERNOTE IN THE COMPANY
• Create diaries, write memos and prepare presentations
• Annotate documents with comments and ideas in team meetings and then share them with colleagues
• Get your projects going faster and maximize productivity by allowing access to more participants and working on different aspects of the project side by side
EVERNOTE IN TRAINING
• Keep up to date with lecture notes so you don't miss important points
• Crop and highlight articles from the web for academic research
• Plan and collaborate for better academic team work
BETTER INTERACTION WITH NOTES WITH 3D TOUCH
• Quick actions for faster note creation and search
• Sketch your notes with pressure sensitive ink
EVERNOTE PER APPLE WATCH
• Dictate the notes and they will be transcribed into Evernote
• Search and see results on your Apple Watch
• View notes and recently updated
• Set reminders, get notifications and never forget anything
Download now on iOS