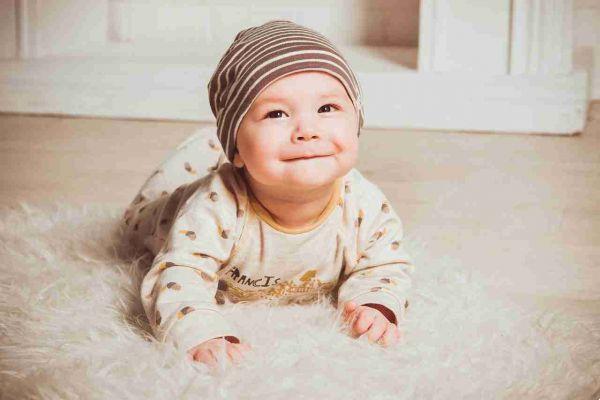 App for babies. Download these apps for your baby that will help you use your phone or tablet to get your baby to sleep, track his growth, and record activities like breastfeeding, changing nappies or bathing. Other solutions, on the other hand, replace traditional baby monitors.
Now we are going to list the best baby apps in our opinion available on the Play Store and Apple Store.
Baby apps: best for Android and iOS
Here is our list of the best baby apps you can install on your smartphone or tablet.
Baby Care - follow your baby!
Monitor the baby: feed, rest, poo and pee, growth and more. Parents and nannies can use numerous reminders to take care of the baby while they are busy.
With this tool you can also write baby diary, add photos, audio recordings and share everything with friends.
LIST OF FUNCTIONS:
.Available for more than one child.
.It is possible to create different widgets for each child on your Home screen
It is possible to create a child icon chosen by the user
Control the baby: mood, breast feeds, bottles, solid foods, poo and pee, health, hygiene, vaccines, medicines, teeth and more
.Check the baby's growth (weight, height, head circumference). Check the use of the breast pump
STATISTICS GRAPH
. Breast Feeding Chart / Bottle / Solid Food / Diaper / Rest / Sleep / Breast Pump
Timetable chart
.Temperature graph
.Teeth Chart
PERCENTILE GRAPH
.Graph of height, weight and head circumference from date of birth or expected date of birth (for premature babies)
Compare your child's growth data to CDC / WHO guidelines.
Download now for Android.
iBimbo
iBimbo, created with the collaboration of engineers, mothers and pediatricians, was developed to be intuitive and easy to use, taking into account the limited time available to new mothers.
From its first day of life, with iBimbo you will be able to monitor and record natural and artificial breastfeeding in a complete way, and you will always remember when she took vitamins and diaper changes.
In addition, you will have at your disposal a list of medical information relating to the most frequent issues in pediatrics and neonatology.
Download now for Android and iOS.
White noise for babies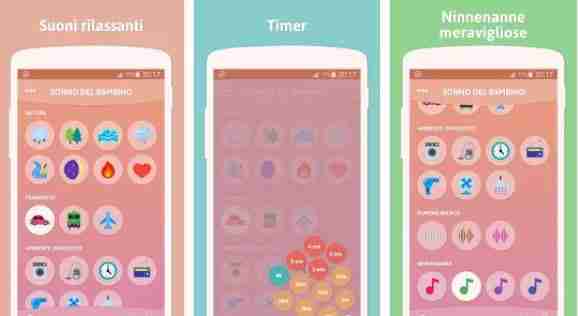 Children love the white noise. They spent 9 months in the very noisy womb, so they are used to the "noise". One background white noise actually is soothing for your baby e looks like the kind of sounds she would hear in the womb.
The app contains an excellent selection of white noise and ninnenanne soothing. It is equipped with a easy to use timer which saves battery. Also contains sounds of "shh-shhh" calming registered by parents. The application DON'T it requires no internet connection, so it can be used wherever you are.
Download now for Android.
Baby Sleep Sound White Noise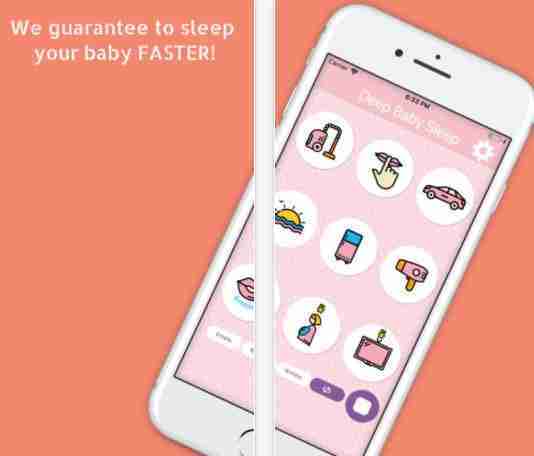 The best and most effective baby sounds for deep baby sleep! From the creator of one of the best baby sleep apps "Baby Instant Sleep", here comes another app with carefully selected white noise sounds that are even more effective and available. Don't be afraid away, your baby will go from awake and crying / screaming to calmly and relaxingly sleeping!
VARIETY RANGE OF SOUNDS white noise
Just tap and the app will start playing the sound you select continuously. Put your iPhone close to the baby and watch the baby fall asleep slowly and relaxingly. He chose from these white sounds:
- washing machine
- hairdryer
- womb
- vacuum cleaner
– bambino Shusher
- sshhh
- car ride
- Ocean
- static tv noise
Children love white noise SOUNDS
Soothing white noise sounds are adored by children. No matter how nervous, frustrated or crazy they are, just hearing one of these carefully selected white noise sounds will make them calmer and lull in their crib. In just a few minutes and sometimes even a few seconds you have fallen into a deep sleep and can do your family homework, have some free time or watch them sleep peacefully.
Download now for iOS.
Baby Monitor By Annie 3G / WiFi - Nanny Video Camera
An amazing and reliable App for monitoring your baby with an unlimited range via WiFi, 3G or 4G. Now with high quality videos and a lullaby player. Use it to monitor up to 4 children with an unlimited number of units for parents. Annie Baby Monitor turns any pair of mobile phones or tablets into the perfect babysitter. Annie Baby Monitor will always keep you in touch with your babies.
Download now for Android, iOS.
Baby Monitor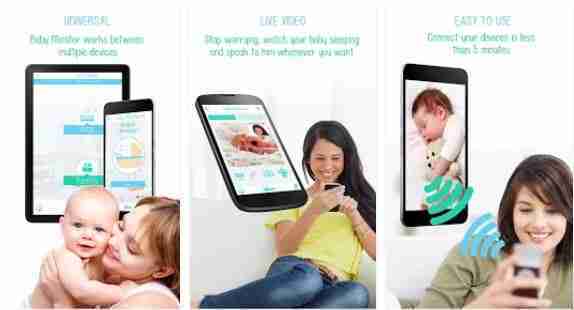 Baby Monitor is a universal video baby monitor that, thanks to a Wi-Fi connection, allows you to monitor your baby from a smartphone or tablet wherever you are
Baby Monitor is very easy to use: you simply have to install the app on your devices and choose which one you want to act as a parent monitor and which one as a baby monitor.
Download now for Android and iOS