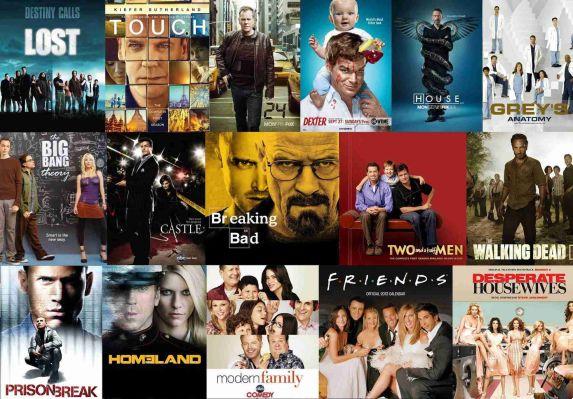 Thanks to these apps, discovering new movies and TV series to watch and follow will be easy. In addition, these apps will help you manage your vision by reminding you of the episodes watched, those that will come out and the new releases.
TV Time - Number 1 Tracker of TV Series
TV Time is the tool you need to monitor all the shows you love. TV Time allows you to:
Organize all the series you are watching in one place
Keep track of upcoming episodes to watch
Receive alerts when new episodes are available
Find new series to watch later, with personalized recommendations
See what other fans are saying, without spoilers
Find quizzes, polls, articles and podcasts about recently viewed episodes
TV Time allows you to monitor all series live and streamed for free, and broadcast by ABC, NBC, CBS, Fox, The CW, Netflix, Amazon, HBO, MTV, Bravo, BBC, Channel 4, ITV and Sky and more issuers yet.
Log in using any social media account and you are good to go. You can make customized lists, see comments and statistics in detail. You can see the IMDB rating and user comments in the app.
Download TV Time for Android and iOS now
CineTrak
CineTrak allows you to find the best movies and TV series, create your Watchlist and access reviews and ratings from Trakt, IMDb, MetaCritic and Rotten Tomatoes. CineTrak is created with Google Material Design and offers an interactive interface capable of increasing the level of entertainment.
CineTrak will NOT allow you to watch movies or TV shows. It allows you to discover and manage the best movies and TV shows!
• Discover and follow thousands of great movies and TV series
• Add movies and TV series to your list and organize them easily
• Intuitive interface created with Google Material Design
• Decide what you want to watch by accessing trailers and reviews from the best sources in the world of cinema such as Trakt.tv, IMDb, Rotten Tomatoes and MetaCritic
• Thanks to a wide range of lists, you can organize your favorite TV series and movies
• Access your calendars to check the latest versions of movies and TV shows
• Follow your friends and check what they are watching. Access all their lists.
• Create filters to easily select what you want to watch next. Filter based on type, rating, language, country and more.
• Set reminders to help you stay up to date on the latest movies and episode releases.
• Staff picks bring you the best films selected based on celebrities, box office, Academy Awards and other major accolades
• Curated lists show you the best films that have won prestigious awards, such as the Oscars, the box-offices along with many other constantly updated categories
• Search for movies based on your favorite genres
• Check in movies and episodes and tell your friends what you're watching
• Read reviews from users and critics
• Create your own collection of movies and TV series on DVD, Blu-Ray, digital and VHS
• Never miss the next movie or TV series
• Stay up to date on the latest aired episodes of your favorite TV series
• Thanks to an interactive interface, the level of fun increases
• Offline browsing: your data remains available even when you are not connected to the internet
• Full integration and support with Trakt.tv
• Direct links to IMDb, Rotten Tomatoes and Amazon Video
Download CineTrak on Android now
SeriesGuide - Series and movie management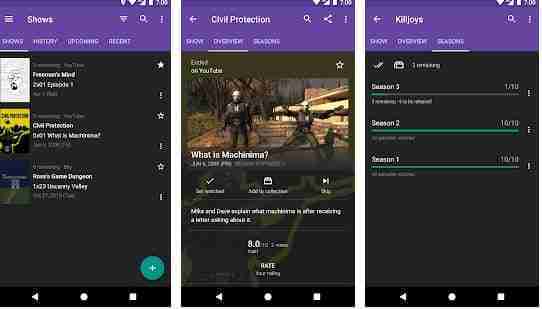 Features include the ability to keep track of shows watched, keep an eye on new releases, and manage your media collection.
Keep track of your watched episodes, keep an eye on new releases and your media collection.
Connect with trakt to track content, comment, rate and to synchronize the various devices you have.
No registration required, the application works even without internet connection.
Download SeriesGuide on Android now
Hobbies: tracker series tv, Client Trakt per programmi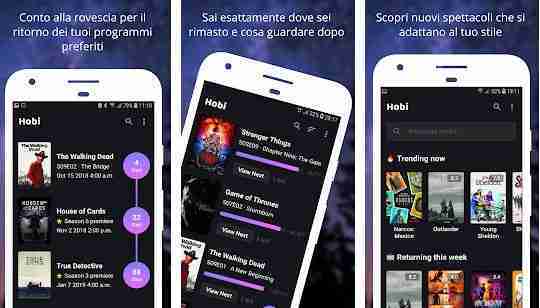 You can find new shows in the discovery menu and see detailed statistics of your observing habits in the stats menu. You can also customize notifications, set reminders, and view IMDB rating from within the app itself. Trakt integration is also available.
Download Hobi for Android and iOS now
Moviebase – TV Show & Movie Tracker. TMDb. Trakt.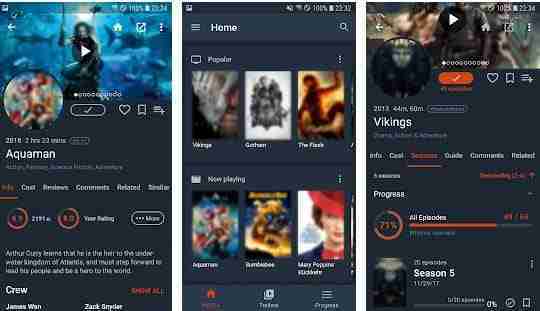 Moviebase is the most powerful application for finding and tracking movies, series, seasons, episodes and actors. Get access to and use media from The Movie Database (TMDb), IMDb, Netflix, Trakt, Rotten Tomatoes, and Metacritic.
Moviebase gives you the flexibility and control to customize your home screen with your categories and preferences.
Download Moviebase on Android now