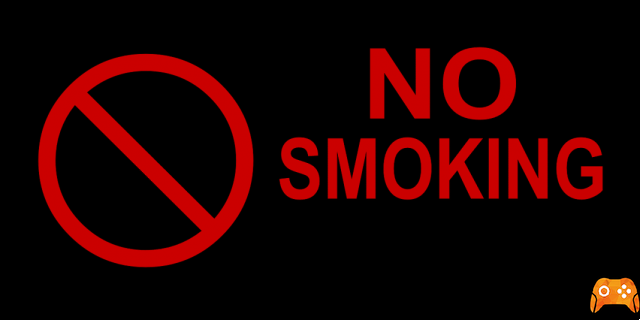 App to quit smoking. Are you looking for an app that will help you quit smoking with useful tips download the best ones.
In the various Google and Apple stores you can find app to quit smokingand that will help you with tips and procedures to follow while also monitoring your progress for this purpose.
We remind you that these apps are to be taken purely for information and consultation purposes, the habit of smoking is a disease that must be taken seriously through medical advice to get the best result. So always consult your doctor about the best procedure for quitting smoking.
App to quit smoking
QuitNow! 🚭 Stop smoking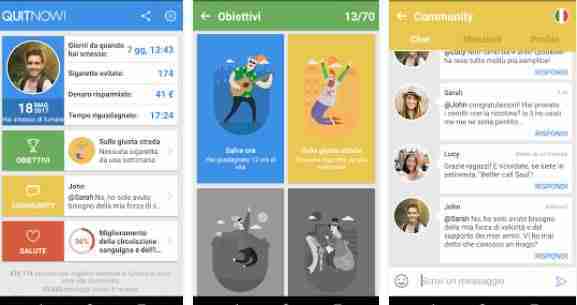 QuitNow! is the most comprehensive tool on the market to help you quit smoking.
QuitNow! gives you real-time progress stats, at any time, to help you manage anxiety. You discover:
- the time elapsed (days, hours, minutes) since the last cigarette of your life
- the number of cigarettes not smoked
- the amount of money and time saved
Plus QuitNow! provides WHO (United Nations World Health Organization) based indicators related to the health improvement process and a list of goals to unlock one by one, as time goes by, motivating you to achieve your goal.
Download now for Android or iOS
Kwit - quit smoking forever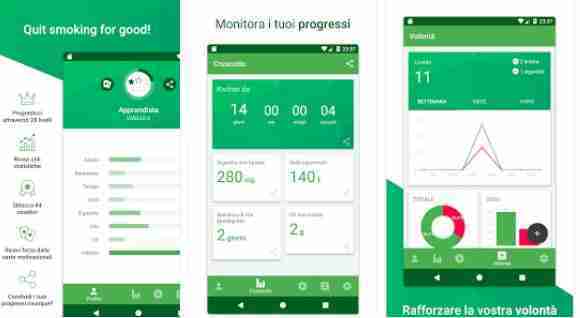 Have you just quit smoking or do you want to do it and just need a little more motivation? Kwit is what he does for you!
Kwit was created on the principle of "gamification", that is the development of game mechanisms and techniques. Its purpose is to increase your participation and your commitment to quit smoking by leveraging the human predisposition to play.
You will need to pass your level and rank up to become the Supreme Kwitter.
You will also have access to very useful statistics such as, for example, the time since you quit smoking, the money you have saved so far, as well as the number of cigarettes you haven't smoked. These statistics are automatically updated.
There are more than 60 milestones to be achieved, some of which will inform you about the beneficial effects you get from quitting smoking, both for your body and for your well-being. Finally, you will be able to share your progress and successes with your friends on Facebook, Twitter or via email and Message / SMS.
Quitting smoking is the best decision you can make in your life.
Download now for Android or iOS