Next week will be very important for fans of football and soccer and sports titles: it arrives eFootball PES 2021.
Net of its nature as a Season Update, the arrival of Konami's football is much felt, both because the title rests on the splendid foundations of the previous chapter and and above all because it officially opens the dances in view of the usual annual challenge with FIFA, which this one year, however, will come slightly later than the traditional release period. In the meantime, the two software houses have already begun to challenge each other with "rating" shots by publishing the list of the strongest players according to their own concept of football. If Electronic Arts has released its Top 100, Konami instead has released the ratings, at the moment, only of the partner teams, that is Manchester United, Juventus, Bayern Munich, Arsenal and Barcelona, with some small news and many confirmations.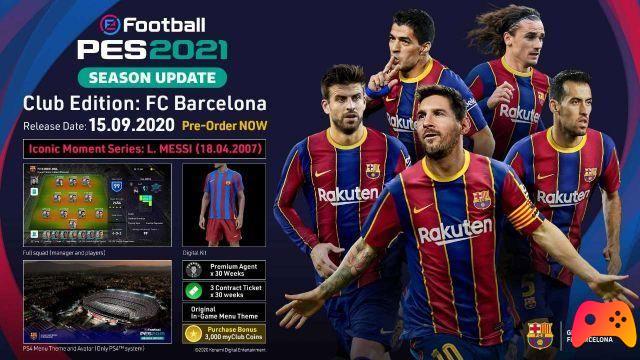 Among these clearly stand out Cristiano and Messi, the two strongest players of last year, who confirm themselves at the top of the list with a value of 93 and 94 respectively. On the podium also the mighty Bayern Munich striker Robert Lewandowski, immediately behind the super duo with an overall of 92.
But here's the full list of the 5 strongest players for each team revealed so far:
Barcelona
Lionel Messi - 94
Antoine Griezmann - 88
Marc-Andre ter Stegen - 89
Luis Suarez - 89
Gerard Pique - 87
Bayern Monaco
Robert Lewandowski - 92
Manuel Neuer - 89
Thomas Muller - 86
Leroy Sanè - 86
Alphonso Davies (partner) - 82
Juventus
Cristiano Ronaldo 93
Wojciech Szczesny - 87
Matthijs de Ligt - 86
Leonardo Bonucci - 85
Aaron Ramsey - 83
Manchester United
Bruno Fernandes - 87
Paul Pogbba - 86
Marcus Rashford - 84
Anthony Martial - 83
Nemanja Matic - 82
Arsenal
Pierre-Emerick Aubameyang - 88
Alexandre Lacazette - 84
Granit Xhaka - 83
Hector Bellerin 82
Kieran Tierney - 80
eFootball PES 2021 will be available starting September 15th on PC, PlayStation 4 and Xbox One.
► eFootball PES 2020 is a Sport-type game developed and published by Konami for PC, PlayStation 4 and Xbox One, the video game was released on 10/09/2019
eFootball PES 2020 is a beautiful game that cannot be missing from your collection: we have decided to evaluate it with a 91%, if you are interested in learning more you can read the Review of eFootball PES 2020