Electronic Arts will reveal today at 19:00 which players will be part of the FIFA 21 Ultimate Team Summer Stars group. Are you curious?
The heat of the summer hasn't stopped Electronic Arts, still incredibly active with its FIFA 21 Ultimate Team.
After the event dedicated to the Festival of Futbal, which ended last week, the Canadian software house already has another one in store, which will start in a few hours. Starting today (July 2) at 19:00in fact, the servers of FIFA 21 Ultimate Team will be populated with the cards belonging to the event Summer Stars, that is the players who have distinguished themselves most during the most important football events (currently in progress) such as the Copa America and the Europeans.
Electronic Arts has therefore selected a group of players who, most likely, will arrive in the homes of players also thanks to the inevitable SBCs and Weekly goals. The event, in all likelihood, should last about two weeks as usual, coinciding with the closure of the aforementioned events.
Meanwhile, thanks to the photos released, players are already trying to imagine what they will be the first players included in the special team.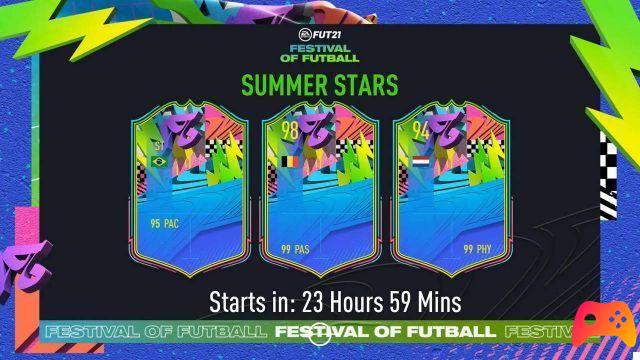 What do you think about it? Who do you expect to find? Let us know in the comments!
► FIFA 21 is a Sport-type game developed by Electronic Arts and published by EA Sports for Xbox One, PlayStation 5, Xbox Series X, PlayStation 4 and PC, the video game was released on 09/10/2020
Version for PlayStation 5 from 03/12/2020
Version for Xbox Series X from 03/12/2020
FIFA 21 is a beautiful game that cannot be missing from your collection: we have decided to evaluate it with a 80%, if you are interested in learning more you can read the FIFA 21 Review