Good news for all gamers, especially those active on the servers of FIFA 22 and in this case in the modality Ultimate Team.
Electronic Arts in fact announced yesterday the arrival of the first major event for its jewel, which in these first weeks of launch has already recorded impressive figures. Tomorrow at 19pm (Friday 15), as usual for the game, the event will officially start Road to Knockouts, which will add tons of new cards to the game database. Judging by the design of the latter, visible in the loading screen of the Ultimate Team mode, it is very likely that they are the cards known as "Road to The Finals", ie those dynamic cards relating to the most important European club competitions.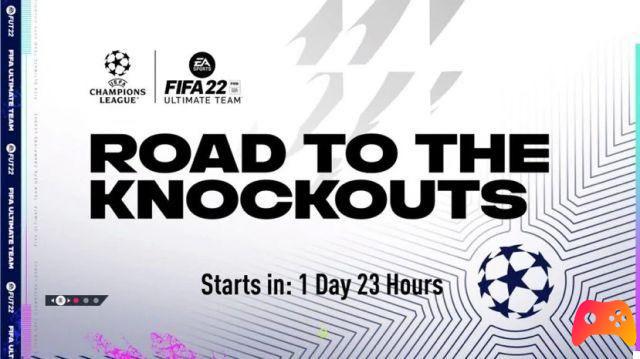 In addition to the classic blue cards related to Champions League and the yellow ones of the Europa League however this year there seem to be new green cards, which represent the real novelty of the event and which we can't wait to discover. Fortunately, however, we only have to wait a few hours to find out what it will be and also to understand which players will be introduced through the SBCs and the various objectives.
Appointment set for tomorrow, anyway. Are you already charged? We do!
► FIFA 22 is a Simulation-Sport game developed and published by Electronic Arts for PC, PlayStation 4, Xbox One, PlayStation 5, Xbox Series X and Google Stadia, the game was released on 30/09/2021 The version for PlayStation 4 came out on 02/10/2021 The version for Xbox One came out on 02/10/2021
Version for PlayStation 5 from 02/10/2021
Version for Xbox Series X from 02/10/2021
Version for Google Stadia from 02/10/2021
FIFA 22 is a beautiful game that cannot be missing from your collection: we have decided to evaluate it with a 80%, if you are interested in learning more you can read the FIFA 22 Review by Salvatore Cardone.