Users often try to block Telegram with code to avoid being spied on. However, there are still few who know the application and do not know that unlike WhatsApp, which requires third-party apps to put the password, Telegram offers by default the possibility of blocking access to chats with a numeric code.
In this way, it will be almost impossible to override the application password, which is very easy when using app lockers. Furthermore, since this is a technique to avoid immediate access to the application, you can not show your messages to whoever takes your phone in hand. Let's see how to proceed.
How to block Telegram with code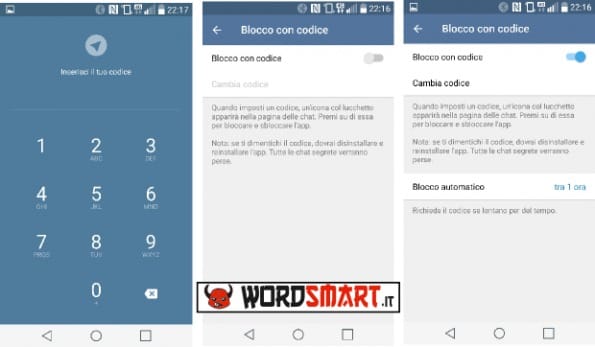 Since the messaging app and the system run on the cloud, it is possible to lock Telegram with a code to prevent new devices from logging in without knowing the PIN, because with each new access, the system will ask for authentication using the new PIN you have. generated.
In addition, you could configure another password for "two-step verification, similar to the temporary one of Facebook, so as to check the connection of new devices (you will also be notified on each new connection). Having said all this, let's see what needs to be done:
Open the app and enter the Settings
Choose the option "Privacy and Securityto"
Tap on "Code lock"
Within the option, you can set the toggle to "On"To activate the PIN configuration
Enter the code you want to use twice consecutively (the simple PIN is 4 digits)
Then set the automatic lock by configuring the desired time period by choosing between: 1 minute, 5 minutes, 1 hour, 5 hours or "Disabled" to lock the app only manually
End!
* per iPhone you can also use unlocking via touch ID
* once configured it is possible to activate the instant lock by tapping on the "open padlock" symbol at the top of the chat list. By doing so you will see that it will become closed and when you exit and re-enter the application you will be prompted for the PIN to access
Through this guide you can easily block with a Telegram code, setting a very simple encrypted password, well integrated into the system and effective to the point that it will not allow anyone other than you to access the account.