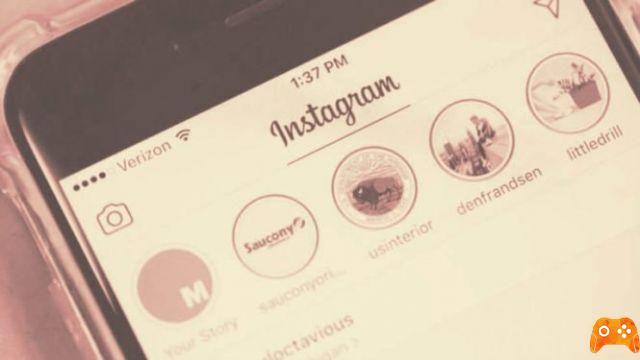 Instagram has become an indispensable application for several mobile devices, regardless of their operating system. In any case, to access the interface from the computer, there is no other platform than the website. If you don't know how, in this article we will explain it to you step by step.
First step how to use Instagram on my computer
Click on instagram.com to access the Instagram website. Once on the site, click on "Log in", Which is located on the right side of the site. Then enter your username and password and click "Login" to log in.
Automatically, you will access the edit page of your profile; if you don't want to change your details, go to your username at the top of the website and click directly on "Profile" to see your Instagram on your computer.
You can freely browse the website and browse the online application by clicking on your friends name or any other contact.
Photos can only be uploaded to Instagram from a mobile phone! As a result, you won't be able to share images from your computer or access the filter catalog offered by the mobile app because Instagram doesn't have this option.
How to post photos on Instagram from your computer
To close your Instagram session from your computer, you will need to click on your profile photo at the top right. A drop-down menu will then appear in which you will find the "Exit" option.
How to chat (easy) on Instagram from PC
You also have the option to use Instagram DM on your PC but the problem is you can't do a DM using the Instagram website online. I followed the steps outlined below using what you can do to send DM to PC:
Instagram for Windows 10
As we know, Instagram has now enabled photo and video upload via DM on Windows 10, you can download Instagram for Windows and use the DM on your computer.
The first thing to do is go to the Windows Store app and download the Instagram app.
The second step is to install an Instagram application on your PC or tablet and finally launch the application and use the DM icon to send a message. Note that if your PC doesn't have a touch screen desktop and doesn't have a front camera, you won't be able to click and post Instagram photos or videos via PC.
BlueStacks
You will agree with me that this software called Bluestacks is doing something magical. It is an Android emulator for PC and works as Android devices on PC. Therefore, you can take advantage of many applications that only work on Android.
By installing Bluestacks on your PC, you need to log in with a Google account, then install Instagram on your PC via Bluestack. Once logged in, you can use the DM on Instagram.
How to install Instagram on Windows PCs without Bluestacks and without a Google Account
How to chat (easy) on Instagram from PC through third-party apps
This is the best option if you don't want to risk your PC's security. Running Bluestacks permanently reduces computer security. Therefore, third-party applications come to your rescue - Instagram DM on Desktop. These applications will allow you to send and receive messages via Instagram DM on PC and Mac.
Normally you can check and see direct messages on the Instagram app. Click the Instagram Direct icon and go to the conversation to see Instagram posts. You also find a secret mailbox that allows you to see hidden direct messages on Instagram.
Launch the Instagram app, choose the Instagram inbox icon and go to the inbox. If you have hidden messages, there will be a blue bar indicating "message requests". Click to see all messages sent by people you don't follow.
How to log into Instagram on your computer
How to use Instagram when you don't have a smartphone?
I don't have a smartphone, unfortunately it's not a choice, but a question of budget. In general I don't miss it but lately I've been a little jealous to see friends sharing their beautiful photos on Instagram. So I was wondering if it was possible to have an Instagram account without a smartphone ... This question has haunted me in the last few weeks and so I have been looking for solutions that I am about to share with you below.
Having a smartphone is essential for create an account, I have not found how to fix this. The good news is that it takes less than a minute (just more if you need to install the app) and we can create multiple accounts from the same phone, so borrow smartphone, girl / colleague / girlfriend / girlfriend to sign up. Remember to immediately add your profile picture and link your account to Twitter and / or Facebook if you wish, and log out before returning the phone to its owner.
From there you can go on without a smartphone, you can go to your account Instagram from any computer. Unfortunately there is not much we can do, except edit your profile (which may still be useful) and look at the photos.
Better to turn up Statigram which will allow you to do many other things, manage your photos and subscriptions, access your statistics or the most popular accounts. There is nothing to download, everything happens online and you don't even need to register because you log in with the same Instagram credentials.
You can also share photos taken with a conventional camera thanks to the application Gramblr (to download to your computer). Enter your Instagram username and password, upload your photo, enter a caption and your photo will appear on your Instagram account. Pay attention that your photos must imperatively measure 650 x 650 px, you will need to cut them out.
The charm of Instagram are also its famous ones filters who can retouch a photo to give it a particular style. Again, there are multiple tools that will allow you to do the same online. I usually use Photor (which also allows you to resize your photos)

That's it now you have a cute Instagram account, and no one can suspect you don't even have a smartphone.
Conclusion
So, we just finished talking about how to chat (easy) on Instagram from PC with the addition of some goodies.
How to create a (beautiful) Instagram Story
Further Reading:
How to delete your Instagram account
How to delete multiple Instagram comments at the same time
How to find out who has not accepted your request to follow him on Instagram
What happens when I stop following someone on Instagram
How to put multiple photos in an Instagram story