By now, all your friends have installed Telegram and you too, in order not to stay out of the loop, have decided to switch to the "blue side" by installing this marvelous instant messaging app. You know it's based on real-time syncing and it all looks very nice, but there's a problem: even though you signed up in the right way, you weren't able to send messages or find your friends' accounts. So, you have decided to search the internet and you have found this tutorial in which I detail you how to chat on Telegram.
I do not want to make fun of you and I do not intend in any way to make abstruse turns of words. In this guide, in fact, I will explain in detail how Telegram messaging works. Also, I'll tell you how to find contacts, groups or bots, and I'll explain the differences between these types of profiles. To complete the question, I will also explain what anonymous chats are and how they work.
Index
How to start chatting on Telegram
Telegram chat functions

Single conversation options
Group options
Anonymous conversation options

Chat with Telegram users
Chat with Telegram bots
Chat with Telegram groups
Chat with Telegram channels
Chat anonymously on Telegram
Secret chats with self-destructing messages
How to start chatting on Telegram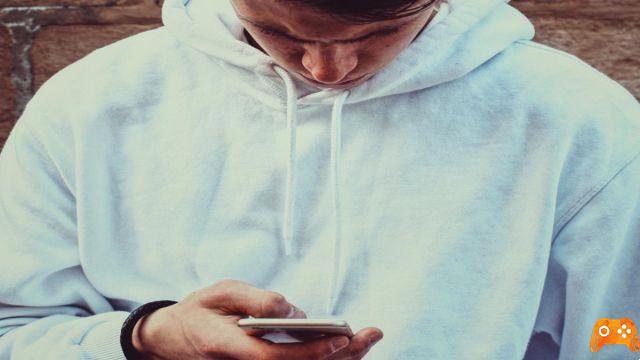 To start chatting on Telegram, you obviously need to be signed up to the service, but also to know at least one of the registered users. And on Telegram, finding someone to text with isn't hard at all.
The first thing you need to know is that if your friends have Telegram and you have theirs telephone number saved in the address book, then you should already have them in your Telegram contacts. To check what I just told you, just go up Contact us and select them name (which you will see with the same name saved in the address book). By doing this, you can start chatting with them, without any difficulty.
If you don't have your friend's phone number, but this person gave you theirs username Telegram, all you have to do is type your full username into the search bar (which appears above the active chats) and press on the magnifying glass. Be careful to spell it correctly, otherwise you might add a contact of the same name.
Doing so, however, will start a new Telegram chat with a single contact. In case you want to subscribe to one or more Telegram groups, you could search for them on the internet or via the search bar. The application algorithm or the one configured in the browser, will allow you to find not only groups, but also channels e muzzle. Keep in mind, though, that it will always be public chats. To get added to multiple private conversations, you will need to ask whoever administers them.
For more information on registering for the service and on the account functions, read the guide dedicated to the use of Telegram that I have already written. Continuing with the insights, however, you will find details on the chat features.
Telegram chat functions
Telegram chat allows users to exchange 1v1 messages (single chat) or group messages, both in standard or private mode. And do not worry if these words seem complicated to you, because now I will explain everything to you calmly.
First of all, you must know that in any type of Telegram chat and at any time, it is possible delete messages, both from your own device and from that of the receiver. This means that if you accidentally send your friend the photo you wanted to send to your girlfriend, you may want to remove it before it appears. But let's proceed in order.
Single conversation options
In single chat, which represents traditional instant messaging, it is possible to select a user and converse with him directly, similar to what happens with Facebook Messenger, WhatsApp or Instagram Direct.
Once you are in the chat, you can send text messages, stickers (including animated ones), emojis, links, videos, images, documents and files. In short, you can send literally any type of message or file.
You just have to take into account that it would be better to use the Wi-Fi network to send large files (files that are large in terms of MB or GB). Otherwise, you may run out of 3G / 4G / 4.5G cellular data network quickly.
Group options
In addition to this mode, however, Telegram also allows you to chat in group, or to create a conversation with more than two users, in which all participants can communicate with each other and send, download or simply view messages, multimedia content and files.
Not only that, in this apparently chaotic mode, Telegram gives the possibility to reply directly to a message from a user, or to quote it. By doing this, even if there are many participants and many messages are transferred in real time, you can speak in an orderly and clean manner.
Normal groups, in fact, can have up to 200.000 members. Not to mention the supergroups, that they do not foresee user limits. For more information, read the dedicated guide I have already published.
Anonymous conversation options
Last but not least, there is the secret chat. This is a single conversation with additional privacy and security features. The end-to-end encryption used also has a more complex algorithm.
The most interesting feature of anonymous chat is the option that allows you to set up a timer. Therefore, after a sent message has been read by the other party (two green v's), and after a certain period of time, it will be automatically destroyed from the messaging system, with no possibility of recovery.
Among other control functions, there is the one that protects against screenshots. Nobody in an anonymous chat can screenshot the screen, let alone record it. This, as long as no third party methods are used.
Keep in mind, however, that it is not possible to create secret groups, at least for now. To have anonymous functions available in multiple Telegram chats, at present, you must use i muzzle (see below to learn more).
Chat with Telegram users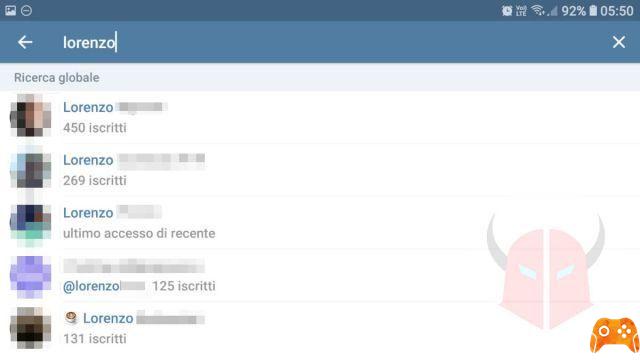 La chat with another user is the perfect example of what, a few lines above, I defined 1v1 conversation. It is a conversation between two people, in which, as I told you, it is possible to send any type of content, but also to delete messages sent by mistake. It is also the only type of chat that can also be started in secret mode.
To start chatting individually with someone you know, you need to find their phone number or at most their username. So, you could look for it on Telegram. Alternatively, you could resort to a random chat bot and make new friends, but I'll tell you more about that in the next paragraph.
Going back to chat with another user, when you message with a single contact, in addition to sharing files and messages, you may also send or receive voice notes of unlimited duration. In addition, you could do a phone call or a VoIP video call, that is an audio / video conference that uses the internet to get in touch with the other person, so as not to consume minutes of your tariff plan.
If you are worried about consuming too much data, don't worry, because Telegram's compression algorithm allows you to compress voice files a lot. At the cost of a very slight loss of quality (practically imperceptible), Telegram allows you to send and receive audio files with extremely low weight and without these affecting too much on the operator's offer.
The same goes for VoIP calls. As for video calling, it would be best to hook up to a nearby wireless network, mostly to make the video link stable.
Chat with Telegram bots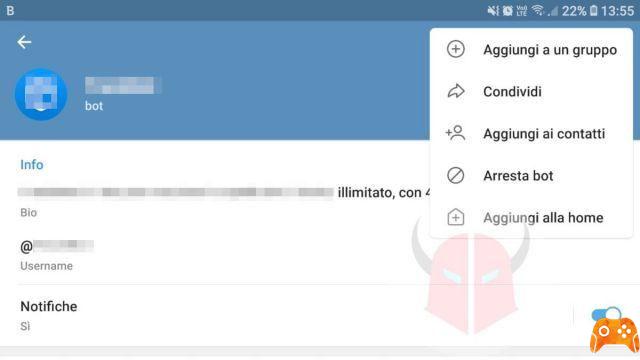 As I told you in the previous paragraph, there are some muzzle that allow you to chat anonymously with random users, also with hidden identity.
This is definitely a great way to make new friends. But before we get to that, perhaps it would be appropriate to understand what is a Telegram bot and how to use it.
In a nutshell, Telegram bots are programs that offer additional features, developed by third parties and then integrated into Telegram. To use them and start chatting with them, you need to add them to your contacts as if they were ordinary users. This can be done via the search bar.
Put your to command the god they must be sent by message, generally by sending specific keywords preceded by the slash / symbol.
Once you have added a bot and started with the / start command, it will start working and you can communicate with it by giving it instructions through the chat. Follow her command legend that appears in the conversation to understand how to interact with the bot.
As regards the bots that make you invisible on Telegram, learn more by reading the guide dedicated to the best secret chat apps.
Chat with Telegram groups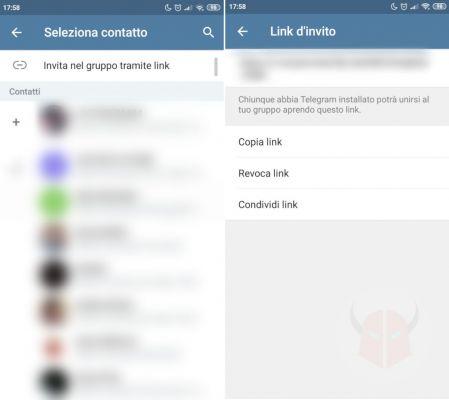 As I told you before, i Telegram groups they are chats with two or more users, where you can chat without using the timed message feature. This type of conversation is very similar to old chat rooms, but unlike them, Telegram groups manage to keep discussions orderly, through quoting functions and advanced chat details.
The single message reply tool can be activated with a long press on the bubble. The interactive options will allow you to quote the message or forward it to another contact.
chat in a group, you will first need to get added. Contact one of the multiple chat administrators and have them send you the invitation link. Alternatively, try searching for a public group in the search bar.
However, once you have created the group or have been added to it, all you have to do is locate it and tap it in the list of active chats to start talking to all participants. More information can be found in the related guide that I have already published.
Chat with Telegram channels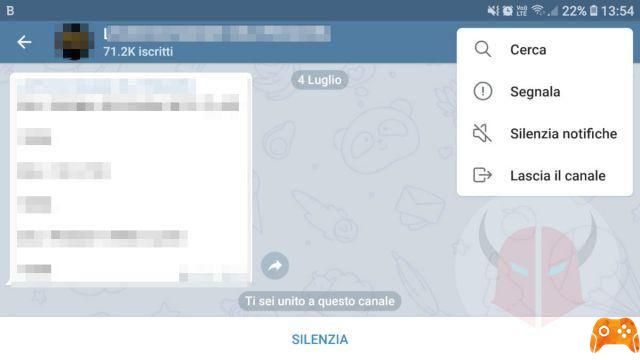 I Telegram channels they are a unique feature of their kind and, to be honest, they are much more like a newsletter than a chat. In fact, although more people can sign up, only the channel manager has the option of send messages.
This means that it is not possible to chat in Telegram broadcasts. To confirm this statement, if you open the chat with a channel, you can observe that, at the bottom of the chat, there is no button that allows you to compose messages.
Chat anonymously on Telegram

There are several ways to chat anonymously on Telegram. The simplest is the one that involves the use of bots that hide the user's identity. However, the other party must also use it.
If you don't know what the best bot for anonymous Telegram is, I suggest you give it a try Strangerbot. It is used a lot online and allows you to chat with boys or girls at random, always remaining with a veiled profile. If you do not find it or in any case it no longer works, rely on Incognito Chat Bot.
Alternatively, you can decide to be anonymous to your friends or group participants. To do this, simply set a username that is not attributable to you, hide your phone number and start texting.
By doing this, no one would be able to find you via the search bar anymore. Moreover, no contact could see your mobile number.
Secret chats with self-destructing messages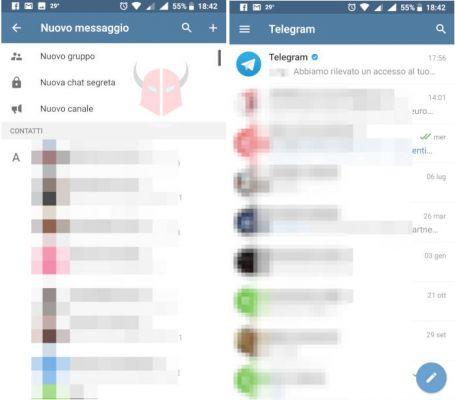 If you need to exchange important files and it is a matter of privacy, I recommend that you try the feature secret chat.
By starting an anonymous conversation, as I told you, you could set up a self-destruct time of sent messages. After this period, if the messages had been opened, they would be removed automatically.
The secret messages they will not show any previews when they are delivered to the receiving device. Furthermore, neither you nor the recipient will be able to take a screenshot of the chat. More information, you can find them in the dedicated guide that I have already published on the blog.