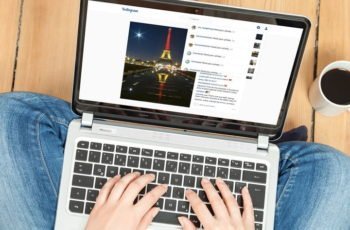 Creating an Instagram account from your computer is an easy thing, even if officially Instagram is not available for computer and PC. Everyone is talking about Instagram, people post their photos on the app and push you to join. Now you've decided to do it too, but the laziness of opening an account from your mobile or just because you don't have a phone at hand stops you.
How to create an Instagram account from a computer?
Note: If you already have a Facebook account, you can use it to identify yourself on Instagram without creating a new account and Instagram will automatically suggest friends based on your Facebook contacts.
To create a new Instagram account from your PC, it's simple, just visit the official website https://www.instagram.com/ from your browser, on the page displayed, fill in all the required fields.
Phone number or email: Here you can choose whether to use your phone number as your account identifier or an email.
Full name: your name.
Username: you can choose a name to use it to identify you.
Password: choose a password.
Check all the information and click on the big green "Register" button.
Are you interested in knowing ... How to hide the last login on Instagram
Well done! You just created an Instagram account from your computer!
As you may have noticed, the steps for signing up for Instagram from a computer are very easy, many people are wrong and continue to believe that it is not possible to sign up for Instagram from a PC, claiming that it is only a service for mobile devices.
Have you seen instead that it is possible to create an Instagram account from a computer?
Read also: Instagram problems and how to fix
Further Reading:
How to find out who has not accepted your request to follow him on Instagram
How to delete Instagram account
How to find people blocked on Instagram
How to temporarily disable your Instagram account
Your private Instagram posts and stories may not be that private