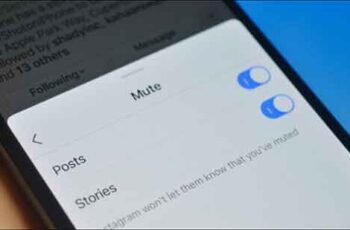 Nobody likes being pestered on social media. This is where learning how to mute people on social media, rather than blocking them, comes in handy. You can delete unwanted content without reporting it to the offensive user who bothered you.
The problem is, mute someone's sound isn't always as simple as just blocking them. Each social media network also has its own set of rules and methods for deactivating or blocking someone online, so it's all about learning what works best and where. Here's how to mute someone on Instagram, Facebook, Twitter, and more.
WhatsApp Plus, how to download and install
How to mute someone on Instagram
Instagram introduced a Mute button to mute profiles, posts and stories. While not everyone has access to this feed-based mute option yet - Instagram is still rolling it out on iOS and Android - it will soon be available to all users, so you might as well learn how to use it.
How to post a GIF on Facebook, Instagram, Reddit and Twitter
How to mute Instagram posts
On each post you will see the ellipsis button (…), tap it.
You are now presented with various options including Report, Embed and Deactivate.
Tap Turn off sound.
Select Disable post or "Disable post and story". This option is also available through user profiles, again by pressing the ellipsis button.
How to mute Instagram stories
To mute Instagram user-generated stories, long-press the person's profile picture.
This brings up the option to mute the user and all those stories you never wanted to see in the first place.
Stories from other users will appear at the end of your feed where you can choose to watch or re-enable them if you wish. Note that users can see who views their Instagram Stories. If someone notices you haven't looked at their content in a while, they might ask you.
How to mute someone on Facebook
Is your Facebook news feed full of over-sharing, game invites, and angry rants? Thankfully, there are several ways to silence these annoyances, and it's really quite easy to get started.
Visit a profile or page and click Follow (on the Facebook website) or tap More (in the Facebook app).
Select Unfollow.
You can also unfollow users in your news feed by clicking the three-dot menu on a post and choosing "Hide post". "Postpone for 30 days" or "Unfollow".
You can also unfollow someone or postpone them for 30 days directly from your history. Since it can be difficult to remember everyone who is bothering you, this option makes it easier to mute people as you scroll through the news feed.
Just tap the three-dot menu icon on their post and select one of the many options available. Select the option to confirm and the post along with the original poster will disappear from your timeline.
How to bulk delete all Facebook posts
How to bulk unfollow people and pages from your feed
To bulk manage your feed; locate the down arrow on the blue banner or tap the three-line menu on your mobile.
On mobile, scroll to Settings and Privacy, then select Settings.
On both the web and mobile devices, select "News Feed Preferences".
Now select "Unfollow people to hide their posts".
Scroll down and tap on the people and accounts you want to remove from your news feed.
How to block photo albums from your feed
You can also block albums from entering your feed, whether it's baby photos, vacation snaps, or wedding season selfies.
Click on the three-dot menu of the offensive photo album
Choose "Unfollow Albums"
Here
How to find out if you've been blocked on Facebook
If you think someone has blocked you on Facebook, there are three ways to find out for sure.
Search for the user while logged in: If it doesn't appear in the search results, log out and search again. If they magically appear, it means that you have been blocked.
Find a comment or message from the user. Anyone who has blocked or otherwise made their profile inaccessible to you will appear in bold black and you will not be able to click on her name.
Remember that Facebook allows users to block people on both Messenger and Facebook separately, so launch a message. If a popup warns you that you cannot reply or that the user is unavailable, it is likely that you have also been blocked on the Facebook messaging platform.
How to mute someone on Facebook Messenger
As with its social network, Facebook makes it just as easy to silence annoying people on Messenger.
Disable Messenger chats on desktop
Open a message from your chatty friend
Click the gear icon
Choose whether "Ignore messages" or "Disable conversation"
Disable Messenger chats on mobile
Tap the "i" information button in a conversation
Click 'Ignore Messages', which moves all messages to the Incoming Message Requests box. Alternatively, you can also click Notifications | Silent conversation
Finally, determine how long your contact is deactivated for - from 15 minutes to forever
What to do when Messenger crashes on your phone
How to mute someone on Twitter
There are two methods to eliminate annoying Twitter users from the history. One method involves visiting their profile and bulk blocking, the other is accessible from any of their tweets and allows you to remove certain types of content instead - perfect for blocking annoying branded messages.
How to deactivate accounts on Twitter
Visit the user's profile page and click the three-dot menu button next to their name.
This reveals the options including Mute.
Click Deactivate and confirm the action.
How to mute a Tweet
On a single tweet, click the arrow at the top right of the tweet
This allows you to select "Disable @username" and another option: "I don't like this Tweet"
Selecting this acts as a "Dislike" button, instructing Twitter's algorithms to block similar posts in the future
How to see muted Twitter accounts
To see all the accounts you have silenced, visit "Settings and privacy", then click "Privacy and security"
Scroll to the Security section and select "Disabled Accounts"
Here you can also unmute people via their profile
How to mute certain words, phrases and hashtags
If you want to ban certain words from your timeline, visit "Settings & Privacy" or, on your mobile, go to the Notifications tab and tap the gear icon, then click "Mute Words". Now add the words you never want to see again.
How to mute someone on WhatsApp
Fed up with noisy WhatsApp group chats and private messages pinging at all hours of the day? There is a way to silence them, you can thank us later.
To mute them, swipe to any message or group chat, then press and hold the message.
Once selected, you will see a stuck speaker at the top of the screen. Click on the speaker.
You now have options to mute notifications for eight hours, a week, or a year.
Make your choice, then tap OK
You can also mute notifications within a message, click the three-dot menu at the top of the screen and select "Turn off notifications".
How to mute someone on Snapchat
Snapchat's mute version is called "Do Not Disturb," which blocks notifications from any user or group chat you choose to mute.
How to mute audio from Snapchat timeline
Tap your feed, then press and hold your friend's Bitmoji or profile picture
When the pop-up window appears, click Settings
Then click Do Not Disturb. The option will change to "Enable notifications" to indicate that you have been successful
How to mute a Snapchat message
Click on your friend's messages and hit the three-line menu button
Now set the Do Not Disturb switch to On
How to mute Snapchat Stories from your feed
Click on your friend's messages and hit the three-line menu button
Select Turn off history
How to prevent specific users from seeing your Snapchat Stories
Click the gear icon on your profile page and scroll down to the section titled "Who Can"
Then click on "View my story"
Choose Customize and decide who can see your Snapchat Stories
How to block someone on YouTube
The YouTube community has a bad reputation. Thankfully, the Toggle YouTube Comments Chrome extension protects you from the silly and often offensive chatter that defines the comment section of almost every video.
This very welcome add-on automatically hides all comments on YouTube videos, replacing them with the Show Comments option. Best of all, it doesn't follow you and fits the YouTube design perfectly.
How to mute people on Quora
Quora, the question and answer section of the Internet, is a source of knowledge. But if you're sick of hearing chatty users who know everything, turning them off is easy.
Click the person's name next to their picture
Once on their profile, by pressing the ellipsis button (...) you can choose to mute, block or report that user
Select the appropriate option and voila, gone
You can also remove stories from your topic feed by clicking the "X" in the right corner of the Q&A box. This hides the story and gives you more control over what you see, allowing you to unfollow who asks and who answers, as well as showing fewer related links.
FAQ
We've covered a lot of information in this article, but you may still have questions. In this section, you will find more information on how to make social media a more pleasant place.
How do I know if someone has stopped following me?
For Instagram users it's easy, your profile page will show who is actively following you, so if the person of interest isn't on that list, you know you haven't been followed. However, you will not know that you have been deactivated.
Facebook makes things a little more difficult. Click to open your Facebook profile, then click "Followers". This option will not appear unless your account is Public. Scroll through the list of those who follow you and compare it with the list of your friends.
Will anyone know it has been disabled?
All of these sites have some sort of mute option, but none of them let the user know that it has been disabled, and for good reason. There are some in-app behaviors that might make someone think they've been disabled (e.g. you no longer comment or react to their posts), but there's actually no way to confirm without asking you.
Further Reading:
How to delete a retweet from Twitter
How to silence someone on Instagram
How to share stories of others on Instagram
What happens when you temporarily disable Instagram?
How to unblock someone on Facebook