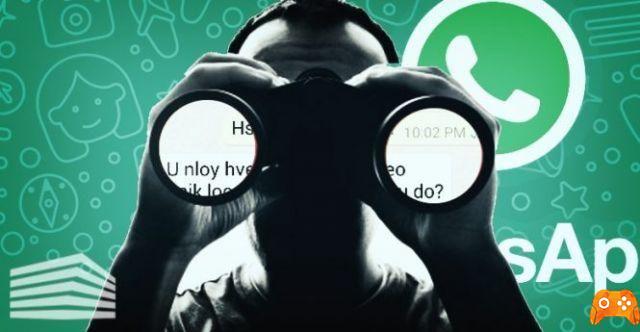 How to spy on someone else's WhatsApp Would you like to spy on WhatsApp messages and read your partner's Whatsapp messages? Then you are at the right place. At the end of this article, you will learn the easiest ways to hack a WhatsApp account.
Basically, there are Three different ways to spy on WhatsApp conversations. The first one requires in-depth IT knowledge, the second one is easy to apply and leverage WhatsApp Web, and the third one is an easy to use Whatsapp spy app. To summarize how to spy Whatsapp for free, below are the best techniques to spy WhatsApp messages on Android and iPhone.
Mac Spoofing hacking technique (very difficult).
WhatsApp Web as a spying tool (easy).
mSpy WhatsApp tracker (very simple)
These are all ways to spy Whatsapp. WhatsApp is not a 100% foolproof application: these are the ways they can spy on you. That there are alternatives to WhatsApp that stand out for their security as in the case of Signal has its own explanation.
WhatsApp, despite being the most used messaging application in the world, is not infallible and there will always be someone who is able to take advantage of the gaps in the application to perform techniques that allow them to spy on Whatsapp conversations.
And is that, although it is not as simple as before, it is possible to spy on WhatsApp messages and it is certainly something that you should keep in mind when using the app and prevent third parties from accessing the information you share through your account. chats
Therefore, in this guide we review all the ways to spy Whatsapp, and also help you avoid this type of situation.
Let's take a look at these one by one.
Disclaimer: : I am not supposed to illegally spy WhatsApp messages and in this article I intend to illustrate the techniques for informational purposes only. Any illegal action taken with this information is at your full responsibility.
How to spy on another number's Whatsapp on Mac.
What you should know first:
effectiveness: 90%
difficulties: very difficult
require: good computer skills and the victim's phone.
This is a popular and free method to spy WhatsApp messages without the victim being aware of it. If applied correctly, it can read all chats on the victim's cell phone, whether Android or iOS. Now there is some bad news.
Despite being so popular, not many people find success with this method because of the variables. For my part, I can give the exact steps to follow and be as clear as possible. The outcome, unfortunately, will not be a guarantee....
What does spoofing do for MAC?
Every cell phone that accesses the Internet (or any device in general) has a unique ID assigned by its manufacturer consisting of several numbers and letters. This is called MAC (Media Access Control). Each cell phone has its own ID.
A disguised way to spy WhatsApp is to create a clone on your phone, but it will need to have the same MAC as the victim's phone to bypass security barriers. Hence the term "MAC Spoofing".
Without filling you with technical details, once you have identified the MAC address of the victim's device, the phone's MAC is masked with that of the victim. Then uninstall and reinstall WhatsApp. Once this is done, you have a clone of the WhatsApp account you want to spy on your phone and then get all the messages and media that are on the victim's phone. Let's see how to implement it.
HOW TO USE MAC SPOOFINGa
Let's see what main steps to implement this spying. There are two things you should have at hand:
Your mobile phone
The victim's cell phone (this takes about two minutes).
At this point, the first step is to retrieve the MAC address of the victim to spy on and write it down. The code you are looking for has a structure similar to this: 06: B3: 92: F4: 34: AC There are two ways to get this MAC address:
From the phone where you intend to spy Whatsapp:
Take the phone and do the following:
iPhone - Go to Settings - General - About and search for Wi-Fi.
Android: go to Settings - Device Info - Status and search for Wi-Fi MAC.
From a PC or MAC computer
You can find Media Access Control on a computer only if both phones are connected through the same Wi-Fi network. If so, proceed as follows:
Windows: click on the computer icon for connections (bottom right next to the date). Click Open Network and Sharing Center. Go to Change Settings. Then right click on the icon for the network card you are interested in. Go to Status. Click Details. The MAC address is the code next to the physical address.
OS X / Mac computer:Go to System Preferences - Network - Advanced - Hardware. The MAC address you are looking for is the first information available in the window.
Now you must follow these steps:
Uninstall WhatsApp on your mobile device.
Change your MAC address with that of the person you want to spy on. (Apps will simplify this process such as WifiSpoof for iPhone or BusyBox for Android).
Reinstall WhatsApp by phone, making sure to enter the victim's phone number.
Ask for the activation code to be sent via SMS, but remember that it will also be sent to the victim's phone. Write down the code and delete the message.
Restore the original MAC address on the phone
If everything has been done correctly, you should receive all messages, photos and videos from the person you are spying on. Note: Apps that change Mac addresses require you to jailbreak your iPhone or root your Android.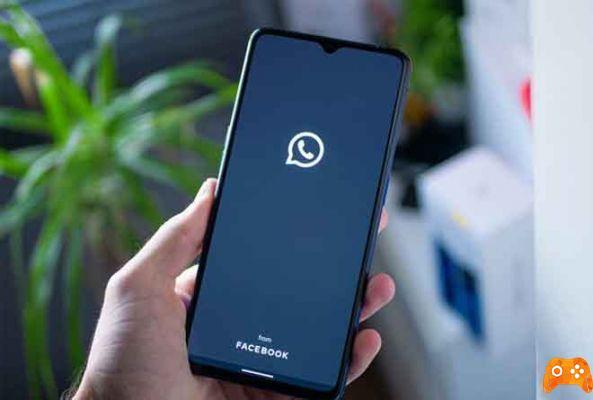 How to spy Whatsapp from PC using Whatsapp Web
It wouldn't be the first time WhatsApp Web has been at the center of controversy for security breaches that allow attackers to access chat content or even introduce malware on their victims' computers.
But beyond the vulnerabilities it may have, the simple fact that it works through the browser, associated with a WhatsApp account, makes WhatsApp Web one of the most used ways to spy on WhatsApp chats. And you only need to log in to WhatsApp on a computer to access all conversations, both current and previous, with all their messages and shared files.
On the other hand, WhatsApp notifies your cell phone only when you log in for the first time, so if the person who wants to spy on us removes that notification, ** we will not know if someone is reading our messages through the web version of the messaging app.
How to avoid it: to avoid spying WhatsApp through the web version, access the "WhatsApp Web" section of the app on your mobile device and check which devices you are connected to. If you see a suspicious computer, you can tap it to log out and remove access to your messages.
What you should know first:
effectiveness: 60%
difficulties: easy
demand: the victim's phone for a few minutes.
In 2015, in addition to launching the WhatsApp web service for PC and Mac, WhatsApp also inadvertently introduced a considerable security risk for its users. Spying Whatsapp from your PC using WhatsApp Web is really a no-brainer.
This is what you should do:
Take the phone of the person you want to spy on, access the WhatsApp web service site and scan the Whatsapp QR code of the phone you want to spy on.
Once logged in, give the phone back to the victim. It takes a few seconds to do this.
Now you can safely read all the messages that the victim has to send or has sent on Whatsapp.
After doing that, all the conversations will be available on your PC. However, there are a few things to keep in mind:
WhatsApp Web shows conversations as long as the phone is connected. If the victim takes the phone out of the area, the connection may be lost.
Due to the latest update, a banner may appear on the victim's phone screen informing another device on WhatsApp Web that it is logged in to your account.
The victim can see an active connection to WhatsApp Web by checking the settings within the application and stopping manual sharing with your computer.
As said, this is an easy way to spy Whatsapp conversations, but beware, it is easy to fall victim to this same mechanism. To protect your information and conversations, you should never give your phone to anyone.
Using WhatsApp Web as a spying tool is free and a very easy way to monitor someone's WhatsApp chats. It has its limitations, including the loss of connection if the target phone leaves the area and the warning that appears to the user if someone else is accessing their information.
How to spy on Whatsapp conversations via WhatsApp backups
Although it is not a simple technique like WhatsApp Web, as they explain in AdslZone, It is also possible to spy on WhatsApp conversations through the backups that the app creates of our conversations. To do this, there are specific tools and software that allow you to decrypt backup packages and then access their contents.
How to avoid it: For some years now, WhatsApp backups have been stored on Google Drive. This adds an additional layer of security. In addition, to access the backups, the attacker would have to have the access code that WhatsApp sends via SMS when logging in on a new device. This is why it is so important to ignore messages asking us for such verification codes.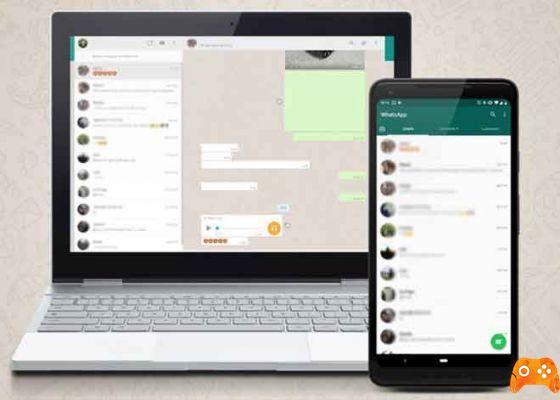 Best Free Apps to spy on your contacts' whatsApps
Unfortunately, over the years, more and more tools are emerging to spy on WhatsApp conversations. While some are justified as parental control apps that allow parents and guardians to know who their children are talking to, the reality is that in most cases they are used for other purposes.
iKeyMonitor (Android / iOS)
Highster mobile
Spyzie
Myspy
whatsDog
In addition, such apps have become increasingly complex, so they don't even need developer permissions on root to perform their function. Some of them also offer general access to the device's content, including call logs, chats, group chats and media files via WhatsApp.
However, we cannot fail to mention that a good number of these tools simply do not perform their function, but can also pose a risk to those who use them. In fact, it would not be the first time that security forces have reported scams disguised as this type of software.
How to avoid it: frequently check the list of applications installed on your phone to rule out suspicious or unknown applications. If you also suspect that they may be spying on your conversations, checking if your phone is running slower or consuming more battery than usual may be clues that something is wrong: it is possible that a background process is running to allow access there. content on your device. Either way, formatting your phone may be the most effective solution.
1.- How to use MySpy to spy on someone else's WhatsApp
What you should know first:
effectiveness: 100%
difficulties: very easy
require: small upfront fee for using the software
If you are looking for a program to spy Whatsapp someone remotely a without them knowing, then you need a professional spying application. There are dozens of Whatsapp spy apps on the market, but m spy is the best for several reasons:
Value for money
effectiveness
Ease of use.
Mspy is a free Whatsapp spy app, very easy to use. be able to spy messages on all instant messaging platforms, including WhatsApp. It is the leading application in this field, offering a solution for Android, iPhone and Windows. To put it bluntly, no other app comes close.
The software will allow you to monitor activity on the target smartphone, tablet or computer without your knowledge. You will be able to see everything that is sent and received on your device, monitor your phone calls, text messages, voicemails, browsing history and multimedia content you send or receive.
This app also offers real-time map positioning with GPS on your phone, which means you can see where I am at any time. But what I like most about this app is the 24/7 Support available.
The mSpy app is easy to download and install, even without any technological knowledge. But if you have difficulties, there is a 24/7 support staff available to help you solve any problems you encounter.
MSpy is simple and easy to install, the first step obviously is to purchase and download the app so you can install it on your device. Installation takes only a few minutes and no technical skills are required to do it.
Whenever you download the program, you will be able to see the information of the phone you want to spy on, no matter how private it is. You will also be able to access the phone's information from your computer.
All you need to do is log in to your account and view the victim's phone on your dashboard.
2.- Spyzie allows you to spy on WhatsApp, without anyone knowing.
However, there are apps like Spyzie that do what they promise because Spyzie allows you to spy WhatsApp on a cell phone without the user noticing, from a cell phone or from a computer. To do this, the first thing we have to do is to create a free Spyzie account.
Then we have to download and install the Spyzie app on the cell phone we want to spy on, then log in and proceed with the Spyzie Configuration on the phone With Spyzie installed on the mobile we log in with our account, accept the necessary permissions for its correct operation and the app icon will be automatically deleted from the mobile screen and will be hidden so that the user does not know that he is spying.
To install the Spyzie app on an Android device, we must first access the phone's settings and enable the installation of applications from unknown sources. In the case of iOS, we just need to verify the iCloud ID and password of the device. It is important to know that you do not need to root or jailbreak to install Spyzie on your cell phone.
Now let's open the control panel and from there we can spy WhatsApp, Facebook, Snapchat and other apps and social networks of mobiles, employees, partners, etc. Of our children.
As for WhatsApp, Spyzie allows us to see all WhatsApp chats and their conversations in real time from the control panel. In addition, we can also see all the photos and files of the people we are spying on.
Spyzie is a paid software, but unlike other spying applications or applications that allow you to control a mobile device remotely, it is one of the most efficient and economical that we can find. To have all these functions we must download the latest version, which is the most complete version, which costs just over 7 euros per month if we buy an annual license.
A more than affordable price for a spy app that also acts as a parental control to know everything our children do on the Internet, social networks and with whom they communicate, in addition to geolocate a cell phone in case of theft.
Disclaimer: The software is intended for legal use only. Pay attention to your country's laws when installing spyware on someone's cell phone and monitoring their activity without consent. Generally, the law requires you to notify the owner of the device you are trying to monitor.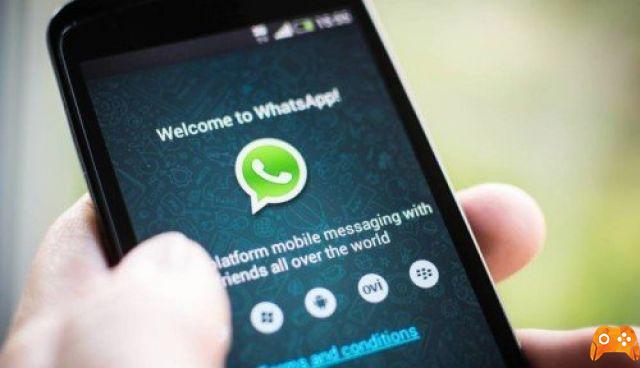 How to spy on your WhatsApp contacts for free using WhatsDog, there will come a time when you need to spy on someone, a family member or a child, and you would like to know if your child is texting at school or studying, and so on.
To become a spy you don't need a lot of training, professional equipment or patents. We are in the 21st century and spying on a friend or family member is now much easier, especially if you want to do it using Whatsapp.
3.- How to Spy on your WhatsApp contacts using WhatsDog
Using an application called WhatsDog (the application is only available for Android) you can see the activity of your family / friends day by day, see the times you have connected or disconnected, show the level of use of WhatsApp and you can also enable notifications for some contacts so you know when he or she has used or read WhatsApp messages.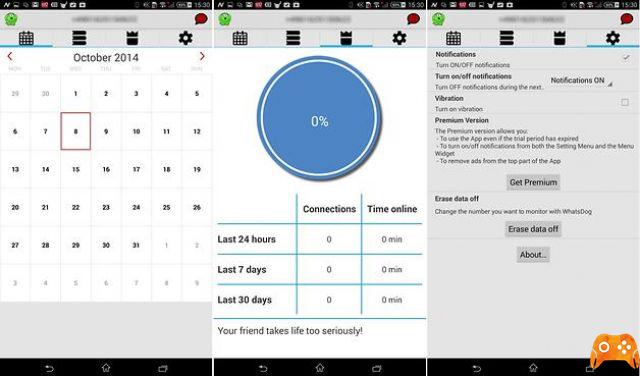 The application can be used even if you have been blocked by a user.
This is the best way to remotely access not only WhatsApp, but an entire phone without being detected. Anyone can use it and it requires no training or experience.
To read more:
How to make WhatsApp calls with Google Assistant.
How to hide a contact's WhatsApp profile picture without blocking him or her
How to spy on WhatsApp, all methods
How to avoid being added to a WhatsApp group
Software to spy on cell phones: do you know how they work?