Telegram is one of the most used and versatile messaging app on the market today and, thanks to its multiple functions, some exclusive, others a little less, it lends itself to many different uses. Between secret chats, groups, supergroups and channels, today Telegram looks more like a complete social network, safe and attentive to users, rather than a simple and common messaging app.
If you came to my blog because you were looking for a complete guide to using Telegram, you are in the right place. In this tutorial, I will explain to you how to best use Telegram. I will explain in detail all its functions and I will accompany you step by step on your personal journey, from installation to use. Are you ready? Well, then I'd say it's time to start.
How to use Telegram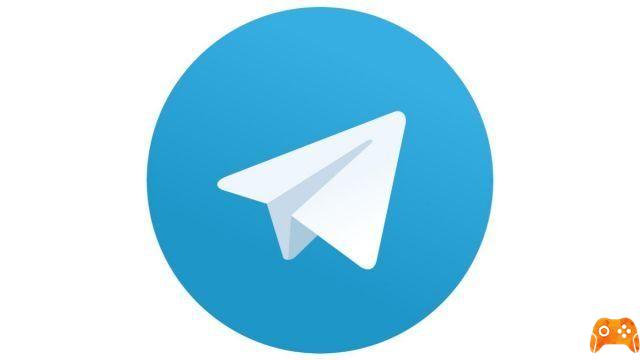 Before proceeding with the guide to using Telegram, I want to remind you that Telegram is a totally free, open source instant messaging service that can be used by smartphones, tablets and PCs.
It is based on a instant cloud very different from WhatsApp. Thanks to this system, in fact, it is possible to chat from any device without having to depend on the mobile phone on which the SIM card related to the phone number registered in the application is installed.
This is to tell you that you can use Telegram with any device without limits. However, there are some aspects to take into consideration. So let's see in detail what it is.
Index
How Telegram works

Single chats and secret chats
Groups
Channels

Bot Telegram
Telegram subscription
Find contacts on Telegram
Using Telegram anonymously

Be invisible in Telegram Search
Be invisible in the Telegram chat

Use Telegram with another number
Use Telegram without number
Use two Telegram accounts
How Telegram works
Before we start with the guide, I would like to take you through a quick overview of all functions that you can find on Telegram. This is because there are so many, and knowing them all will help you to better approach the daily use of the platform.
The first function you need to know about Telegram is the Chat, also because, all the functioning of Telegram revolves around it.
There are different types of chats, which we can close into three categories: single chat, group chat e chat broadcast.
Single chats and secret chats
in single chats, include common private messages, which you can send to any of your contacts or to a user whose phone number or username you know. This type of chat can in turn be of two types: standard and secret.
in chat standard, just tap on the name of your contact to start chatting with him. Instead, as regards the secret chat, you will need to tap on the menu at the top left, marked with the icon of three horizontal lines (next to the name Telegram), go to Nuova Segreta Chat and select the contact name you want to have an anonymous conversation with.
The incognito chats, unlike the standard ones, are encrypted with a particular algorithm, much more secure. Most important thing, messages self-destruct after a time set by the user who started the secret chat. Furthermore it is not possible to take screenshots within it.
Groups
in group chat, fall i groups and of supergroups. If you don't know what it is, I have written a dedicated article on the matter, in which I also help you discover new public groups.
In any case, it may be enough for you to know that Telegram groups cannot be secret, but they can be private. There are in fact two categories of Telegram groups: i public groups and of private groups.
The main difference between these types of groups concerns above all the how to access groups. A public group can be found easily thanks to the search function, while a private group will not be shown in the search results and, to access it, you will need to receive or find an invitation link.
Channels
In the last type of chat, the Telegram channels which, like groups, can be private e public. However, unlike groups, in channels it is not possible to interact with other users, except through the use of muzzle. Also, except for the administrator, no one can send messages on a broadcast channel.
If you want to learn more about the functioning of Telegram channels, I suggest you read this guide, in which I talk about it in a more complete way.
Bot Telegram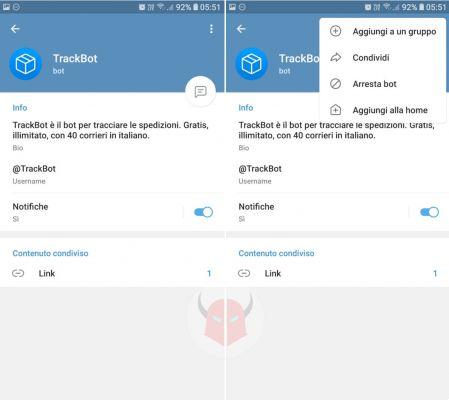 One of the most interesting features, which will make you use Telegram for a long time, are the muzzle. These are programs external to Telegram, which can interact via chat with the user who installed it.
Once the conversation with a bot, it's possible start it by typing some keywords (which you can view by reading the instructions in the chat). You can use it as long as you want and as long as, of course, it is supported by the developer.
There are bots to insert surveys in Telegram channels or groups; bots that allow you to publish, through the Telegram chat, content on your blog, or on your social networks; then there are bots that allow you to find users and start random chats with other users; or even bots that allow you to chat in full anonymity, without revealing your username to any interlocutor.
Telegram bots can also automatically reply to a chat request. In short, bots can theoretically do anything the programmer was able to "make them learn" in the software development phase.
Telegram subscription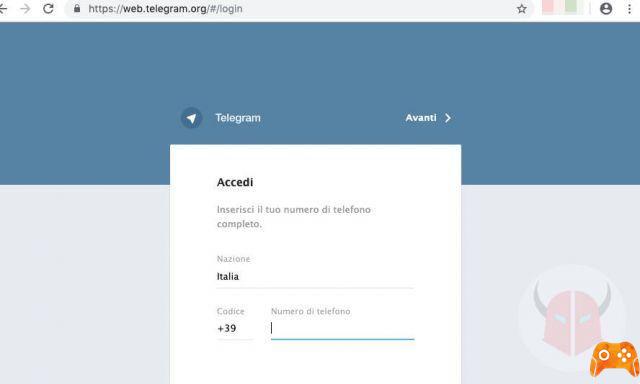 Unlike many of the modern messaging services, which only work perfectly on smartphones or tablets, but which have gaps when used on a PC, Telegram presents itself as a totally cross-platform app and compatible with any type of operating system.
To use Telegram it is therefore not necessary to have a smartphone, but it is sufficient to have a telephone number valid and verifiable, to be indicated at the time of registration to allow the verification of the account.
subscribe to Telegram from a smartphone or tablet, simply download the application and enter your phone number at login.
After doing that, you will receive a SMS with activation code to be entered in the application and, from that moment, your account will be active simultaneously on your smartphone, tablet or any other device you decide to use to manage chats.
In fact, Telegram allows thesimultaneous use of the same account on multiple devices, because its technology is based on a system of cloud with instant synchronization. This means that your account is active on a Telegram server, which manages chats in real time on any connected device.
subscribe to Telegram from PC, the procedure is the same as for registration from the app. Just go to the Telegram site, select and install theapp desktop (which has all the functions of the one for iOS and Android), or start theapp browser by connecting to web.telegram.org and entering your telephone number.
Once you have registered and verified the phone number, you can use Telegram on any device you wish to do so.
Find contacts on Telegram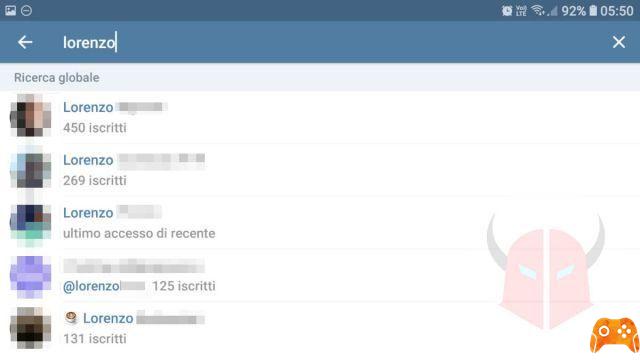 find contacts and start using Telegram, there are three things you can do. The first is to scroll thecontact list. To find it, just go to the top left menu and tap the option Contact us. Telegram will thus show you the list of all your contacts saved in the address book of your smartphone that have an active Telegram account. Tapping on them name, you can start chatting.
Alternatively, you can use the Search tool to find the phone number or username directly and start a conversation.
The Search tool is very powerful and allows you to start chatting even with someone you haven't saved in your phone contacts. Not only that, thanks to it, you can also identify public Telegram groups and channels.
Using Telegram anonymously
Probably, the function of global research it will have alerted you on the privacy issue and now you are wondering how it is possible remain anonymous if anyone, potentially, can find us on Telegram thanks to it.
Actually, you need to know that the Search tool is much safer than it looks. In showing you the search results, it proceeds step by step and will list your name to others only if there is 100% compatibility with the text that was written.
Put simply, typing random words or phone numbers in the search bar won't show a lot of results. Initially, you will be shown the usernames and phone numbers of your contacts, along with the names of the users in the groups you belong to. They will be shown to you as long as we have, in their nickname, the characters you typed, in the exact order you entered them.
In short, if you write "Lorenzo" in the search bar, you will be shown first your telephone contacts saved with this name, then possibly the contacts who, in their username, have chosen the name Lorenzo. Finally, any unknown users who have used the name Lorenzo will be shown.
However, the name will need to be spelled exactly the same as it was typed in the global search. If a person had chosen as username "Lorentzo" or "L_orenzo", just to give you some examples, their names would not appear in searches.
Be invisible in Telegram Search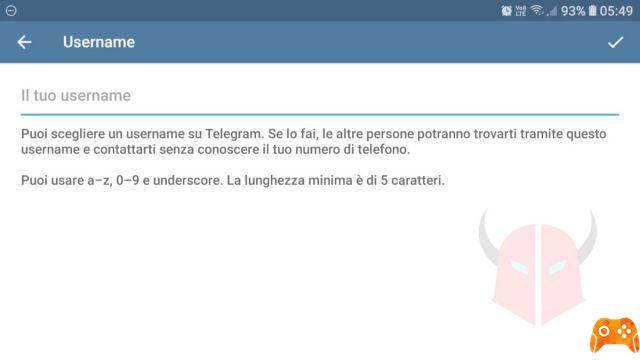 If you really wanted to use Telegram incognito, in order not to appear in the Search, you may delete your username. To do this, simply enter the Settings account, tap on Username, cancel it and save the changes.
By doing so, only those who know your phone number will be able to see you in the search results of the application.
Be invisible in the Telegram chat
If you wanted to remain anonymous in Telegram chats, as I told you, it would be enough for you to use the secret conversations to be invisible to all. That way, no one could spy on you, not even the person you chat with.
Protecting you will be an advanced end-to-end encryption algorithm and multiple anti-espionage features, such as the self-destruct timer and screen capture control. To learn more, read how to make anonymous chats on Telegram.
In addition, you might as well disable the last access time, so as not to show you online to all contacts. To do this, follow the path Settings> Privacy and security and choose Last access. Quindi, configure it yourself Nobody.
Telegram users will continue to see this information, but in this way, a inaccurate time period under your profile name.
Use Telegram with another number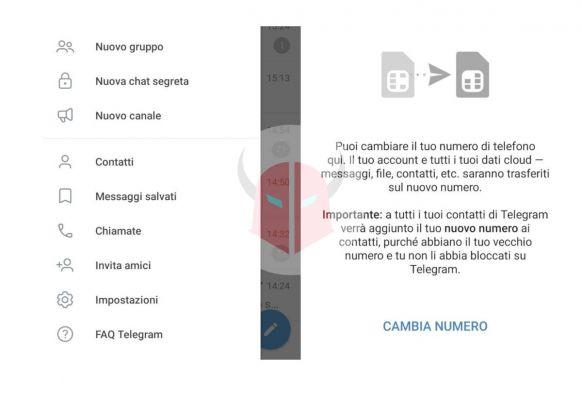 If you've changed your phone number and want to use Telegram with your old profile, you have to transfer the account from the old to the new number.
To do this, just go to your account tab and touch the first item, the one in which yours is indicated telephone number.
At this point, you will be shown a particular screen with the symbol of two SIMs and you will be shown, step by step, the steps to take to switch your account to another phone number. Just follow the on-screen instructions to make the transfer correctly.
You must know, however, that by doing this, the old number will be permanently removed. Therefore, it will no longer be possible to contact you by looking for you with the old number. Whoever has not registered your phone number in the address book will not be able to find you. This, unless you create a new account with the other number.
Use Telegram without number
One of the reasons that have led to the success of Telegram in recent years is the possibility of using Telegram in a complete way even on devices that do not have a compartment for the SIM card.
Telegram in fact it doesn't need a SIM card to work. However, many misunderstand this possibility with the possibility of activate Telegram without SIM.
You must know that the telephone number it is a fundamental element for the activation of an account, but not for its use. In short, if you want to create a Telegram account, you can only do it if you have a phone number. However, once the account is activated, you can use it on any device, without the need to have a SIM card associated with that number.
Hypothetically, you could also use a Telegram account on a smartphone that has a SIM card that references a different number.
Use two Telegram accounts
The obvious consequence of being able to use Telegram without a SIM card is that if you install app to clone or split other applications, you can have it on the same smartphone two different Telegram accounts. Many Android phones or tablets have multiple account management as a system function.
With other applications, without making WhatsApp names, it would be more difficult to perform this action, since they would only work on the smartphone in which the SIM card connected to the registered number is installed.
Therefore, if you want use Telegram with two profiles on the same mobile phone, you just need to manage the second account with a third-party app, such as Telegram X.
With such a setup, you would be able to chat from the same smartphone with multiple Telegram profiles related to different phone numbers.